RW gives fresh impetus to SL-Japan ties
Friday, 26 May 2023 03:32 –      – 50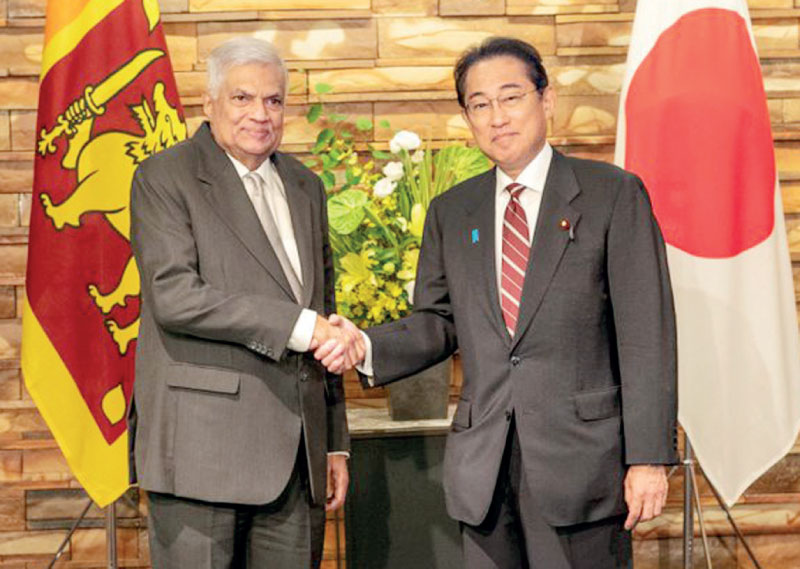 President Ranil Wickremesinghe with Japanese Prime Minister Fumio Kishida during their meeting in Tokyo yesterday  
---
President meets Japanese Prime Minister
President apologises to  Japanese Govt. over the termination of the Colombo Light Rail Transit project
President hold talks with Singapore Deputy Prime Minister, former Japanese Premiers, Japan's Finance Minister and Foreign Minister 
---
President Ranil Wickrem-singhe yesterday gave a fresh impetus to Sri Lanka-Japan ties which had been under some strain in recent years with several key meetings as well as reiteration of the importance of revival.
Using his visit to Tokyo to address the Nikkei's Future of Asia Forum, Wickremesinghe held what could be described crucial bilateral talks with Japanese Prime Minister Fumio Kishida, Finance Minister Shunichi Suzuki and Foreign Minister Yoshimasa Hayashi as well as former Premiers of Japan Yasuo Fukuda and Taro Aso. The President's Media said during Wickremesinghe's meeting with Japanese Premier, the former expressed his regret to the Japanese Government for the suspension of the Colombo Light Rail Transit (LRT) project, which was being implemented with Japanese support. The President emphasised the need for future legislation in the Parliament to ensure that bilateral large-scale projects cannot be halted or cancelled without the agreement of both parties.
Wickremesinghe expressed his gratitude to Japan for its support in helping Sri Lanka recover from its economic crisis, thanking the Japanese Prime Minister for his assistance.
The two leaders also discussed new opportunities to enhance cooperation between Japan and Sri Lanka.
In the meeting with Japanese Finance Minister Shunichi Suzuki, the President discussed Sri Lanka's debt restructuring and the International Monetary Fund's program. The meeting with Japanese Foreign Minister Yoshimasa Hayashi saw Wickremesinghe focusing on strengthening long-term bilateral relations between Sri Lanka and Japan, including increased cooperation in economic and cultural fields.
Wickremesinghe had a breakfast meeting with former Prime Minister Yasuo Fukuda at an engagement organised by the Japan-Sri Lanka Association in Tokyo.
During the meeting, President Wickremesinghe briefed the former Prime Minister of Japan on the ongoing economic recovery program in Sri Lanka. The President highlighted the favourable investment climate in Sri Lanka and extended an invitation to Japanese investors to return and invest in the country.
During the meeting Japan's former Premier Taro Aso, the President focussed on potential steps to strengthen the existing close and friendly relationship with Sri Lanka.
President Wickremesinghe also engaged in bilateral talks with Singapore's Deputy Prime Minister Lawrence Wong in Tokyo. The President reaffirmed Sri Lanka's commitment to implementing the Singapore Free Trade Agreement during discussions with the Deputy Prime Minister of Singapore.