Man uniting Indian families torn by colonialism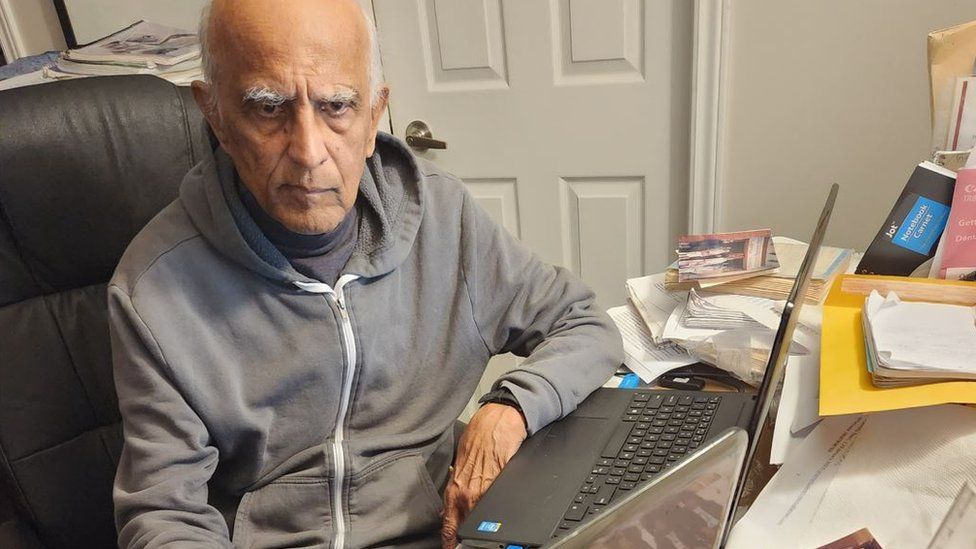 "I feel very emotional and elated when I find a missing family. It also gives me a sense of accomplishment," Shamshu Deen says.
For the past 25 years, Mr Deen, 76, a resident of Trinidad and Tobago, has been helping families in the Caribbean find long-lost relatives in India. He says he's helped over 300 people so far.
The ancestors of these people arrived in the Caribbean – a former British colony – as indentured labourers in the 1800s and early 1900s, but lost touch with their families back home over time.
Mr Deen – a geography teacher turned geologist – is now helping the descendants of Indian indentured labourers in the Caribbean trace and reconnect with their loved ones.
During British rule in India, known as the British Raj, slavery had been abolished. But indentured labourers were used as "cheap labour" across the British Empire in response to a so-called labour shortage.
Many Indians travelled from their country to British colonies like the Caribbean, South Africa, Mauritius, and Fiji to work on sugar plantations between 1838 and 1917.
Even though most labourers went willingly – possibly because they were not fully aware of the conditions they would face or signed agreements when they were illiterate – others were forcibly taken abroad.
Some historians even described the system of indentured labour as the "new slave trade".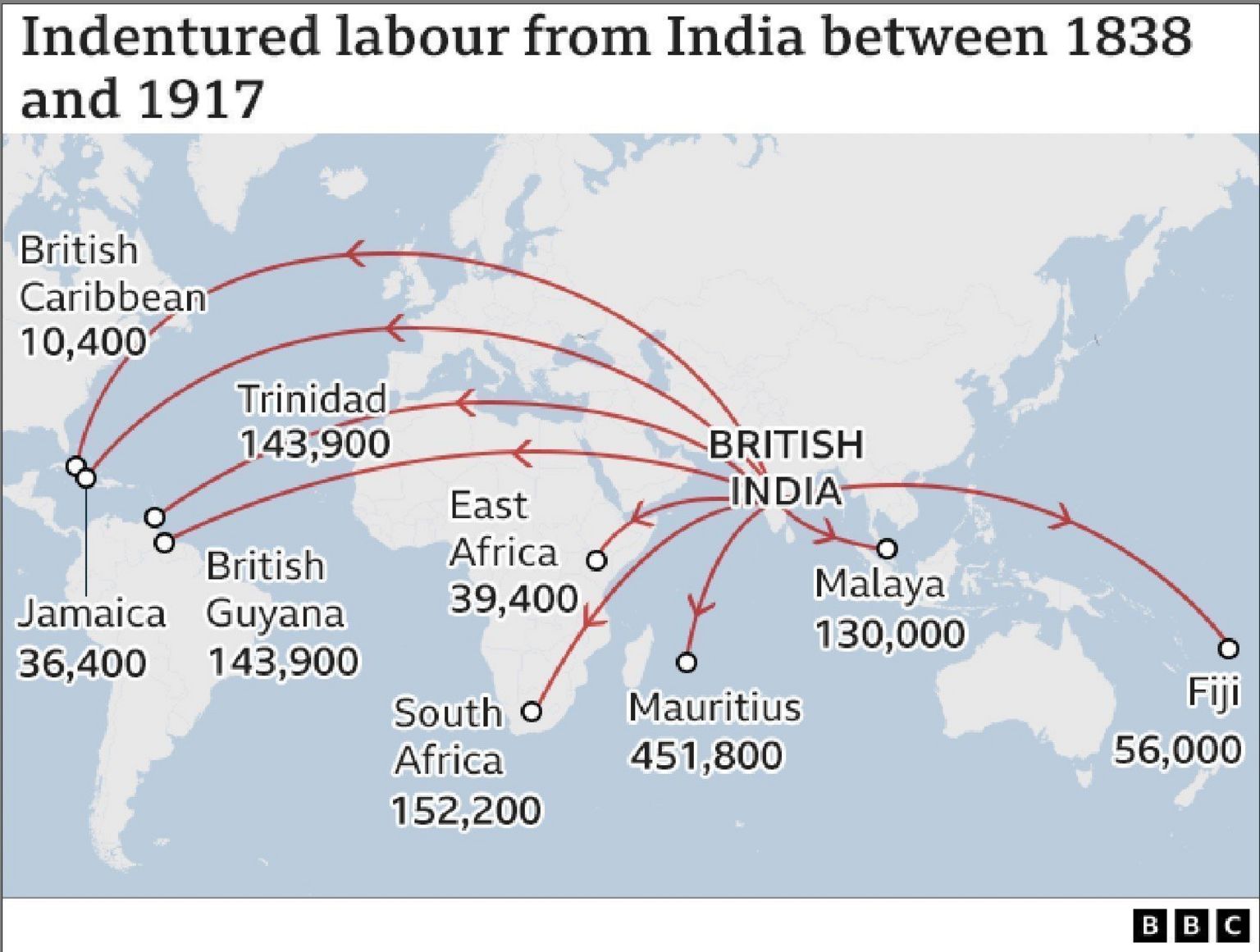 Mr Deen became curious about this system and the impact it had on families after he learnt that his grandfather's grandfather – Munradin – had travelled to the Caribbean as an indentured labourer.
He was in school when he learnt that the land his house was built on had been purchased by Munradin.
"No-one in the family could tell us any more about him," Mr Deen says.
In 1972, Mr Deen went to the Red House in Trinidad – which subsequently became the ministry of legal affairs – and sifted through piles of documents searching for the mystery man.
After about four hours, he found his name on the last page of a moth-eaten book.
He learnt that Munradin had left Calcutta (now Kolkata) on 5 January 1858 and reached Trinidad on 10 April the same year.
"We know he was educated and spoke English. Munradin worked on sugar plantations. Later, he started doing translation work. After finishing his indentured contract, Munradin went on to become a teacher and finally opened two shops. He had two wives and five children. The house he lived in was inherited by his children but was destroyed in a fire."
Mr Deen eventually also found family members from his mother's ancestry and could reconnect with relatives of the last person in his family to travel to the Caribbean, Bhongee.
She arrived in Trinidad in 1872 at the age of seven, accompanied by her parents and three siblings.
"I have only one photo of Bhongee, who died in 1949 when I was three years old. She lived to see her great-great-grandchildren," Mr Deen says.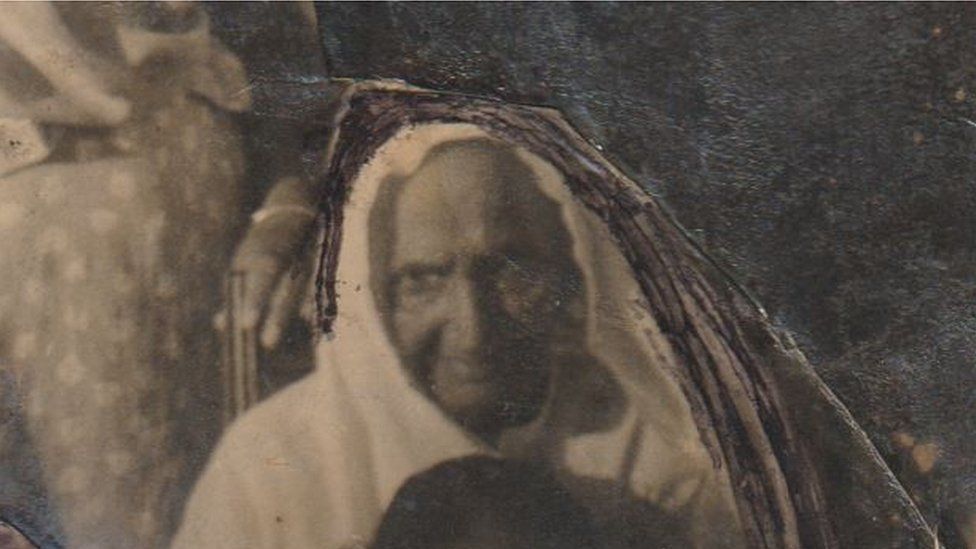 Mr Deen went on to become a geography teacher but his success in finding lost relatives caught the eye of the Indian High Commission in Trinidad. It gave him a scholarship to trace the relatives of 10 Hindu and 10 Muslim families.
He would later make this his career, becoming a genealogist and getting paid to do the work with the help of research teams in both Trinidad and India.
Some of the family reunions he has helped facilitate include that of two former prime ministers of Trinidad and Tobago, Basdeo Panday and Kamla Persad Bissessar.
Mr Deen also helped Trinidad-based David Lakhan, 65, find out more about his great-grandfather, who travelled from India to Trinidad in 1888 when he was 22.
"He just gave one name in a document – Lakhan. But I wanted to discover the strength and resilience behind his decision to travel such a long distance," Mr Lakhan tells the BBC.
From the national archives, Mr Deen was able to dig up emigration documents which had the name of Mr Lakhan's great-grandfather's brother, father, caste and his village.
He then used his contacts in India to trace Mr Lakhan's relatives, paving the way for a family reunion in India in 2020.
"We didn't expect the whole village to come out and greet us. They garlanded us," says Mr Lakhan's wife, Geeta.
The family has since kept in touch with many of their Indian relatives, using translation tools to overcome language barriers. Ms Lakhan said she finds many similarities with them because of the cultural knowledge passed on by their common ancestors.
They are now feeding the curiosity of their 7-year-old grandson by telling him about their trip to India, in the hope that he will take an interest in his heritage.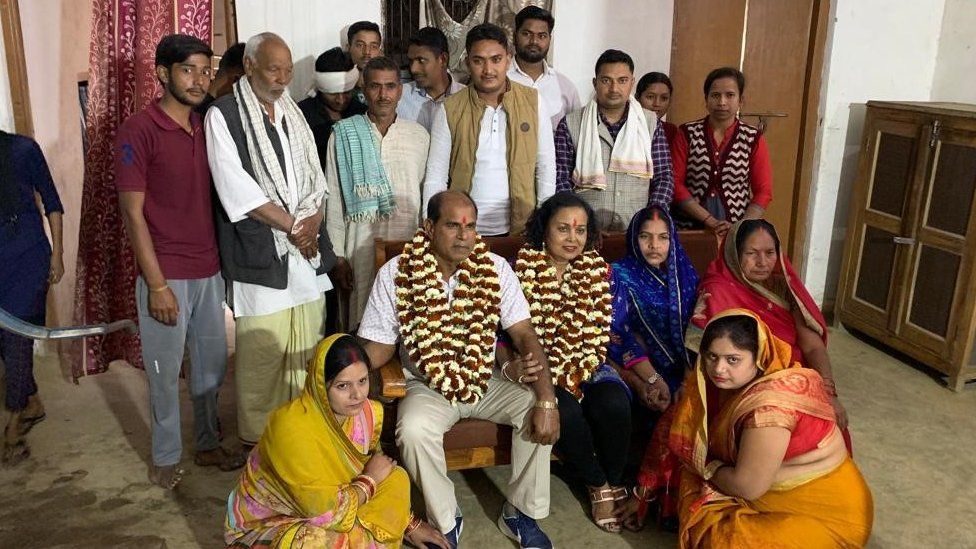 Mr Deen says that tracing people today is a bit easier than it was at the beginning of his career due to digital maps and better access to historical records, but challenges remain. He estimates that he has about an 80% success rate in every case.
"I can't get everyone's ancestry. In some cases, wrong information was given in the documents," he explains.
Also, some indentured workers died while making their journey to Trinidad. Those who managed to reach often lived in dire conditions, their lives never being documented in any official way.
But many workers also voluntarily stayed back in Trinidad after the end of their contract and were able to live as free people, he says.
Mr Deen says he doesn't want to give up his work even though he has retired. In fact, just after he retired, he went to India for six months in 1996, and tracked down 14 more families.
He says the work he does still gives him "happiness and health".
"Every case is a puzzle. No two cases are the same," Mr Deen says.
"Like all humankind, we are all migrants. But the thread of Indian heritage is sewn deeply in us."
BBC News India is now on YouTube. Click here to subscribe and watch our documentaries, explainers and features.


Read more India stories from the BBC: