E.B. Creasy Group's LSSL opens galvanised steel wire manufacturing plant for domestic and export markets
Wednesday, 14 June 2023 00:30 –      – 82

E.B. Creasy and Company Chairman

S. D. R. Arupragasam
Lanka Special Steels Director-CEO
Pravin De Silva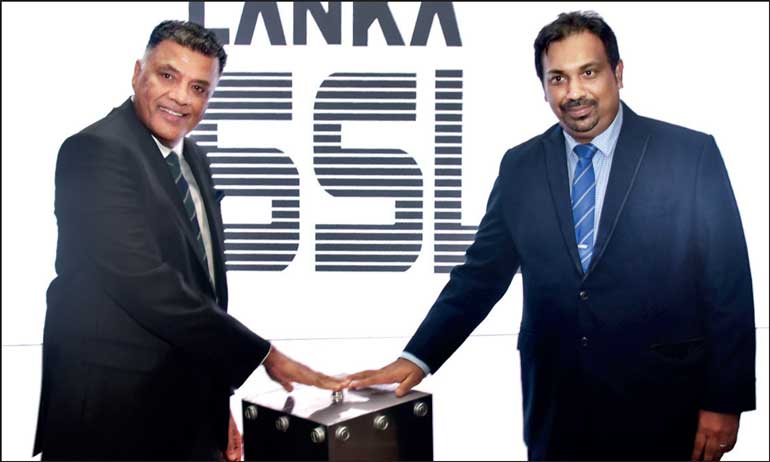 E.B. Creasy and Company Chairman S.D.R. Arupragasam (left) and Lanka Special Steels Director/CEO Pravin De Silva being launch of Lanka SSL Logo
---
E.B. Creasy Group's Lanka Special Steels (LSSL), the leading GI wire manufacturer has unveiled its new state-of-the-art manufacturing facility in the Lanka Industrial Estate (LINDEL), in Sapugaskanda.
Equipped with world-class European machinery, this facility represents a significant milestone in LSSL's journey towards enhancing production capacity and expanding its market presence. LSSL was earlier known as a company of TATA steel.
With three decades of industry expertise, LSSL has established itself as the largest domestic manufacturer of GI Wire in Sri Lanka. In line with its commitment to excellence, the company aims to increase its production capacity from 15,000 MT to 30,000 MT per annum with an investment of Rs. 1200 million. This significant boost will not only allow LSSL to cater to the growing demands of the domestic market but also position it as a serious player in the export market.
"As Pioneer in the Industry our focus is on delivering the best quality GI steel wires to both the domestic and export markets, manufactured in line with local and international standards," said LSSL Director and CEO Pravin De Silva. "We are proud to say this is the single largest investment made in Lanka SSL history and the largest factory in Sri Lanka manufacturing GI wire with new state of the art European galvanising plant which enables us to produce material to the world class standard which can cater to any part of the world and in the same time become a cost-effective producer," he added.
By offering superior quality wires to both existing and potential clients, Lanka SSL aims to reduce reliance on imported products and strengthen Sri Lanka's manufacturing sector. With the ability to now meet the entire domestic GI wire demand, Lanka SSL aims to unlock untapped opportunities and further its strategic business expansion goals. By venturing into new product categories and capturing a significant share of the export market, LSSL envisions cementing its position as the undisputed market leader in Sri Lanka, and building a reputation as an important player in the global steel wire industry.
The new state-of-the-art manufacturing facility is equipped with modern high-speed European wire drawing machines and the world's best Galvanising Furnace, with an inbuilt Annealing Furnace and supporting systems. An ISO 9001: 2015, ISO 45001:2018 certified company, Lanka SSL has been at the forefront of the country's galvanised wire segment with a top-of-mind brand, enjoying a loyal and repetitive clientele closer to three decades. Its products are on par with some of the world's best, manufactured in its state-of-the-art factory situated at Sapugaskanda.
It's hot dipped GI wire is the only one with SLS 139:2003, and lately its barbed wire with the SLS 31:1988 certification as the only barbed wire in the market with SLS certification. Lanka SSL has obtained the Bureau of Indian standard certificate of IS 280 for Galvanised steel wire in order to supply to the Indian market. Lanka SSL Galvanised wire product range includes Hot Dipped Galvanised Steel Wires in sizes ranging from 1.00 mm to 5.00 mm in diameter, with Zinc coatings up to 350 gsm. These wires find applications in various industries such as barbed wire, chain link fencing, welded mesh, and coir mats. Leveraging established relationships with sourcing partners that include Hindustan Zinc, TATA Steel, JSW Steel, and other internationally reputed suppliers for raw materials, LSSL guarantees the use of high-quality inputs, resulting in superior finished products of unparalleled quality.
The manufacturing facility which was initially established in 1995 had become Lanka Special Steels in November 2003 with its incorporation in Sri Lanka under the BOI, after Tata Steel. India acquired the business.
In April 2015, LSSL was acquired by E.B. Creasy & Co. PLC, which was founded in 1878 and is one of Sri Lanka's oldest continuously operating companies. Since its inception, E.B. Creasy & Co. and its subsidiaries have adapted to new technologies and trends, growing into a respected conglomerate that is presently active in nine business sectors and owns over 30 instantly recognisable brands. Today, the E. B. Creasy & Co. Group is involved in sectors ranging from homecare to personal care, healthcare, foods, energy and lighting, logistics, automotive, home and industrial and renewable energy.
Pix by Ruwan Walpola