UK's trading preferences scheme that benefits Sri Lanka is now in force
Tuesday, 20 June 2023 01:25 –      – 46
Developing Countries Trading Scheme allows Sri Lanka to now trade with UK tariff-free on 92% of goods; new initiative replaces GSP arrangement
British High Commissioner Sara Hulton says DCTS is a tangible example of UK's commitment to growing free and fair trade with countries like Sri Lanka, boosting economies, and supporting jobs
UK Trade Partnerships program expanded to Sri Lanka to enable ITC to provide technical assistance to SMEs
UK is Sri Lanka's second largest export market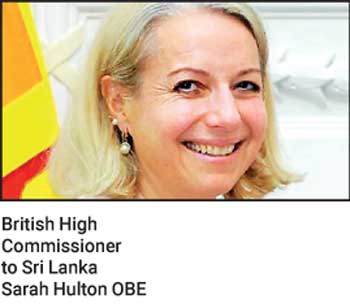 The United Kingdom from yesterday began implementing one of the most generous preferential trading schemes in the world.
Sri Lanka is one of 65 countries benefiting from the UK's Developing Countries Trading Scheme (DCTS) that provides tariff reductions and simpler terms of trade. The scheme was announced last year, and legislation has now been finalised to bring it into force.
British High Commissioner to Sri Lanka Sarah Hulton OBE said: The UK is Sri Lanka's second largest export market and the DCTS demonstrates the UK's continued interest in strengthening this trade relationship. We hope that Sri Lankan exporters will broaden their opportunities with the UK by making use of the wider number of products for which tariffs have been removed."
"The DCTS is a tangible example of the UK's commitment to growing free and fair trade with countries like Sri Lanka, boosting economies, and supporting jobs," Hulton added.
Speaking at the launch of the scheme, UK Minister for International Trade Nigel Huddleston said:
"[The scheme] will create opportunities for businesses around the world, supporting livelihoods, creating jobs and diversifying local and international supply chains."
The DCTS allows Sri Lanka to now trade with the UK tariff-free on 92% of goods, leading to increased competitiveness of Sri Lankan products in the UK market. Sri Lanka is well positioned to supply the UK due to increasing demand for sustainable, fair-trade, and healthier products. With more flexible rules of origin it is easier for least developed countries to trade with Sri Lanka without losing tariff-free status, increasing the potential for supply chain development.
To support business take-up of the DCTS, the UK Trade Partnerships program (UKTP) has expanded and now covers Sri Lanka. UKTP provides technical assistance to almost-ready-to-export small and medium-sized enterprises (SMEs) and is delivered by the International Trade Centre (ITC). The program will primarily provide trade promotion technical assistance to a selected number of Sri Lankan SMEs, preparing them to participate successfully in international trade fairs. This will improve the visibility of Sri Lankan producers, equip exporters with the necessary tools and knowledge, and facilitate their entry into new markets.
With a limited number of slots available, ITC will conduct a selection process for Sri Lankan SMEs who will receive support via the UK Trade Partnerships program across identified sectors. This will be announced shortly.
The DCTS replaces the UK GSP and retains powers to suspend a country on the grounds of human rights and labour rights violations, and broadens these powers to include violations in relation to anti-corruption, climate change and environment conventions. It grounds all suspension decisions in the principles and obligations of international conventions.