CBSL Chief confirms DDR/DDO announcement coming this week
Monday, 26 June 2023 04:28 –      – 198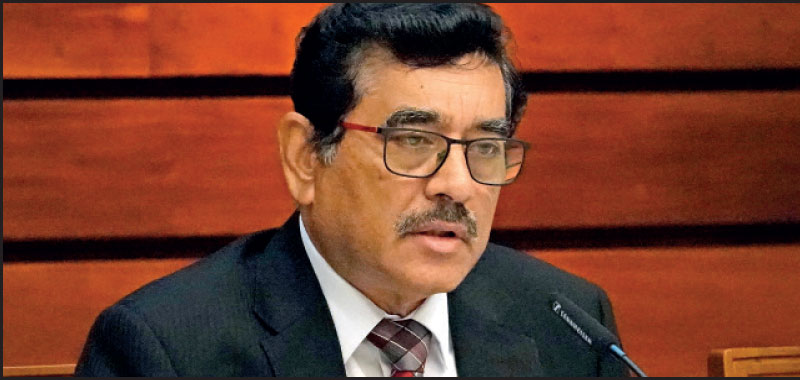 Central Bank Governor Dr. Nandalal Weerasinghe 
---
Assures move will ensure financial system stability; wont impact deposits
Despite five-day holiday banking services will continue via ATMs, online and digital channels
---
The Central Bank Governor Dr. Nandalal Weerasinghe yesterday confirmed that the Government will announce the much-awaited Domestic Debt Restructuring (DDR) or Optimisation (DDO) and the five-day holiday for banking sector was to facilitate the same.
His comments confirmed the Weekend FT article on Saturday which exclusively reported the impending move this week. https://www.ft.lk/front-page/Five-day-cooling-off-period-for-banks-as-DDR-announcement-due-next-week/44-749896
He told journalists on his return from Paris last evening that the extended bank holiday was declared from 29 June to 1 July to obtain necessary time required for the domestic debt restructuring process.
Making a special statement, the CBSL Chief also assured that no deposit in any bank in the country will be affected in the process of restructuring domestic debt and that interests will not be affected.
"The main reason for announcing a bank holiday on (30 June) was to create a sufficient number of days for the domestic debt optimisation strategy that has been discussed with the Central Bank and the Ministry of Finance," he said.
Dr. Weerasinghe emphasised that the strategy has to be announced and obtain the proper approval process from the Cabinet of Ministers, Committee of Public Finance and the Parliament via a debate.
He opined that given the sensitivity markets will be able to use the four days to properly understand the DDR/DDO arrangement.
Dr. Weerasinghe ensured that there will be no reduction of bank deposits that people are having in commercial banks and non-banking institutions, and also no reduction will take place in interest rates that they are currently receiving in terms of their contracts with the banks.
"If the banks have agreed to provide some interest rates, they will continue to be received by the deposit holders. They will not be affected adversely anyway with the domestic debt optimisation strategy", he asserted.
The CBSL Chief also mentioned that despite five-day holiday, banking services will be available as usual via ATMs, online and other digital channels.