Rayynor revs up to "Perfect 10" to become second biggest shareholder at Sampath Bank
Wednesday, 28 June 2023 00:40 –      – 115
---
Invests a further Rs. 700 m to reach 10% stake overtaking Ayenka Holdings' and to be behind business leader turned Parliamentarian Dhammika Perera-controlled Vallibel One
Rayynor has now invested Rs. 7 b in acquiring Sampath Bank stake
Dismisses aggressive buying as hostile but insists it is purely 
long-term investment as Sampath shares are undervalued hence have future upside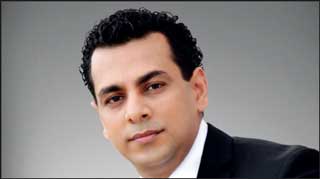 Rayynor Silva
Dhammika Perera whose Vallibel One PLC is the biggest shareholder of Sampath Bank with 15% stake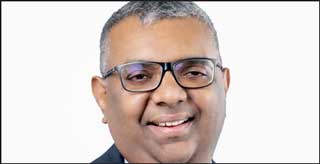 Prabhash Subasinghe-controlled Ayenka Holdings Ltd., was the third largest shareholder until yesterday
Young business leader of electronic media-fame Rayynor Silva yesterday proved his strong intent to make a mark in the financial services industry by upping his stake to 10% and becoming the second largest shareholder in third biggest private sector player Sampath Bank.
Yesterday and Monday, Rayynor picked up a further 12 million shares between Rs. 56 and Rs. 58 per share investing around Rs. 700 million. As at yesterday Rayynor via his venture Phantom Investments Ltd., held 117.27 million shares in Sampath Bank accounting for 10% stake.
He moved past top industrialist and exporter Prabhash Subasinghe-controlled Ayenka Holdings Ltd., which as at 31 March 2023 held 114.12 million shares or 9.97% stake.  EPF held a similar percentage as well.
Business leader-turned Parliamentarian Dhammika Perera-controlled Vallibel One PLC is the biggest shareholder at Sampath with 14.95% stake or 171.11 million shares.
Bullish on the banking sector and the economy Rayynor in recent months had stepped up his exposure into Sampath Bank. This fuelled speculation whether Rayynor is going to dislodge Dhammika Perera's Vallibel as the largest shareholder at Sampath.
However, Rayynor has dismissed it stressing he was buying Sampath solely on it being under-valued thereby the future upside.
However analysts, though agreeing on the fundamentals of Sampath, are wary and it will be interesting to see whether Rayynor gets invited to serve on the Board. Apart from Vallibel, Indra Silva (holding 8.2%) and Rosewood Ltd., (4.5%) enjoy board seats at present.
As per current banking regulations, the maximum direct stake a new shareholder could go up to is 10% and existing higher percentages were allowed on special considerations or subject to reduction. In parallel, there have been calls for the lifting of share ownership restrictions as well as greater consolidation within the banking industry.
At the end of last year, Rayynor was the 7th largest with 32.48 million shares or 2.84%. Thereafter he rose to the fifth position by end March 2023 with 60.57 million shares or 5.29%.
As exclusively reported by the Daily FT last week, on 16 June, Rayynor raced to the third largest shareholder slot at Sampath Bank with 9.4% stake picking up 3% stake for Rs. 2 billion. SC Securities handled the majority of both the buy and sell sides of recent deals on Sampath.
Among this week sellers included high net worth individual investor Dr. T. Senthilverl who is estimated to have sold around 7 million shares whilst he retains around 22 million more. Another seller was JN Lanka.
Yesterday Sampath Bank saw three crossings involving 3.5 million shares at Rs. 58 each whilst overall 4.36 million shares traded for Rs. 251 million. On Monday 8.25 million shares were done at Rs. 56 each via 5 crossings and overall 10.6 million shares were transacted for Rs. 594.6 million.
Previously, Rayynor told the Daily FT that his aggression on Sampath Bank was purely a "long-term investment" strategy given the significant future upside. This is on the basis that the current valuation is highly attractive ahead of the turnaround of the economy. "Everyone is focussed on ensuring Sri Lanka returns to growth trajectory once again," Rayynor said.
"Sampath Bank is one of the best performing banks and I see significant potential," he added.
His additional exposure to Sampath comes at a time when there are concerns on the viability or prospects for the banking sector given the looming domestic debt restructuring or optimisation.
Rayynor however believes the impact will be minimal whilst interest rates are expected to come down further thereby supporting revival of the economy as well as the banking sector.
Being successful and realistic Rayynot however quipped "even if the impact is serious and there is greater downside I will still use it as an opportunity."
Sampath Bank registered a profit before tax (PBT) of Rs 4.5 billion and a profit after tax (PAT) of Rs 2.6 billion for the three months ended 31 March 2023, indicating a decline of 30.5% and 44.3% respectively from a year ago. This decline was mainly attributed to the exchange losses recorded during the quarter as a result of the appreciation of the rupee. All other income lines recorded performance well above the previous period.
Sampath Bank's total assets are worth Rs. 1.4 trillion and liabilities are Rs. 1.2 trillion. Its return on equity in 2022 was 11% whilst in the 1Q of 2023 was 8.4%.