Belarus leader welcomes Wagner boss Prigozhin into exile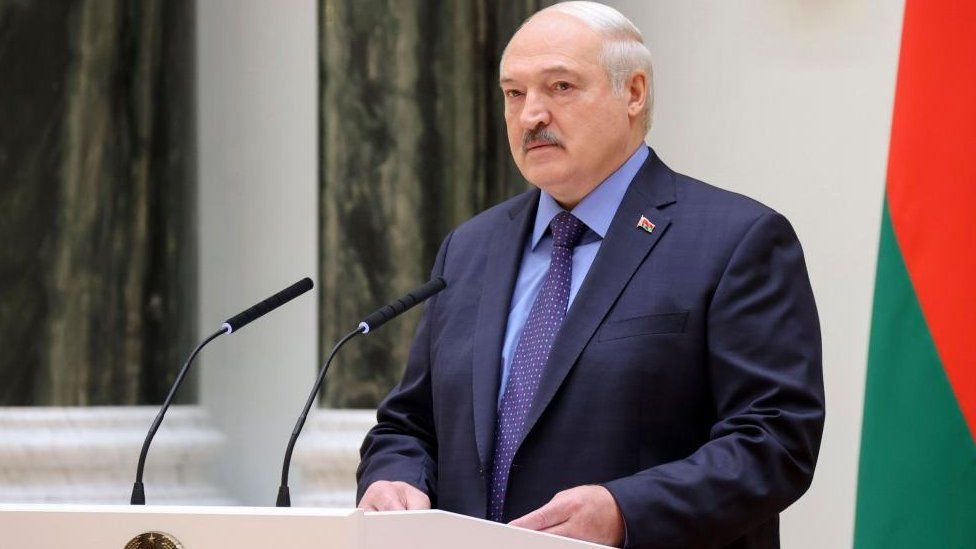 The leader of Russia's 24-hour mutiny, Yevgeny Prigozhin, has arrived in Belarus, three days after his Wagner mercenary group's mutiny came to an end 200km (125 miles) south of Moscow.
"Yes, indeed, he's in Belarus today," leader Alexander Lukashenko announced, claiming credit in arranging his exile.
Mr Prigozhin's whereabouts had been a mystery since he was filmed driving off in southern Russia on Saturday night.
His private jet was tracked flying into the Belarus capital Minsk on Tuesday.
Mr Lukashenko said Wagner mercenaries had been offered an abandoned military base if they wanted to join their leader: "There is a fence, everything is available, erect your tents."
Under the deal that brought an end to the mutiny, Mr Prigozhin has been promised security and the Russian criminal case against Wagner has been dropped.
Moscow is preparing to transfer the mercenaries' heavy weapons into the regular military and the fighters have been told they can either sign regular army contracts, go home or head to Belarus.
Nato members Poland, Latvia and Lithuania have warned that Wagner's arrival in Belarus could spell trouble for them as neighbours. A Lithuanian presidential adviser said the mercenaries were dangerous as they could take part in sabotage and infiltration operations.
Lithuanian President Gitanas Nauseda told a press conference that if Wagner were to deploy its "serial killers" in Belarus, then neighbouring countries would face "even greater danger of instability".
Nato chief Jens Stoltenberg said the alliance was ready to defend itself against any threat from "Moscow or Minsk" and would agree to strengthen its defences at a meeting in Lithuania next week – focusing particularly nations bordering Belarus.
"We have sent a clear message to Moscow and to Minsk that Nato is there to protect every ally and every inch of Nato territory," he said.
Russia moved tactical nuclear weapons into Belarus in recent weeks, with President Putin saying they would only be used if Russian territory was threatened.
Belarusian public opinion is also very disturbed, according to Katia Glod of the European Leadership Network. "Obviously they don't want to have a criminal like Prigozhin in Belarus," she said.
Mr Lukashenko said merely that the Wagnerites could help the Belarusian military, sharing their experience with tactics and weapons.
The mutineers' ease in seizing control of the city of Rostov-on-Don and then driving so far north with little opposition has exposed major weaknesses in the Kremlin's control of security in Russia after 23 years of Putin rule.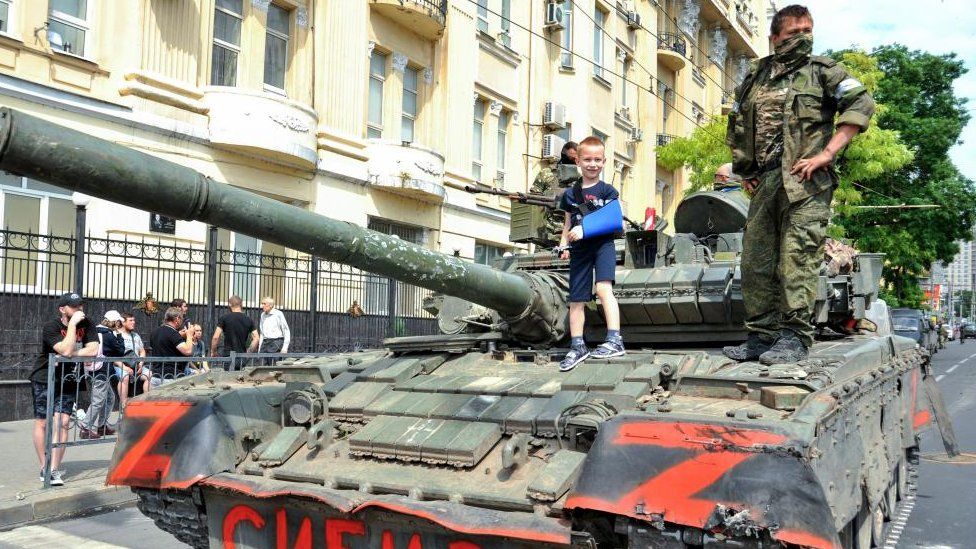 Kremlin spokesman Dmitry Peskov rejected as "hysteria" suggestions that the events of Friday and Saturday had dented his hold on power.
But then President Putin himself told an array of Russian security forces assembled in a Kremlin square that they had defended their motherland, "de facto stopping a civil war in its tracks".
The insurrection was even more alarming as Mr Putin revealed that Mr Prigozhin's private army had been fully funded by the state, with $1bn spent on salaries and bonuses in 12 months. A further $1bn went to Mr Prigozhin's Concord catering firm for feeding the military.
The Russian leader admitted that pilots had lost their lives "confronting the mutineers" in the latest attempt to take hold of the narrative of a turbulent few days that shook the Kremlin.
Six military helicopters and an Ilyushin 22-M command-and-control plane were shot down by the mutineers, according to unconfirmed reports. Some wreckage has been seen but the number of casualties is unclear.
Mr Prigozhin also accused the Russian military of a missile strike on his men on Friday, killing 30 people. However, no evidence of that has been seen.
"In a day we covered 780 km," he said on Monday. "Not a single soldier was killed on the ground. We are sorry that we had to strike aircraft, but they were hitting us with bombs and missiles."
Videos have shown the Wagner convoy being bombed from the air as they headed north among civilian traffic in the southern Voronezh region on Saturday.
Whatever the truth of how 24 hours of mayhem did come to an end, one elaborate version was presented on Tuesday by Alexander Lukashenko, who has ruled Belarus since 1994 and is widely thought to have rigged 2020 elections to maintain power.
"I said to Putin: We could waste [Prigozhin], no problem. If not on the first try, then on the second. I told him: don't do this," he told security officials.
He said he had offered to phone Mr Prigozhin, to which Mr Putin reportedly said: "Look, Sasha [Alexander], it's useless, he won't even pick up the phone and doesn't want to speak to anyone."
"Give me his number," he went on. "[Putin] said, 'most probably, the FSB [Russian Federal Security Service] have his number'."
Describing his conversation with Mr Prigozhin, Mr Lukashenko said the mercenary boss was in a state of euphoria because of Wagner's success until that point.
According to the Belarusian leader, Mr Prigozhin told him: "We want justice, they want to strangle us, we will go to Moscow."
"I tell him that half way you will be crushed like a bug."
Russia academic Mark Galeotti said the Belarus leader had acted as a useful intermediary for President Putin, who could now seek to keep Mr Prigozhin on side to manage his mercenary forces in Africa.
Katia Glod said that Belarusians were focused on how far the crisis had weakened Vladimir Putin, as it would also mean a weakened Alexander Lukashenko.
"The twin pillars of Lukashenko are the Kremlin and the violence of [Belarus] security services that fulfil Lukashenko's orders," she said. "In the short term it could mean more repression as Lukashenko feels more weakened. If the Kremlin looks less reliable as a pillar it could mean good news in the long term."