Parliamentary Committee on Public Finance approves DDO by flagging off concerns
Saturday, 1 July 2023 00:15 –      – 49
Questions raised over Govt.'s commitment to proposed Domestic Debt Optimisation plan and adherence to resolution principles
COPF members stress importance of balanced burden-sharing among all creditors, not solely on superannuation funds to uphold equity in DDO
Flags off violation of equity principles remained a primary concern
EPF and ETF will have 21 days until 25 July to review and agree or disagree with DDO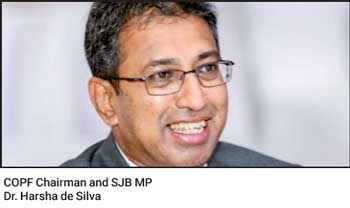 The Committee on Public Finance (COPF) yesterday approved the Government proposed Domestic Debt Optimisation (DDO) but flagged off several concerns.
The move follows advanced discussions on the DDR for the second day.
COPF Chairman and SJB MP Dr. Harsha de Silva said the Government presented a resolution to COPF, which will be voted on in Parliament today aiming to implement the DDO program for debt sustainability and economic recovery in Sri Lanka.
"COPF Members expressed concerns about the Government's commitment to the proposed plan and adherence to resolution principles. The Ministry of Finance acknowledged these concerns, pledging to strengthen the Fiscal Management Responsibility Act (FMRA) for compliance," Dr. de Silva said.
"Questions arose about the impact on superannuation funds and guaranteeing 9% interest rates. The CBSL Governor assured that their calculations indicate no net present value loss to the EPF. However, I advocated for legislating a minimum return, as done in the 1958 EPF Act," the COPF Chief said.
He also said COPF members stressed the importance of balanced burden-sharing among all creditors, not solely on superannuation funds, to uphold equity in the DDO.
"Violation of equity principles remained a primary concern, leading the Opposition to vote against the resolution. Nevertheless, the resolution passed in COPF, with amendments binding the Ministry of Finance to the proposed plan, ensuring adherence to the approved concept paper and addressing concerns about potential deviations," said Dr. de Silva who as per tradition, abstained from voting as the Committee Chair.
Upon approval of DDO, officials will present the plan to the public on 4 July. Superannuation funds – EPF and ETF will have 21 days until 25 July to review and agree or disagree with the proposed plan, COPF Chief added.