'Sophisticated vehicle racket' at Presidential Secretariat
View(s): 1326
It has been revealed that a Presidential Secretariat official is using a vehicle from the Secretariat's vehicle pool after renting out his personal vehicle to another official at the same office.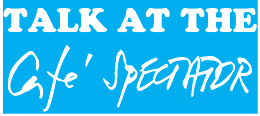 Thus the official is not only using a vehicle from the Presidential Secretariat and obtaining a fuel allowance, but he is also earning an additional income by renting out his own vehicle. He is essentially running a side business in his own office.
Meanwhile, the official to whom he has rented out the vehicle has written to her superiors at the President's office asking for a vehicle and fuel allowance for herself as she is currently using a rent-a-car facility.
At the President's office, a senior official described the renting out of personal vehicles to the Secretariat as a "sophisticated racket" run by some officials.
---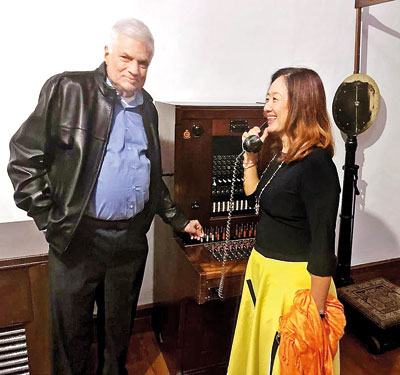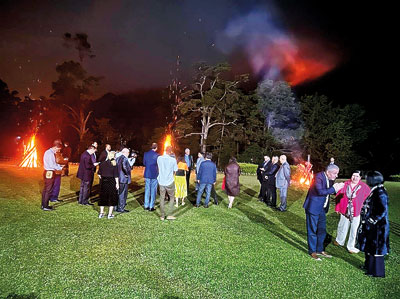 US envoy's trunk call to Biden: Ranil diverts it to Foster Dulles
President Ranil Wickremesinghe held a reception for the diplomatic community at his Nuwara Eliya official residence last evening.
US Ambassador Julie Chung spotted a centuries-old telephone system at the residence and pretended to be calling President Joe Biden. Given the age of the telephone system, President Wickremesinghe laughingly said that the Ambassador's call might be answered by John Foster Dulles, who served as US Secretary of State in the 1950s.
---
No MP, no bungalow
Parliament's House Committee has decided to impose a new rule making it compulsory for the relevant MP to be present when booking rooms at General's House in Nuwara Eliya, the bungalow which serves as the vacationing home for parliamentarians.
The rule has been imposed after complaints from several MPs that many persons claiming to be relatives or friends of MPs had booked rooms at the bungalow in recent times. These persons had then behaved in an unruly manner and this had disturbed other MPs and their families who were vacationing at General's House.
General's House, which is a British colonial-era bungalow, is reserved exclusively for the use of MPs and their families at a heavily subsidised rate. An MP is charged Rs. 1000 for a room at the bungalow.
---
Kaavan would have wished he had been born in Thailand
Questions are being raised as to how the Sri Lankan authorities reacted when Kaavan, a Sri Lankan elephant gifted to Pakistan a few years ago, underwent a similar trauma experienced by Sak Surin–Muthu Raja–who was being repatriated to Thailand for treatment.
Thai officials have shown a keen interest in taking care of their elephant before being flown back to their country. They have had frequent visits and checkups for the tusker, besides looking into its other needs.
However, such interest was not shown by the Sri Lankan government and wildlife authorities when Sri Lankan Elephant Kaavan was left alone at the Islamabad Zoo in Pakistan.
Kaavan dubbed "the world's loneliest elephant" lived alone from 2012 to 2020 since its partner passed away. Footage of the animal living in a lonely concrete pen was published in the media, and international animal organisations and American singer Cher campaigned for the release of the animal. Finally, the animal was moved to the wildlife sanctuary in Cambodia.
When the state of the elephant was broadcast and the international animal rights activists raised concern, the Sri Lankan authorities remained silent, unlike Thai officials who intervened directly when the condition of the animal gifted by them deteriorated.
---
New EP governor also plays geopolitics, throwing his hat into India's ring
Eastern Province Governor Senthil Thondaman is currently on an official visit to India — his first overseas since his appointment in May.
Mr Thondaman has been meeting with an array of Indian dignitaries since his arrival and had talks with India's External Affairs Minister S Jaishankar in New Delhi this week.
Among the topics discussed were developing air connectivity between Eastern Province and India, priority being given to Indian industries to set up factories at the Trincomalee Industrial Park, and allocating solar panels on Indian grants to 15,000 Eastern Province families without electricity. The talks also covered housing and livelihood programmes for the Sri Lankan refugees who have returned to Sri Lanka from India, according to a statement posted on Mr Thondaman's official Facebook page.
It said the Governor had also held meetings with officials from power generation company NTPC, Alliance Air and Bharti Airtel.
Mr. Thondaman has been working hard to cultivate a strong relationship with India. His first visit after being sworn in as Eastern Province Governor was to India House, where he met Indian High Commission Gopal Bagley.
The new Governor's pro-India conduct is in sharp contrast to that of his predecessor, Anuradha Yahampath, who strongly cultivated ties with China during her time as Governor. She was especially keen on expanding ties between the Eastern Province and China's Yunnan Province. It was her continued efforts to further deepen these ties that eventually led to her removal from the post of Governor and a replacement was found from the 'Tamils of recent Indian origin' as the plantation workers were referred to.
Thus, the Eastern Province became a scene of a mini geopolitical contest. And interestingly, her successor has wasted no time in looking to cultivate similar ties with China's geopolitical rival.
---
Two Lankans on election mission in Sierra Leon
Two Sri Lankans joined the international election observer mission to observe and assess the conduct of Sierra Leone's June 24 general elections to elect the country's president, parliament, and other local representatives.
Retired Supreme Court Judge Justice Rohini Marasinghe was part of the 11-member Commonwealth election observation mission headed by Nigeria's former Vice President Yemi Osinbajo.
Veluppillai Kananathan, Sri Lanka's High Commissioner to Kenya, was also invited by the Electoral Commission of Sierra Leone to join the observer mission. It was a rare occurrence that two members from Sri Lanka were included in the international election observer mission in an African country. Ambassador Kananathan has already served in Election Observer missions in Kenya and Nigeria. Presenting its findings after the conclusion of the polls, the Commonwealth Group welcomed the large turn-out of voters and said that the polling day was generally peaceful, despite heightened tensions during the week.
Justice (Retd) Marasinghe also serves as the Chairperson of the Sri Lanka Human
Rights Commission.
---
SLFP faction threatens to gatecrash Parliament's Business Committee
Sri Lanka Freedom Party (SLFP) General Secretary and Kurunegala District MP Dayasiri Jayasekara yesterday threatened that the SLFP faction led by former President Maithripala Sirisena would "forcibly enter" meetings of the Committee on Parliamentary Business if the party was continued to be denied a seat on the Committee.
Mr Jayasekara noted that the SLFP, which has 14 MPs, was now split into two factions. One group is supporting the Government after obtaining ministerial positions while five others led by Mr Sirisena are sitting with the opposition.
The SLFP opposition faction, though, continues to be shut out of the Business Committee, which takes decisions on matters related to Parliamentary Business. "As a result, we have come here today completely in the dark about today's happenings," he claimed.
The SLFP General Secretary, who is with Mr Sirisena, blamed both the Government and the opposition for the failure to allow one of their SLFP group members a seat on the Parliamentary Business Committee. "If this is not resolved soon, we will forcibly go to meetings of the Business Committee. You may use your strength in numbers to throw us out, but let's see what happens," he told the House.
Speaker Mahinda Yapa Abeywardena said there were also some MPs in the House who were the sole representatives of their parties. He said it was up to the party leaders to decide if they were going to increase the number of members in the Business Committee so that the SLFP opposition faction and other such groups too could attend.
---
Galle Dialogue in Galle; Navy clarifies
The 'Galle Dialogue' International Maritime Conference will be held in Galle as scheduled without a change of venue, the Sri Lanka Navy said this week.
Navy Media Director B.G.P.F.A. Wickramasuriya has drawn attention to a news item in last week's Sunday Times under the headline 'To cut costs, Defence function moved to venues run by Security Forces'.
Captain Wickremasuriya said the Sri Lanka Navy's multifunctional hall mentioned in the news item had not been declared open so far.
Accordingly, it had been decided to conduct this year's conference in Galle as practised for several years and the details had been published on the 'Galle Dialogue" website, he said.
Reporter's note: As mentioned in the news item, the possibility of using security forces venues has drawn the attention of the Presidential Secretariat. However, due to time constraints, it may not be possible to change the venue for the upcoming conference to be held in October and it will go ahead as scheduled in Galle.