Govt. to transform tourism into forex powerhouse: President
Saturday, 8 July 2023 00:40 –      – 219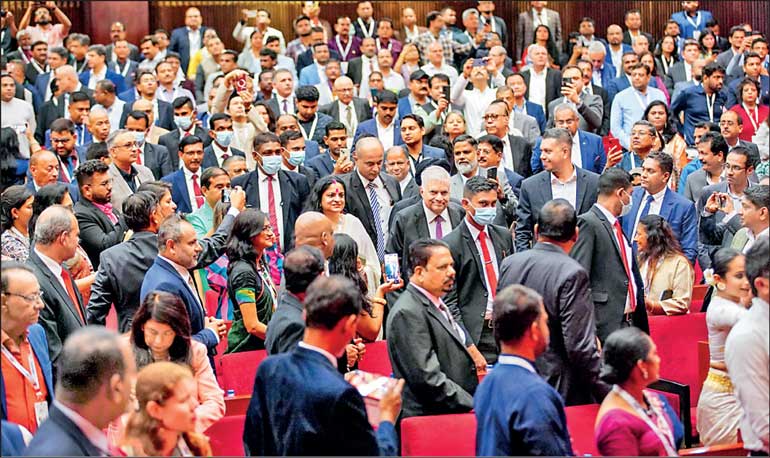 Indian travel agents capture on their phone the arrival of President Ranil Wickremesinghe at the inauguration of the 67th Convention of the Travel Agents Association of India (TAAI) at the BMICH on Thursday. Over 500 Indian travel agents and 50 journalists are in the country for the 4-day convention
Underscores proposal to position BIMSTEC as one big tourist region holds immense promise
Encourages visitors to explore 'not to be missed' locations countrywide
Insists on need to attract international travellers, raise profile of Sri Lanka as a premier destination
Calls for increased connectivity, travel arrangements within BIMSTEC, seamless travel experiences for tourists
Proposes to promote regional cuisines, dance forms, cultural events
Recommends stakeholders from Sri Lanka and India to collaborate, learn from countries like the Maldives and Nepal 
President Ranil Wickre-mesinghe on Thursday expressed his confidence in the tourism industry's potential to significantly contribute to Sri Lanka's foreign exchange earnings in the next decade.
Speaking at the 67th Convention of the Travel Agents Association of India (TAAI), President Wickremesinghe emphasised the country's comprehensive plans to enhance its appeal as a tourist destination, with a focus on increasing per capita income through tourism promotion.
The President also stressed the importance of collaborative efforts among all the BIMSTEC (Bay of Bengal Initiative for Multi-Sectoral Technical and Economic Cooperation) members to develop the region into a thriving tourism hub by transcending national borders to unlock the BIMSTEC tourism potential and attract international travellers.
President Wickremesinghe urged collaboration between BIMSTEC countries to highlight the region's rich cultural heritage, cuisine, and natural beauty.
President Wickremesinghe highlighted the various attractions and unique cultural experiences that Sri Lanka has to offer and the 500 Indian delegates should visit during their excursions.
"We will assure you that Sri Lanka's tourism, the new plans that our Minister Harin is going to implement, will certainly make it an incredible stay. Many of you after this conference will be visiting different parts of Sri Lanka," he said.
Noting that there are places that should not be missed, President Wickremesinghe encouraged visitors to explore locations such as Trincomalee's Dakshin Kailash (Koneswaram Kovil), Kataragama shrine of Lord Vellamurugan and Jaffna's Nallur Kovil and festivities and emphasised the importance of showcasing the country's diverse heritage, festivals, and culinary offerings.
TAAI has a membership of over 2,500 and hosting its convention in Sri Lanka provides huge visibility for the country. India is Sri Lanka's biggest tourist source market. In the first half of this year, arrivals from India amounted to 116,193, up by 68% from the corresponding period of last year. The TAAI convention serves as an ideal platform for promoting Sri Lanka's tourism offerings. The event features business sessions, buyer-seller meetings, and post-summit tours to popular tourist destinations in the country.
The President also outlined plans to introduce unique events and experiences, including the Galle Literary Festival, and increased focus on eco-friendly tourism.
Recognising the importance of leveraging tourism to boost the country's economy, President Wickremesinghe emphasised the need to attract international travellers and raise the profile of Sri Lanka as a premier destination. He suggested emulating the success of the Maldives in targeting high-end markets and introducing new initiatives such as golf courses, large resorts, and luxury accommodations.
President Wickremesinghe also announced plans to develop new tourist hotspots in Sri Lanka, including areas adjacent to Dedduwa and Horton Plains, as well as exploring yachting opportunities along the country's coastline. He outlined the untapped potential of the Bay of Bengal for cruises and highlighted the opportunity to showcase various tourist destinations within Sri Lanka and neighbouring countries.
"With Sri Lanka's concerted efforts to enhance its tourism industry, we aim to attract a sizable number of tourists, increase per capita income, and establish ourselves as a prominent foreign exchange powerhouse in the coming years," he added.
He also called for increased connectivity and travel arrangements within the region, envisioning seamless travel experiences for tourists.
He proposed itineraries that would allow travellers to explore multiple destinations, such as visiting Lumbini, Bodh Gaya, Temple of the Tooth Relic and Sri Maha Bodhiya.
The President also suggested unique holiday options, such as combining a mountainous adventure with an island retreat in the Maldives.
Emphasising the rich cultural heritage and diverse dance forms present in the region, he highlighted that those should be promoted as unique attractions for tourists. Additionally, he encouraged the promotion of regional cuisines, particularly mentioning Biriyani, as a signature dish that could be showcased across the BIMSTEC area.
Drawing inspiration from the success of cricket, President Wickremesinghe proposed aligning efforts to make tourism equally successful. He urged stakeholders from both Sri Lanka and India to collaborate and learn from countries like the Maldives and Nepal.
The President envisioned a thriving tourist industry that would bring millions of visitors to the region, ultimately benefiting the local communities and contributing to their prosperity.
"As the tourism industry continues to grow and evolve, the proposal to position BIMSTEC as one big tourist area holds immense promise. It presents an opportunity for countries in the region to work together to showcase their unique offerings and create exceptional travel experiences that set them apart from other destinations," he added.
President Wickremesinghe's call for collaboration within the BIMSTEC region and the development of tourism as a driving force received positive responses from the audience.
Tourism Minister Harin Fernando, Ports, Shipping and Aviation Minister Nimal Siripala de Silva, TAAI President Jyoti Mayal, Sri Lanka Tourism Development Authority Chairman Priantha Fernando, Sri Lanka Tourism Promotion Bureau Chairman Chalaka Gajabahu, Sri Lanka Conventions Bureau Chairman Thisum Jayasuriya, Sri Lanka Institute of Tourism and Hotel Management Shirantha Peiris, Sri Lanka Tourism Ambassador, former Sri Lanka Caption Sanath Jayasuriya, Sri Lanka Association of Inbound Tour Operators President Nishad Wijetunga and many local and Indian travel trade dignitaries participated at the event.
The summit received strong support from major airlines, including SriLankan Airlines, Air India, IndiGo, and Vistara, ensuring seamless travel arrangements for the attendees.