Byju's: The unravelling of India's most valued start-up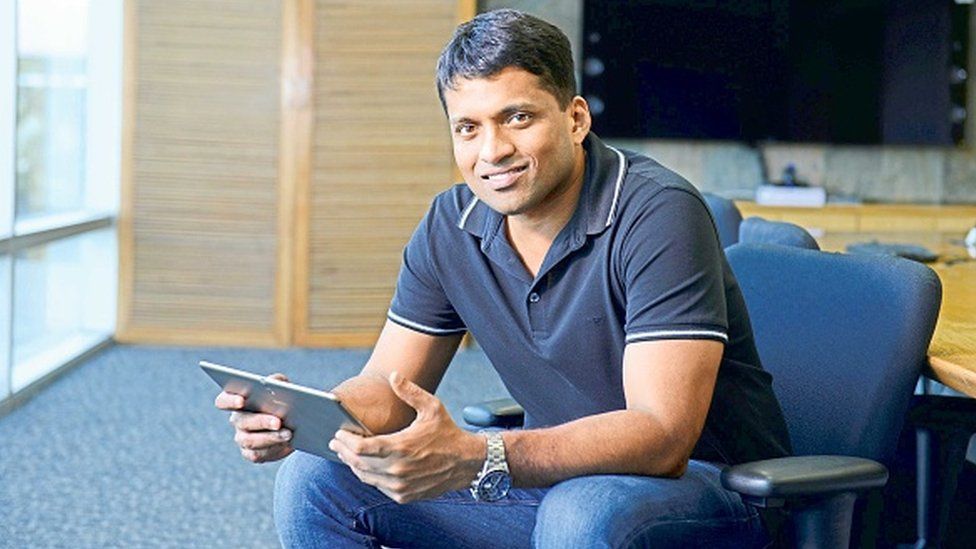 Byju's, once among the most valued edtech start-ups in the world and a darling of investors during the Covid-19 pandemic, has seen a dramatic downturn in its fortunes after operational and financial setbacks in recent months. Experts say it marks a necessary correction in the bull run of Indian start-ups.
"Byju's is a company that has grown too fast too soon," says Shriram Subramanian, who heads an independent corporate governance research and advisory firm.
Founded in 2011, Byju's launched its learning app in 2015. With 15 million subscribers by 2018, the edtech firm became a unicorn (valued at $1bn) amid much fanfare.
It expanded substantially during the Covid-19 pandemic as students turned to online classes during lockdowns. But in 2021, it posted a loss of $327m, which was 17 times more than the previous year.
Since then, the edtech giant has witnessed an extraordinary unravelling. Valued at $22bn (£17.28bn) last year, Byju's has seen its valuation slashed to $5.1bn this year by Prosus NV, the company's biggest investor and shareholder.
The company did not respond to the BBC's queries.
"After the pandemic, when children returned to schools there was going to be a downturn," Mr Subramanian said. "But Byju's kept on growing and investors kept on putting money into it. They did not see the signs that there could be a downturn."
Aniruddha Malpani, an angel investor and vocal critic of Byju's business model, says the company had "paper fortunes".
"There's a big gap between value and valuation," he said.
With exponential growth during the pandemic, Byju's went on an acquisition spree in 2021, spending $2bn to acquire edtech start-ups and firms like WhiteHat Jr, Aakash, Toppr, Epic, and Great Learning.
It soon surpassed digital payments platform Paytm to become India's most-valued start-up.
Byju's channelled hundreds of millions into its marketing, roping in Bollywood superstar Shah Rukh Khan and football star Lionel Messi as its brand ambassadors. It became the main sponsor of the Indian cricket team and an official sponsor of 2022 FIFA World Cup.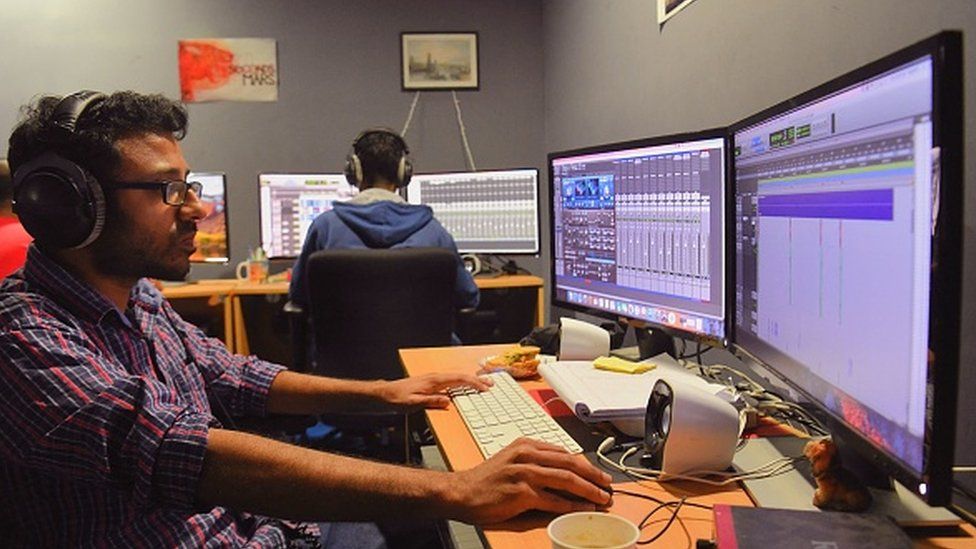 Byju's has denied the allegations made by parents and its former staff. It has also been facing investigations from the government.
In April, the firm's office in Bengaluru was raided by Indian authorities over suspected violations of foreign exchange laws. The company denied any wrongdoing and assured its workers that it had fully complied with the laws.
In May, lenders to the company filed a suit in a US court, accusing it of defaulting on payments and breaching terms of the loan agreement, including months-long delays in releasing financial statements. The lenders also accused the company of diverting funds through its US-based subsidiary Alpha, a claim Byju's denied.
In June, after reportedly missing an interest payment of nearly $40m, Byju's sued the lenders over alleged harassment.
It also began another round of layoffs, firing nearly a thousand employees. There was more trouble waiting for the firm from its own auditors.
Deloitte Haskins and Sells Llp quit as the company's auditors citing the delay in Byju's submitting its financial statements. The auditors said it impacted their ability to assess the company's books.
This was soon followed by news that three of its board members had resigned, leaving just CEO Byju Raveendran, his wife Divya Gokulnath and brother Riju Raveendran on the board.
The start-up is reportedly now in talks to restructure its debt load.
Reports also said that there were calls for the CEO's resignation at a shareholders' meeting this week, but two investors at the company denied these claims.
"Byju's failed at holding itself to the standard expected of a company its size," said K Ganesh, a serial entrepreneur and angel investor who founded one of India's largest online grocers, BigBasket.
The delay in filing financial statements was "unacceptable and unconscionable", he says.
"Most sectors that benefited from the pandemic and expanded rapidly are now facing headwinds because the return to normal has been more drastic than they expected," Mr Ganesh said. "This is true for all companies in the edtech sector."
Experts say the sector's potential was overestimated during the pandemic.
"Technology by itself will never work," Dr Malpani explains. "You need it along with safe space for children where there is adult supervision, peer to peer learning."
"Byju's was essentially selling hardware, like its tablets, with study material that could be found online for free," he says.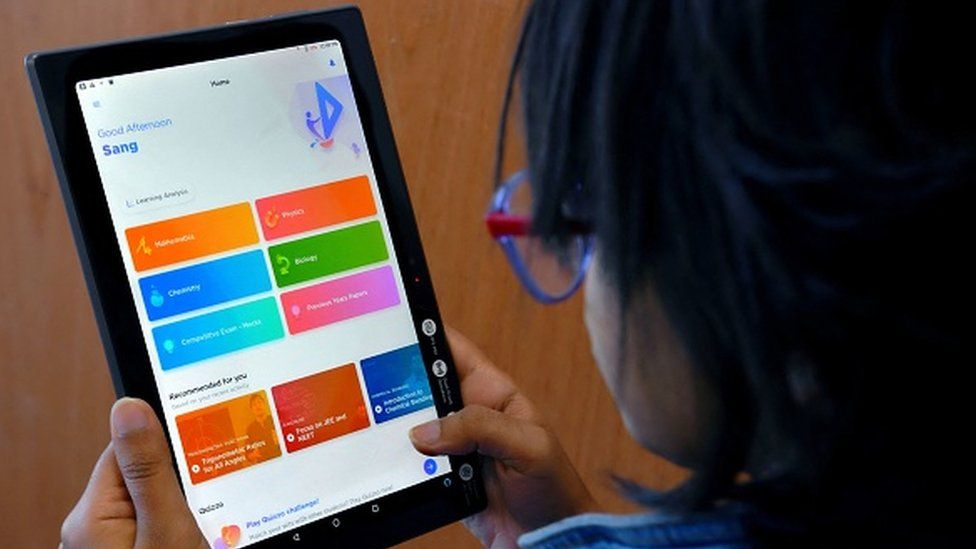 These start-ups were valued at a "stratospheric, unrealistic level" during the pandemic and are being valued at "realistic levels now," Mr Ganesh said.
He added that one of the reasons Byju's is at its current crossroads is the "detrimental" board structure of venture capitalist-funded companies.
"With just managers, founders and investors on board – each of whom is bound to protect their own interests – there is nobody to protect the interests of the company. This is unlike a public listed company where regulatory rules ensure a set of independent directors on board and insist on an audit committee headed by an independent director," Mr Ganesh explained.
Several experts, including Mr Ganesh, have been advocating that start-ups that reach a certain level should be told to work like public listed firms.
At the shareholders' meeting, the company is said to have agreed to form an advisory committee consisting of independent directors to advise and guide the CEO on the composition of the board and the governance structure
Mr Ganesh and Mr Shriram said the company could still course correct if it acknowledges its missteps and commits to immediate action on all fronts.
But Dr Malpani believes Byju's has not shown the intent to do this.
"They need to conserve as much cash as possible which will give them a long runway and cut down on costs aggressively, more than just through layoffs," says Mr Shriram. "Also, sell off some businesses to raise capital."
Byju's has set a timeline of September end for the completion of its 2022 audit and December end for its 2023 audit.
Analysts believe Byju's current situation will only have a positive short-term impact on India's start-up ecosystem.
"Due diligence, founders' rights, the need for an internal auditor, independent board members and terms and conditions of corporate governance, which were earlier glossed over, will become stricter," Mr Ganesh said.
"India has good corporate governance laws," Mr Shriram said. "It is for the investors and other stakeholders to demand more from Byju's."
Analysts say investors are used to handling bull and bear runs and have short memories when it comes to these dips.
"There'll be another [like this] in two years," Dr Malpani says.
BBC News India is now on YouTube. Click here to subscribe and watch our documentaries, explainers and features.


Read more India stories from the BBC: