Govt. gazettes Colombo Port City investment incentives
Wednesday, 12 July 2023 00:00 –      – 320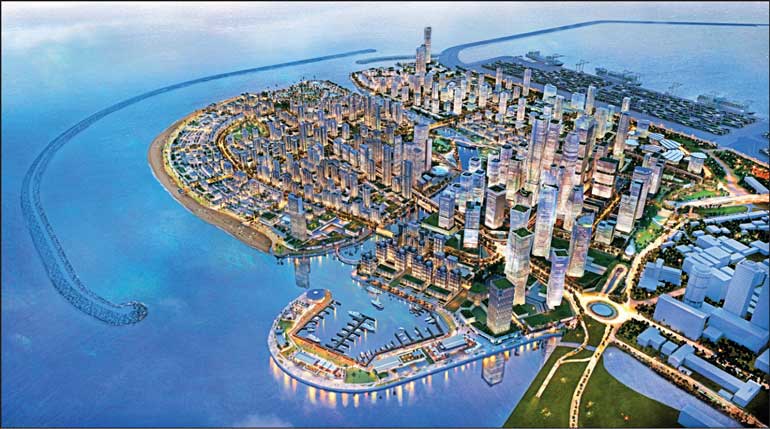 A 3D-modelled aerial night view of Colombo Port City
---
Reliefs include concessionary 50% tax rate; enhanced capital allowance; flexibility of currency choice on payment of dividends or other financial benefits by businesses
Lists secondary businesses of strategic importance at Colombo Port City
Spanning 269 hectares of ocean reclamation, Port City Colombo, which also includes first ever Special Economic Zone dedicated for exports of services, is visionary project that aims to redefine Sri Lanka's economic and social landscape
Initial 5-year roll-out plan envisages $ 5.6 b in FDI which will fast-track Sri Lanka's economic recovery, positioning both Port City and Sri Lanka as leading player in service export industry
Overall, Colombo Port City envisages creating over 140,000 direct job opportunities and contribute $13.8 b to Sri Lanka's GDP annually
Estimated fiscal revenue of $ 1.7 b is expected at construction stage while recurring revenue of approximately $ 700 m per annum is expected at operational stage of project
In a major breakthrough to boost foreign direct investments, the incentives and tax exemptions for investors intending to start ventures in the Colombo Port City have been published by the Government via Extraordinary Gazettes (2339/31 and 2339/32) dated 7 July.
Two prospective groups of investors have been identified who will be able to avail themselves of these incentives and tax exemptions.
Businesses that invest $ 100 million per plot of land or a pro-rated investment in a subdivided plot of land according to the Colombo Port City (Development Control) Regulations or one that will make an investment of a minimum of $ 25 million in the plots of land for the Marina will be entitled to exceptions or incentives according to several schemes set out in the gazette.
These include an incentive of 50% of the prevailing corporate tax rate applicable for the respective year of assessment under the Inland Revenue Act, No. 24 of 2017 from all gains and profits and an incentive of an enhanced capital allowance of 300% of the expenses incurred on depreciable assets, other than intangible assets used within the Area of Authority of the Colombo Port City during a year of assessment.
The gazette noted that businesses can make a choice out of the two exemption or incentive schemes specified and inform such choice to the Port City Commission. However, once the choice is made investors will not be allowed to change the option chosen at a later date.
A second gazette issued on the same date set out regulations with regard to the payment of dividends or other financial benefits payable by businesses. Accordingly, it stated companies can pay investors dividends or any other financial benefit on the investment in a designated foreign currency other than in Sri Lanka Rupees.
"Where the Commission has leased out marketable land to a person or company under section 39 of the Act and a dividend or any other financial benefits accrues to the investor within a period of five years from the date of the lease paid, such dividend or other financial benefits shall be remitted into a Resident Foreign Currency Account of the investor maintained in the name of such investor with a licenced commercial bank," it noted.
It also set out that businesses operating within the Port City may accept payments in Sri Lankan Rupees in respect of any goods or services provided subject to several conditions including depositing it in a Rupee account of a licensed commercial bank and converting it to another currency through the same.
Spanning 269 hectares of ocean reclamation, Port City Colombo, which also includes the first ever Special Economic Zone dedicated for exports of services, is a visionary project that aims to redefine Sri Lanka's economic and social landscape. It promises to offer a cosmopolitan lifestyle, world-class infrastructure and sustainable living.
The gazette also identified investments that will be considered Secondary Businesses of Strategic Importance. These can include companies working in the areas of global and regional economic activity in international trade, shipping logistic operations, offshore banking and finance, IT, business process outsourcing, corporate headquarters operations, regional distribution operations, tourism and other ancillary services, innovation, entrepreneurship, entertainment, generation of employment opportunities, sustainable development or urban amenity operations in the settlement of a residential community. Certain incentives and exemptions will also be provided to these investors according to the Gazette.
Recently, an updated Development Control Regulations (DCR) was published via Extraordinary Gazette No 2334/47 of 2 June, which enables the Colombo Port City Economic Commission to receive development proposals for evaluation and the issuance of Planning Clearance, Development Permits, and Certificates of Conformity, aligned with the approved Master Plan – Spanning a buildable area of 6.3 million square meters, that will offer a world-class environment for various amenities, including a Marina Facility, Luxury Villas, Apartments an Integrated Resort, Convention Centre, International School and University, a Hospital and a Financial Centre etc.
These and all developments of Colombo Port City will be subjected to the regulation of the newly published DCR 2023.
The primary objective of 2023 for Colombo Port City is to benefit developers, residents, investors, and all stakeholders, including the surrounding community. These regulations establish guidelines for development intensity, building height, and overall construction framework across all plots within Colombo Port City. They serve as a vital planning tool, ensuring logical and orderly development.
The initial 5-year roll-out plan envisages $ 5.6 billion in FDI which will fast-track Sri Lanka's economic recovery, positioning both Port City and Sri Lanka as a leading player in the service export industry.
Overall, Colombo Port City envisages creating over 140,000 direct job opportunities and contributing $13.8 billion to Sri Lanka's GDP annually.
Estimated fiscal revenue of $ 1.7 billion is expected at construction stage while a recurring revenue of approximately $ 700 million per annum is expected at the operational stage of the project.