WindForce commissions another wind power project in Mannar
Tuesday, 1 August 2023 03:12 –      – 47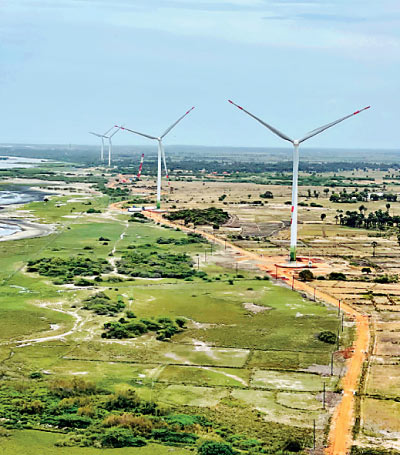 The Hiruras Power Ltd., Wind Power Project takes centre stage in Mannar wind belt marking a significant milestone in Sri Lanka's renewable energy journey.

With WindForce holding a 100% stake and a combined capacity of 15 MW, this initiative further cements WindForce's position as a leading player in the renewable energy sector, increasing their total installed capacity to an impressive 245.1 MW.

Despite facing numerous challenges, including the COVID pandemic and economic crises, the project showcases the unwavering determination and commitment of the WindForce team.

With a total capacity of 15 MW, the Hiruras Wind Power Project consists of two phases: 10 MW and 5 MW. The first phase of 10 MW, was successfully commissioned on 12 June, followed by the second phase of 5 MW, which was commissioned on 21 July 2023.

The road to completing the Hiruras Wind Power Project was not without obstacles. The year 2021 posed significant challenges for the project, with the COVID pandemic wreaking havoc on economies worldwide and disrupting supply chains. Additionally, the economic crisis further complicated matters. Despite these hurdles, WindForce exhibited remarkable resilience and perseverance, forging ahead with the construction while adhering to strict health and safety protocols. The successful completion of the project well ahead of the set timelines is a testament to the team's dedication and adaptability.

WindForce's commitment to excellence was evident throughout the project's  lifecycle. The company's dedicated team handled all aspects of the project in-house, showcasing their expertise from the project's inception to its realisation. Starting with wind resource assessment and micro sighting, the team meticulously planned the power plant modelling and development processes, ensuring optimal efficiency and sustainability. The entire engineering, procurement, and construction (EPC) process was expertly managed, resulting in a state-of-the-art wind power facility.

The completion of the Hiruras Power Ltd., Wind Power Project in Mannar, Sri Lanka, stands as a remarkable achievement and a testament to the potential of renewable energy in the region. With WindForce leading the charge, the project's success showcases their unwavering commitment to sustainability and resilience, even in the face of challenging global circumstances such as the Covid pandemic and economic crises.

By surmounting these obstacles and delivering the project well ahead of schedule, WindForce has solidified its position as a leading player in the renewable energy sector, further contributing to Sri Lanka's journey towards a greener and more sustainable future.

The Hiruras Wind Power Project not only harnesses the abundant wind resources in the Mannar wind belt but also serves as a beacon of hope for other nations, inspiring them to pursue ambitious and impactful renewable energy initiatives in the fight against climate change. As the world looks to transition from fossil fuels to cleaner sources of energy, the successful completion of projects like Hiruras underscores the crucial role that innovation, determination, and dedication play in realising a sustainable and environmentally responsible future.