Gallium and germanium: What China's new move in microchip war means for world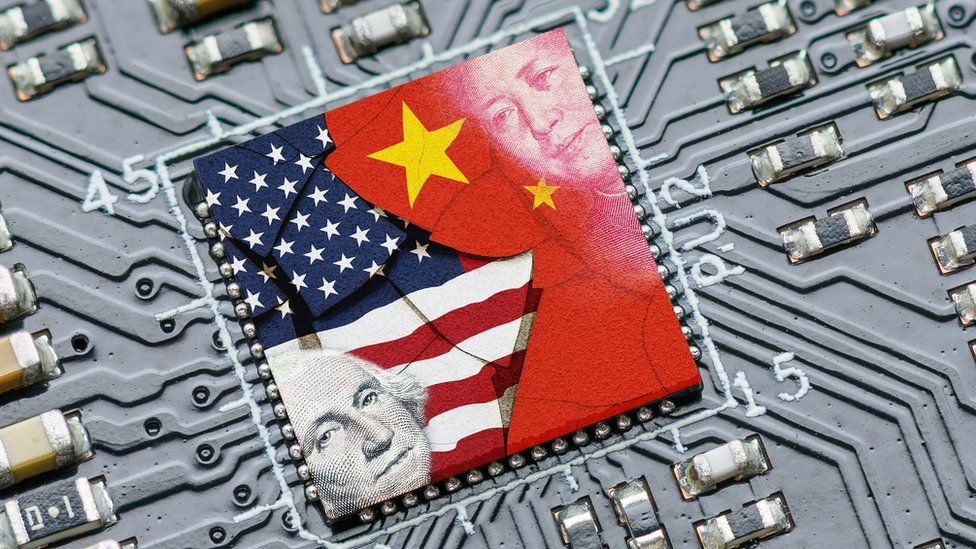 China is due to start restricting exports of two materials key to the semiconductor industry, as the chip war with the US heats up.
Under the new controls, special licences will be needed to export gallium and germanium from the world's second largest economy.
The materials are used to produce chips and have military applications.
The curbs come after Washington made efforts to limit Beijing's access to advanced microprocessor technology.
China is by far the biggest player in the global supply chain of gallium and germanium. It produces 80% of the world's gallium and 60% of germanium, according to the Critical Raw Materials Alliance (CRMA) industry body.
The materials are "minor metals", meaning that they are not usually found on their own in nature, and are often the by-product of other processes.
Besides the US, both Japan and the Netherlands – which is home to key chip equipment maker ASML – have imposed chip technology export restrictions on China.
"The timing of this announcement from China is not coincidental, given chip export restrictions announced by the Netherlands amongst others," Colin Hamilton from the investment firm BMO Capital Markets told the BBC.
"Quite simply, if you won't give us chips, we won't give you the materials to make those chips," he added.
The constant tit-for-tat between the world's two biggest economies has raised concerns over the rise of so-called "resource nationalism" – when governments hoard critical materials to exert influence over other countries.
"We're seeing governments increasingly move away from the narrative of globalisation," says Dr Gavin Harper, a critical materials research fellow at the University of Birmingham.
"The idea that international markets will simply deliver materials is gone and, if you look at the picture more broadly, Western industry could be facing a bit of an existential threat."
Gallium arsenide – a compound of gallium and arsenic – is used in high-frequency computer chips, as well as in the production of light-emitting diodes (LEDs) and solar panels.
A limited number of companies around the world produce gallium arsenide at the purity needed for use in electronics, according to the CRMA.
Germanium is also used to manufacture microprocessors and solar cells. It is also used in vision goggles which are "key to the military," Mr Hamilton said.
However, Mr Hamilton added: "There should be enough in regional supply from base metal smelters to provide alternatives. The importance to top quality semiconductors is a harder one to solve, as China really is dominant. There will probably be some push for recycling."
Last month, a Pentagon spokesperson said the US had reserves of germanium but no stockpile of gallium.
The spokesperson added that "The [Defense] Department is proactively taking steps… to increase domestic mining and processing of critical materials for the microelectronics and space supply chain, including gallium and germanium".
Still, the Chinese export restrictions are expected to have a limited impact in the long-term.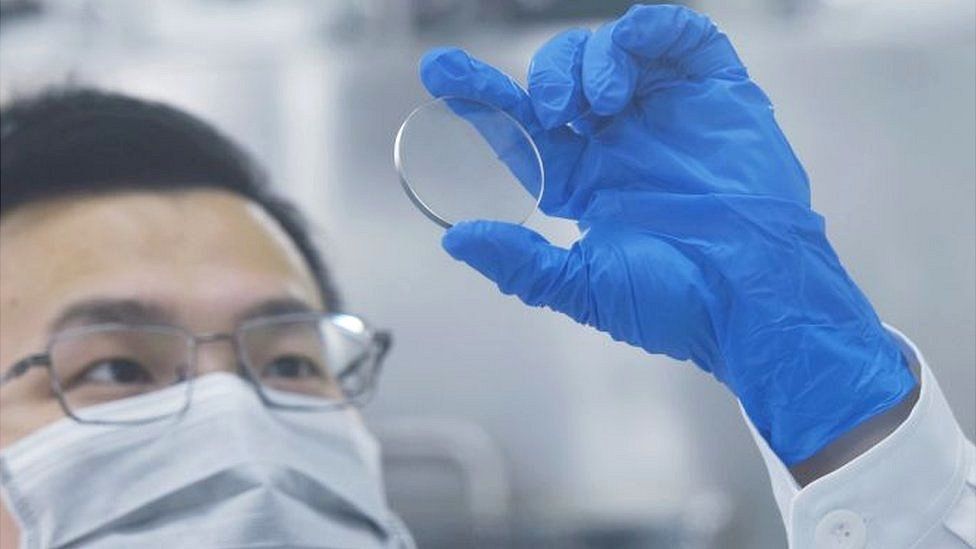 Although China is the leading exporter of gallium and germanium, there are substitutes for the materials in the production of components like computer chips, political risk consultancy Eurasia Group said.
There are also active mining and processing facilities located outside of China, it added.
The consultancy highlighted similarities to when China restricted the exports of rare earth minerals over a decade ago.
More exporters emerged and in less than a decade China's dominance of the rare earths supply chain fell from 98% to 63%, according to Eurasia's estimates.
"We can expect to see the development and exploitation of alternative sources of gallium and germanium, as well as intensified efforts to recycle these commodities and identify more readily available alternatives," Anna Ashton, Eurasia's director for China corporate affairs and US-China, told the BBC.
"That's not simply going to be a result of China's recently announced export restrictions," she added. "It's a result of expectations of growing demand, intensifying geostrategic competition and distrust, and China's documented willingness to restrict imports and exports in service to political and strategic ends."
In October, Washington announced that it would require licences for companies exporting chips to China using US tools or software, no matter where they are made in the world.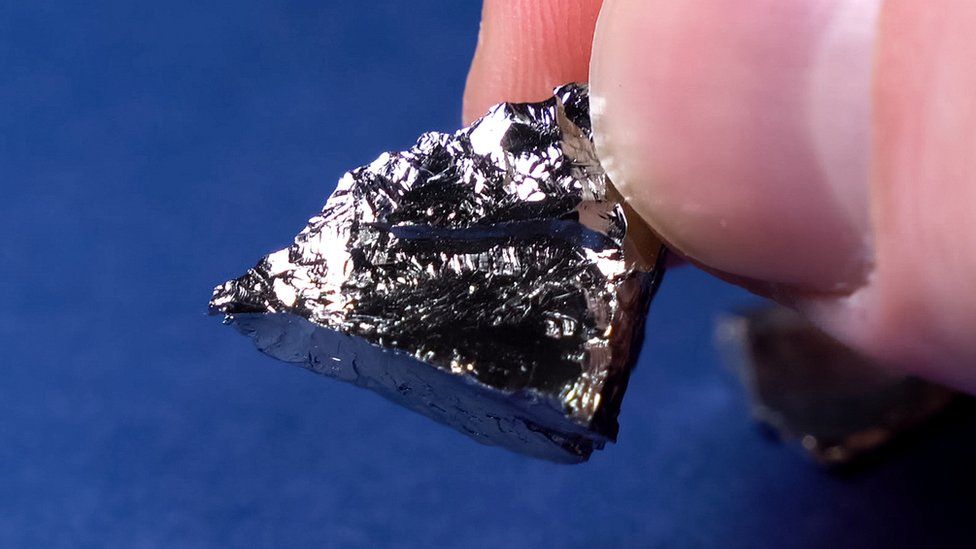 China has frequently accused the US of "tech hegemony" in response to export controls imposed by Washington.
In recent months, Beijing has also imposed restrictions on US firms linked to the American military such as aerospace company Lockheed Martin.
Meanwhile, Western governments have spoken about the need to "de-risk" from China, which means being less reliant on it for both raw materials and finished products.
However, diversifying supply chains and building up the capability to mine and then, crucially, process metals such as gallium and germanium will take years.
In the long-term, mineral-rich countries, such as Australia and Canada, see the materials crisis as an opportunity.
Experts warn that weaponising resources and technological capabilities – as the US and China have both done – will also have global consequences when it comes to the environment.
That is because important new green technologies are reliant on these kinds of materials
"This isn't a national problem. This is a problem that we face as a human race. Hopefully, policymakers can bring their best selves to the table, secure access to those critical materials that are really essential for the energy transition and we can start to tackle some of the challenges around decarbonisation," said Dr Harper.
While the impact of the latest export controls will not be catastrophic for industry or consumers, experts warn it is important to pay attention to where the trend is heading.
"The man and woman in the street cannot relate to gallium and germanium," says Dr Harper. "But equally, they care about how much their car costs or how expensive it will be to switch to green technology."
"Sometimes very abstract policies happening in faraway lands actually translate into something that has a big impact on their lives."