The fury in Pakistan sparked by a misogynist minister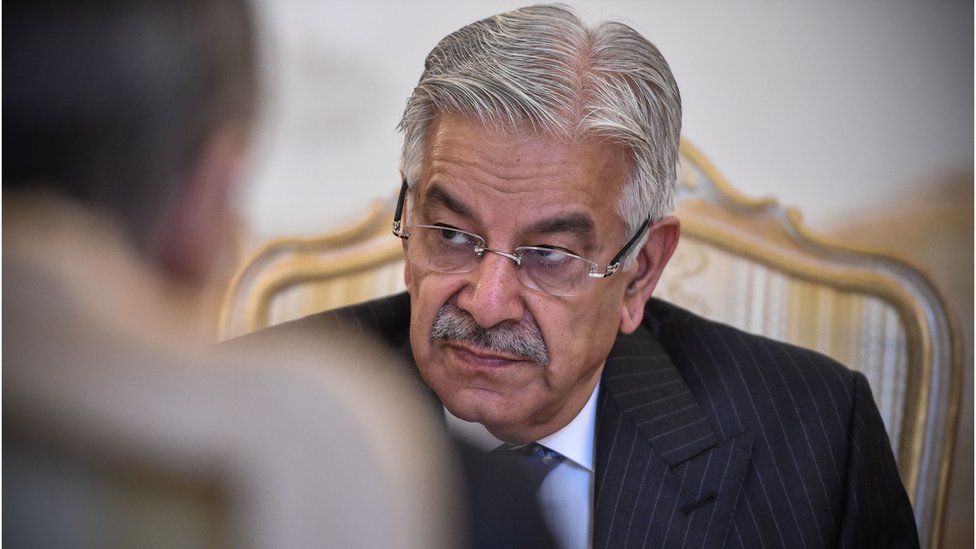 When Pakistan's Defence Minister Khawaja Asif stood up in parliament last week and labelled female opposition leaders in the Pakistan Tehreek-e-Insaaf (PTI) party as "trash and leftovers" of its chairman Imran Khan, he probably wasn't expecting the strength of the backlash that was to follow.
After all, Pakistani writers, cricketers, celebrities and judges have all made similarly sexist remarks. As Sharmila Faruqi, a member of the provincial assembly, told local media: "Men have a licence to get away with sexism."
It was also not the first time Mr Asif had expressed such sentiments in parliament. In an earlier joint session, the 73-year-old called former federal minister Sheerin Mazari, a "tractor trolley" – a crude reference to her weight.
It was far from the first time that such language had been used in the legislature. Mr Asif's Pakistan Muslim League (PML-N) and the PTI have frequently made sexist and misogynist remarks about female parliamentarians in opposing parties.
This time, however, the outcry against Mr Asif was loud and across the board.
Parliamentarians from the PTI and other parties rounded on him on social media, while many media outlets also lambasted him for his comments. Dawn, the largest English-language newspaper in the country, put out a scathing editorial declaring "Khawaja Asif, our indefensible defence minister, needs schooling on gender equality".
Mr Asif eventually took to Twitter to claim that his comments were "taken out of context" and that "calling someone 'trash' and 'leftover' is not gender-specific". But he did not apologise.
Nevertheless, sociologist Nida Kirmani believes this was a sign of change.
"Some years ago, there would not have been such an outcry, and he would not be required to give any kind of response or explanation," she says. "The recent response to Khawaja Asif's sexist comments are the culmination of a long and sustained struggle by women's rights activists."
She says social media has been an obvious gamechanger, offering women the space to speak up.
And that is also visible in conversations far removed from the national spotlight. Recently, a clip from the popular ongoing drama Baby Baji, which showed a husband slapping his wife, went viral, with some men praising the scene for "finally putting the woman in her place".
But women were quick to push back.
Amina Rehman was among them, commenting: "I saw a lot of abusive husbands in my circle celebrate it along with their abused wives. The misconstrued idea of a woman being the root of all evil is perpetuated so much that when the slap finally happens, people rejoice."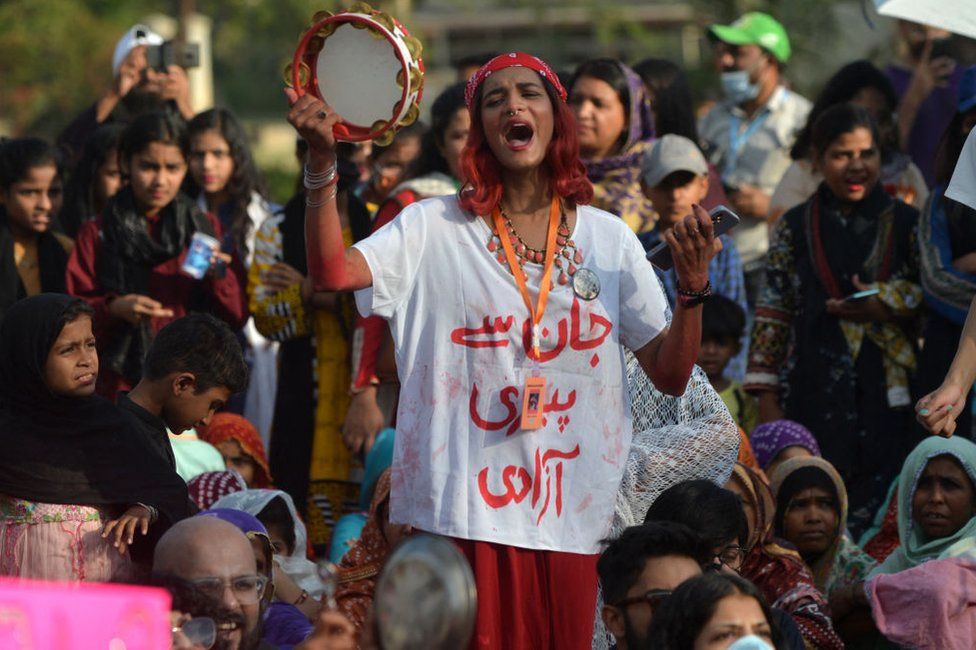 Many Pakistani women believe popular entertainment has had a role to play in this, often turning to regressive portrayals of women. Video blogger Sabahat Zakariya laments that dramas on TV or streaming platforms have embraced sexism more over time – she recalls TV shows in the 1980s that were far more progressive, showing women who had both careers and families.
Some shows have tried to break that mould – such as Churails, a fictional, subversive tale of women detectives. But it proved too bold for Pakistan's censors, who banned it after a backlash.
"Pakistani society has not accepted a woman as an individual, a human or to give her the right to live the way she deserves," says actor and activist Adeel Afzal.
"And every crude thing that we hear or read or watch is built around that thinking. As a result, when a woman complains about being mistreated or abused or harassed, we fight and go against her and the culprit runs away."
But sometimes the outcry is strong enough to force a conversation.
Back in April, Nabil Gobol of the Pakistan People's Party sparked a controversy with his comments in a podcast. Referring to political compromises, he said "There is a saying in English, that when rape is inevitable you may as well enjoy it."
Many took to Twitter and Facebook to voice their unhappiness, tagging Mr Gobol's party leader and demanding that action be taken. The party eventually asked him to apologise. And he did.
"With sustained critique, politicians and people would stop themselves before saying anything offensive against women," Ms Kirmani says. "Hopefully this day will come eventually."