HSBC profit more than doubles as interest rates rise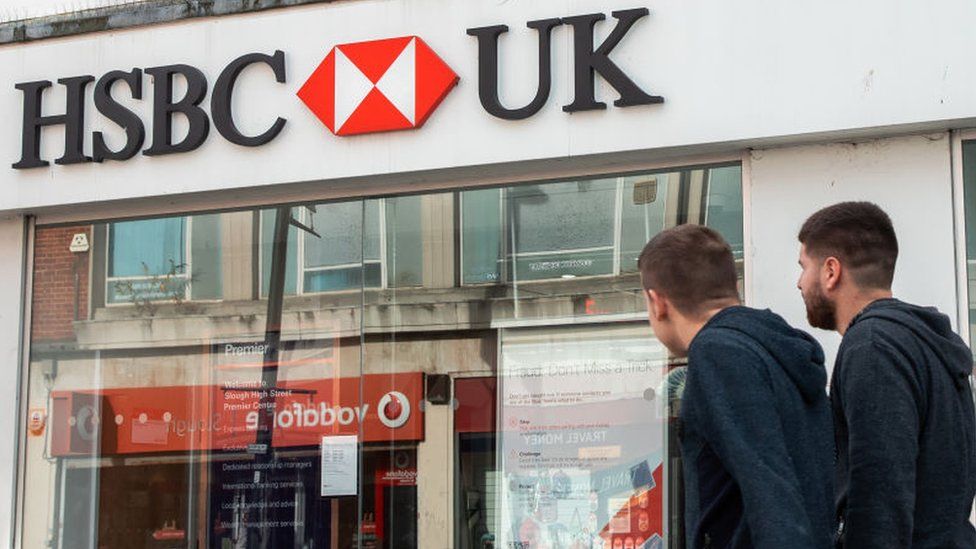 HSBC said its profits for the first half of the year have more than doubled after the banking giant benefited from rising interest rates in the UK and around the world.
Central banks have been lifting interest rates to calm high inflation.
But UK regulators have been concerned that banks have not been passing on enough of the rises to savers.
HSBC said pre-tax profit rose to $21.7bn (£16.9bn) between January and June from $8.7bn last year.
Its chief executive Noel Quinn said: "Our financial performance has continued to improve, aided by the interest rate environment."
Much of HSBC's revenue rise was due to a wider gap between the income it got from products such as loans, mortgages and securities and the interest it paid on customer deposits, debt issued and other offerings.
More than 80% of its profits were generated outside of its UK operations.
Interest rates on mortgages have risen quickly, but savings rates have not grown as fast, particularly for easy access accounts.
The Financial Conduct Authority (FCA) has said banks that offer unjustifiably low savings rates to their customers will now face "robust action".
On Tuesday, Sheldon Mills, executive director of consumers and competition at the FCA, told the BBC's Today programme that the regulator had an action plan to encourage firms to pass on interest rate rises "appropriately".
He said if they repeatedly failed to do so, the FCA could fine the bank or take action against the individuals responsible.
Mr Mills added that the FCA had the power to impose unlimited fines – but refused to say how much a typical fine might actually be.
The Bank of England has raised interest rates four times over the course of 2023 alone.
This has led to higher mortgage payments for some people whose cheaper deals have come to an end.
One million people will see their mortgage bill rise by more than £500 a month by the end of 2026, according to the Bank.
Mr Quinn warned that "with more mortgage customers due to roll off fixed-term deals in the next six months, and further rate rises expected, tougher times are ahead".
"In the UK, we have seen limited signs of stress in the mortgage book, although we are acutely aware of the day-to-day financial challenges that some of our customers face," he added.
Despite the surge in profit, the HSBC warned of the uncertain economic outlook.
The Bank of England is expected to raise interest rates again on Thursday, which would be the 14th successive increase in borrowing costs since December 2021.
Last month, the cost of a mortgage hit a 15-year high when the average rate on a two-year fixed deal approached 7%.