SJB challenges SLPP to propose dissolution of parliament
Tuesday, 1 August 2023 03:03 –      – 82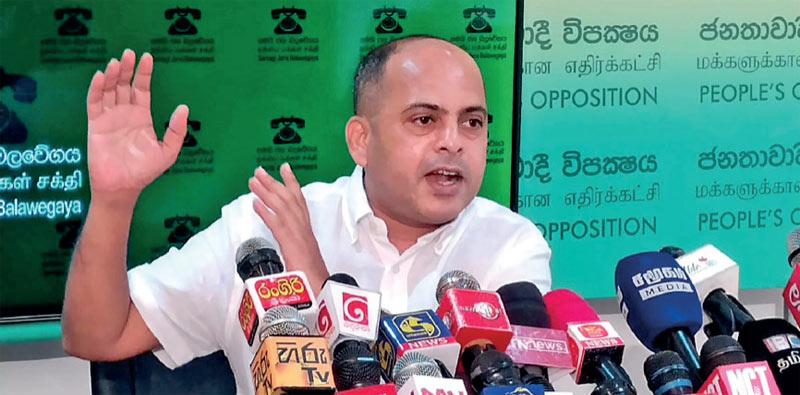 SJB Deputy National Organiser S.M. Marikkar 
---
SJB's S.M. Marikkar says majority of MPs in Parliament no longer have mandate
Assures SJB support to proposal to dissolve Parliament
Claims people are waiting for election to hand over power to a responsible party
---
Samagi Jana Balawegaya (SJB) Deputy National Organiser S.M. Marikkar yesterday challenged the ruling Sri Lanka Podu Jana Peramuna (SLPP) to bring forward a proposal to dissolve parliament.
"MP Johnston Fernando recently claimed they are done preparing 70% of their electoral organising committees and are ready for elections. The UNP is also boasting of future electoral wins while the NPP is calling for a Presidential poll," the MP said.
"But a majority of MPs in parliament today no longer have a mandate. So we urge them to dissolve parliament," he added.
Marikkar urged the SLPP to propose the dissolution of parliament and assured the SJB's support for the proposal.
"Bring a proposal and commence signing it. We will sign it as well. We challenge them to hold a parliamentary election," he said.
The MP also pooh-poohed the UNP's claims of being able to win at the polls. "Let us see if any UNPers will make it to parliament again," he said.
Marikkar accused the UNP and the SLPP of conspiring to delay Local Government polls and claimed the parties are in reality afraid of facing an election.
"There may be no gas and fuel queues today. But the people are well aware of the ground realities. They may not be protesting anymore. But that is only because they are engaged in a struggle to make a living. Nevertheless, they are harbouring anger and plan to demonstrate it in the poll by handing over power to a responsible party. The SJB is prepared to face the challenge at any given moment," he said.