Asian Palm Oil Association says oil palm cultivation can unlock Sri Lanka's economic potential
Friday, 4 August 2023 00:05 –      – 51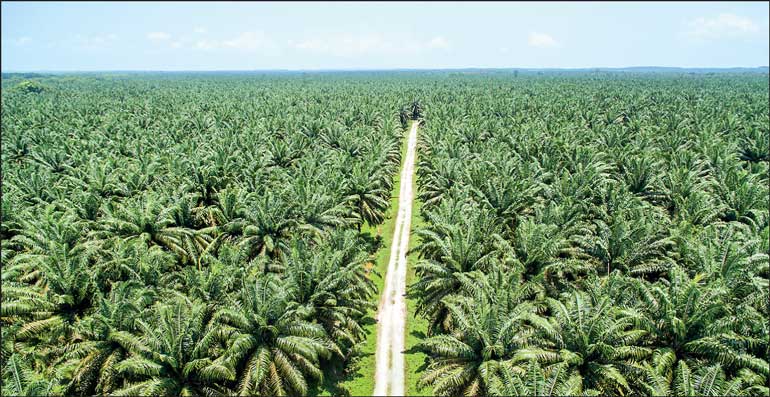 ---
Urges Government to tap golden opportunity
Sri Lanka's recent decision to either temporarily ban or restrict palm oil cultivation has attracted significant attention both domestically and internationally. As a result, the Asian Palm Oil Association (APOA), a multilateral body representing the industry across India, Bangladesh, Nepal, Sri Lanka, and Pakistan, has expressed concerns about the significant negative impact of these policy decisions for Sri Lanka.
These concerns were raised formally by the APOA with President Ranil Wickremesinghe, recently. In this article, we examine some of the most important concerns and missed benefits of this golden crop, and explore the overwhelming positives for cultivating oil palms in Sri Lanka, which include economic benefits, potential for improving food security, and support for sustainable development goals.
Addressing the vegetable oil shortage
One of the primary reasons to support the cultivation of oil palms in Sri Lanka is the acute shortage of cooking oil in the country. Global disruptions caused by the COVID-19 crisis and the Russia-Ukraine war have severely affected vegetable oil supply chains. As a major consumer of cooking oil, Sri Lanka could address this shortage by fostering a strategic commodity like palm oil, thus reducing its dependence on imports.
Economic impact and food security
Palm oil is a crucial component in numerous consumer products, from toothpaste and shampoo to confectionery and bakery goods. Thus, through oil palm cultivation, Sri Lanka can strengthen its domestic production capabilities and reduce its reliance on imports. At present, local consumption stands at 264,000 metric tons, with only 20% produced domestically. On the other hand, expanding coconut oil production, the primary alternative is neither economically viable nor technically feasible.
Support for smallholders
Globally, smallholders are emerging as leading producers of oil palm. However, Sri Lanka's palm oil sector currently lacks substantial smallholder participation. The country has over 2,000 smallholders interested in starting oil palm cultivation, presenting a significant opportunity for economic empowerment. The experience of India's National Mission on Edible Oil–Oil Palm (NMEO-OP) under Prime Minister Narendra Modi's leadership, serves as a successful model for self-reliance in terms of edible oils. Sri Lanka can, therefore, benefit greatly from collaboration with India and other countries to promote sustainable palm oil production.
Sustainable Development Goals
The expansion of oil palm cultivation can contribute to achieving Sustainable Development Goals (SDGs) in Sri Lanka. Studies from Indonesia and Malaysia demonstrate that oil palm cultivation enhances income gains and capital accumulation while improving living standards for smallholder farmers.
Addressing environmental concerns, which are often raised when oil palm cultivation is discussed in Sri Lanka, the APOA cited its research-backed study, "Myths and Truths of Oil Palm", which scientifically debunks claims of widespread deforestation and ecosystem damage resulting from palm oil plantations in Sri Lanka, using empirical evidence and data.
The study emphasises that rigorous scientific research does not support these concerns. Instead, sustainable palm oil production, with locally certified sustainability standards, offers a more effective approach to environmental preservation than an outright ban. Other studies in Indonesia, Malaysia and Ghana were also cited, which showed how oil palms can transform lives through economic emancipation and efficient use of natural resources.
Appeal to the Sri Lankan Government
In light of the evidence presented, APOA and its partners urged the Sri Lankan Government to reconsider the temporary ban on oil palm cultivation. Furthermore, the APOA and its members have offered to collaborate with local stakeholders, share knowledge and experiences, and support the development of a sustainable palm oil industry in Sri Lanka. By doing so, Sri Lanka can strengthen its economy, enhance food security, and contribute to the achievement of SDGs, while ensuring responsible environmental practices, and no damage to local ecosystems.
Accordingly, oil palm cultivation in Sri Lanka presents an exceptional, win-win opportunity to strengthen the economy, reduce imports, improve food security, and support sustainable development goals. With strategic planning, collaboration, and sustainable practices, the APOA expressed its firm belief that Sri Lanka can unleash the potential of palm oil and foster a brighter future for all its citizens, whilst safeguarding its natural resources and ecosystems.