Banks aggression on parate action angers borrowers
Monday, 7 August 2023 00:00 –      – 68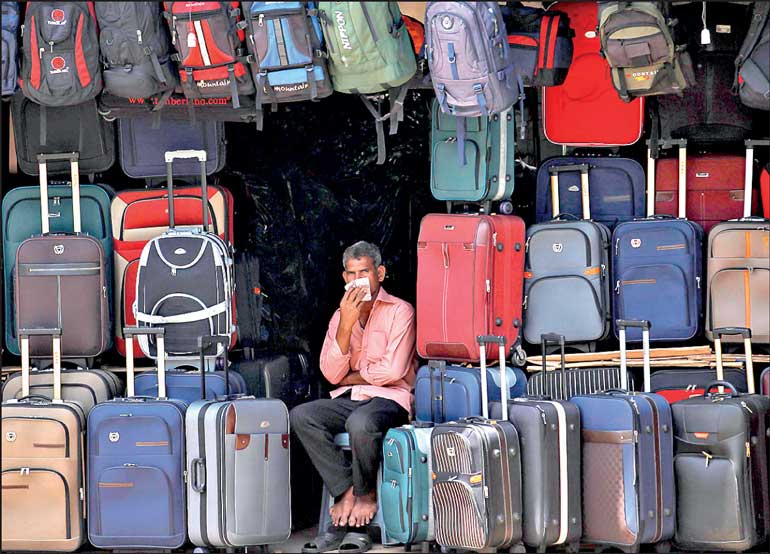 A trader of travelling bags in Pettah seen waiting for customers – File photo
---
Customers allege action made public without prior notice and amidst discussion on settlement plans
Question timing with Courts going into two-week vacation from 11 August
Call for relief as country still going through effects of worst crisis and economic contraction
Stress earnings haven't recovered enough for debt servicing having suffered triple blows for 4 years from Easter Sunday terror attacks, COVID-19 pandemic and political and economic crisis
Banks cite rising NPLs; impaired loans end-May 2023 at 13.3% up from 8.4% in 1Q22
Aggression by commercial banks to execute parate action has angered borrowers who are still going through the effects of the country's worst crisis amidst continuous contraction in the economy.
They alleged that parate actions by banks have been made public without proper price notice and in some cases amidst negotiations for revised settlement plans.
Most borrowers had come to know of action only after seeing notices in newspapers. For example there had been nearly 20 notices of parate action alone in one newspaper last Friday with at least two banks having 7 notices each. The notices are following Board approval of banks under the Recovery of Loans by Banks (Special Provisions) Act No 4 of 1990.
Having suffered triple blows for the past four years ranging from Easter Sunday terror attacks, COVID-19 pandemic and political and economic crisis, borrowers emphasised that their earnings haven't recovered enough for debt servicing.
The recent aggression by banks also comes despite many sectors still reeling from the crisis have lobbied with authorities to urge banks to go slow in resorting to parate action.
As per the GDP estimates published by the Department of Census and Statistics (DCS), the real economy contracted by 11.5% in Q1-2023, driven by a substantial contraction in Manufacturing and Services sectors.
According to the Central Bank, as per leading indicators, economic activity is estimated to have remained subdued in Q2-2023 as well, reflecting the protracted impact of the economic distress in 2022 coupled with the tighter monetary and fiscal policies implemented to bring in greater macroeconomic stability.
As part of its stabilisation and stimulation efforts, the CBSL last month reduced policy rates urging banks to pass on the benefit to businesses and individuals. However banks have been slow to adjust effectively on lending rates despite caution by the CBSL of administrative moves if they fail to.
However banking sector sources justified parate action saying enough time had been given for borrowers to service their loans.
Fitch Ratings recently flagged off the worsening impaired loans (end-May 2023: 13.3% of system loans, from 1Q22: 8.4%) in line with the economic stress associated with the sovereign default and the unwinding of forbearance provided during the COVID-19 pandemic are already exerting pressure on banks' thin capital buffers.
To ensure they are spared of domestic debt optimisation, the Sri Lanka Banks Association in May cited credit impairments hitting an all-time high hitherto unseen. "Taking further impairment costs on top of these strains on capital and liquidity is not sustainable especially with the tax deductibility of these necessary costs of being in business being uncertain," the SLBA said in its statement.
Following the finalisation of DDO, banks have expressed relief though borrowers are fuming over banks reluctance to be considerate of their customers who are facing the same or worse issues as the financial services industry.
Borrowers are insistent that much anticipated recovery in the economy will take longer hence banks must be supportive and the CBSL should recommend the same.
CBSL has admitted that the economy would recover gradually only from the latter part of this year.
It also noted that credit to the private sector by commercial banks including the SME sector, continued to contract in May 2023.
However, credit to the private sector in June saw a gain of Rs. 74 billion after having dipped month-on-month for nearly a year. This is in line with CBSL view of a gradual turnaround in credit to the private sector with the easing of monetary conditions and the envisaged rebound of economic activity.