Ousted PM Imran Khan handed three-year prison term
---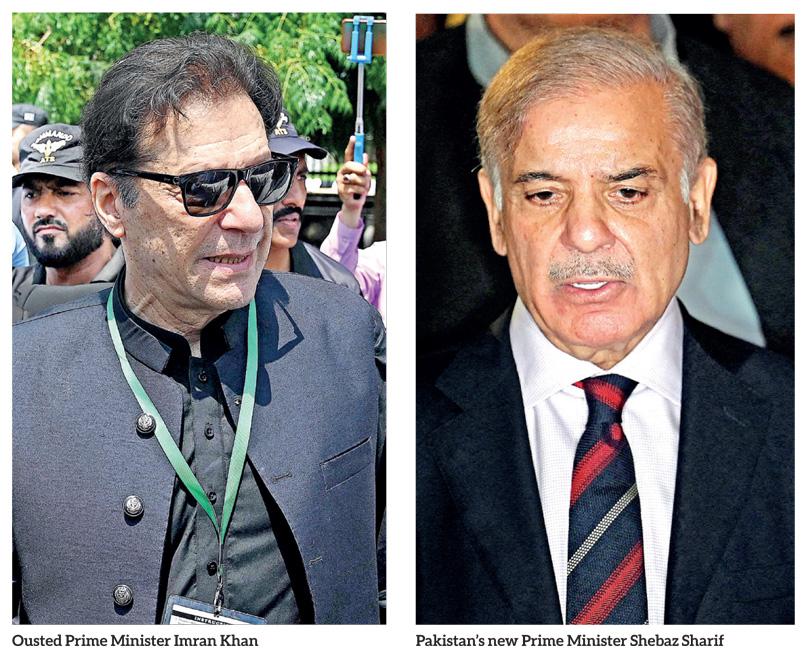 ---
Forces which divided Pakistan learnt no lesson
---
Imran was also keen on solving the pressing economic problem without compromising Pakistan's independence and interest
---
More than 150 cases were brought against the former prime minister since he lost a no-confidence vote and was removed from office in April last year
---

On 5  Saturday  August 2023, Pakistan's former Prime Minister Imran Khan was sentenced to three years in prison  on corruption charges and issued  his arrest warrant. Imran Khan , a former cricket star who went on to forge a political career, serving as prime minister from 2018 to 2022, was  elected  in a free and fair election, but was  overthrown by a  no confidence motion.
There were reports of involvement of United States  and its collaborators including Gulf oil shakes. Khan, 70, educated in Oxford, knows the west very well and was keen on building up a Pakistan which depends on itself rather than serving external powers as it had been. He was also keen on solving the pressing economic problem without compromising Pakistan's independence and interest.
He also started talking about Islam and even formed an Islamic block together with Turkey's President Erdogan and Malaysian former Prime Minister Dr Mahathir Mohamed. Here the west together with their European friends and Arab collaborators found a threat and thus the need to eliminate him from politics.
The result was the no confidence motion where the members of parliament were heavily bribed to topple his government. Now the army and the political elite want to make sure this tremendously popular politician never return to politics and threaten their interests.
The result was the three year jail term which would ensure that he would never return to politics.
Soon after being convicted Imran Khan, Chairman of Pakistan Tehreek-e-Insaf (PTI), was  arrested  on the same day from his Zaman Park residence in Lahore. However the former prime minister had challenged the case, related to the alleged misdeclaration of gifts he took from the state gifts repository, on several forums including the Supreme Court and Islamabad High Court (IHC).
In a video recorded before his arrest and posted on social media platforms, Khan called on his supporters to take to the streets in protest. He said ""I only have one request, one appeal for you. You must not sit quietly inside your homes. The struggle I am doing is not for my own self, it's for my nation, for you. For the future of your children. "If you don't stand up for your rights, you will live lives of slaves and slaves don't have a life, he said"
Khan also made reference to the "London Plan", a term he uses to refer to an alleged plot between current army chief General Asim Munir and three-time former Prime Minister Nawaz Sharif, who has been in London since 2019 in self-exile, to oust him from politics.
The party's top decision-making body met Saturday and called for nation-wide peaceful protests, according to a statement. Meanwhile Prime Minister Sharif has proposed that parliament be dissolved on Aug. 9, three days before the end of its term normally paving the way for a general election by November. However, Pakistan's law minister on Saturday said it would take four months to complete the process of a census and new constituency boundaries, which could signal further delay of the election.
Imran Khan has accused the ruling coalition of hatching a conspiracy to pit the army against the "largest" political party and spread hatred among the masses, warning that it may lead to the country's disintegration.
"The PDM (Pakistan Democratic Movement) leaders and Nawaz Sharif, who is absconding in London, are the least concerned whether the country's constitution is desecrated, state institutions are destroyed or even Pakistan Army earns a bad name. They are looking for their vested interests of saving the looted wealth alone," Dawn news quoted the former Prime Minister as saying.
"I am seeing a frightening dream that the country is heading towards an imminent disaster," Imran Khan claimed. Khan said a recent survey revealed that Pakistan's 70 per cent population was standing with the PTI and the remaining 30 per cent people with all the parties that are part of PDM. He said the only solution to end political instability was to hold elections.
"I have repeatedly stated that I do not interfere in state institutions' internal matters. I did not interfere when I had confirmed reports that the former army chief was conspiring against me," he said, claiming some politicians were telling the current army chief that Khan would de-notify him if voted to power, Dawn reported.
"Imran Khan was not given a fair trial, which according to the country's constitution is the right of every citizen," Awan told Al Jazeera. Khan was not present in court for the hearing. The Pakistani law does not provide for the possibility of holding trials in absentia, under which he was charged.
More than 150 cases were brought against the former prime minister since he lost a no-confidence vote and was removed from office in April last year.
"Today's decision does not meet the basic principle of law and justice should be seen. This decision will not stand in the Supreme Court. And meaningful decisions about politicians are made in the hearts of the people, not in the courts," he wrote.
Lawyer Abdul Moiz Jaferii said while the case against Khan was relatively strong compared to other pending charges, the methodology used by the court was "farcical".
The judge could have ordered Khan to present himself at the trial or could have requested him to be brought in by police. Had he then failed to appear, the court would have been legitimised to proceed with the trial in absentia. "What he absolutely should not have done was to proceed with the ruling in his absence" and risk it be invalidated, the lawyer said.
Lahore-based political analyst Benazir Shah said Saturday's verdict "raises suspicion that the state is in a hurry to disqualify Khan and ensure that he does not participate in the upcoming general election". Shah told Al Jazeera that Pakistan has a history of "disqualifying elected prime ministers on far less serious charges at the behest of Pakistan's powerful military".
Political commentator Cyril Almedia said the arrest had become "inevitable" as neither the government nor the military establishment would risk having him free and able to campaign. However, Shah said even if Khan were to remain behind bars, he could still pose a risk to his rivals by throwing his weight behind independent or lesser-known .
It is worthy to note that it was the blunders of the very same forces-armed forces and elite politicians- that divided Pakistan and created Bangladesh. What they fail to realise today is that these very same hostile forces are now plotting to divide Pakistan into four; starting from Baluchistan.