TNA – Public Security Minister discuss reasons behind TNA's request for Police powers
---
A crucial meeting aimed at addressing concerns and explore potential solutions regarding the division of police powers in the 13th Amendment was held among a group of MPs of the Tamil National Alliance and Public Security Minister Tiran Alles and the Inspector General of Police.
During the discussion, the Minister inquired about the reasons behind the TNA's request for Police powers. In response, the TNA MPs highlighted that even in developed countries like England and India, devolution of powers was done in a very excellent manner and explained that such systems being used there could be implemented in Sri Lanka as well.
Minister Alles pointed out that Sri Lanka's political and social culture differs significantly from those countries and expressed the need to find alternative ways to address the issues raised by the TNA without dividing Police powers.
The Minister further questioned the necessity of implementing the 13 Amendment, as requested by the Tamil people and political leaders.
The MPs informed that they have to come to Colombo from a long distance to implement the decisions taken by the district committees. They also highlighted issues related to the implementation of decisions by some governors.
Furthermore, the TNA MPs stressed the importance of appointing a Provincial Police Commission in addition to the existing National Police Commission. They emphasized the growing concerns about drug trafficking and crime in the northern region, particularly among young individuals.
In response, Minister assured the TNA members that relevant information on these matters would be shared with the special Police Committee tasked with combatting drug and underworld organizations.
The meeting was also attended by Secretary of the Ministry of Public Security Viani Gunathilaka, SDIG Tennakoon and other senior Police officers.
M.A. Sumanthiran, Shanakiyan Rasamanickam, Dharmalingam Siddarthan, Charles Nirmalanathan and Selvam Adaikalanathan participated representing the TNA.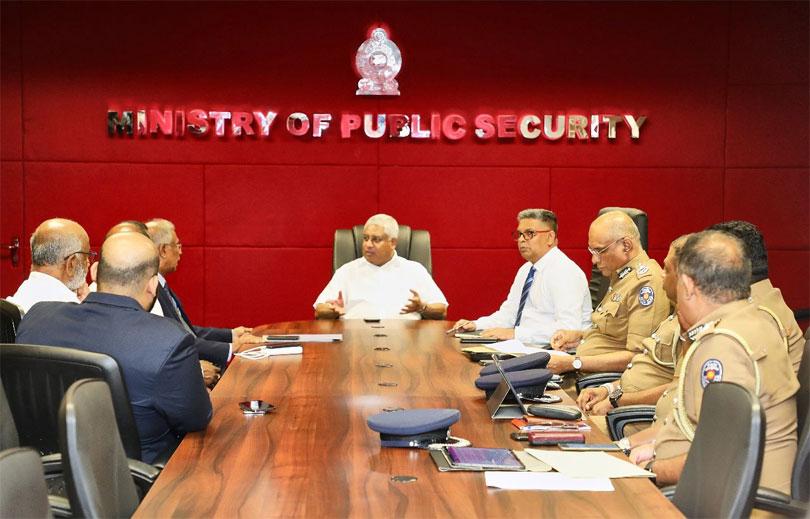 Public Security Ministry said that both sides agreed to hold the next discussion in two weeks.(Darshana Sanjeewa Balasuriya)