Govt. to engage private sector in setting up new universities
---
Aims to address shortage of human capital, especially inSTEM fields
Urgent requirement for vocational training centres and universities to bridge skill gap highlighted
President Wickremesinghe expresses concerns over exodus of STEM graduates
---
By Nishel Fernando 
---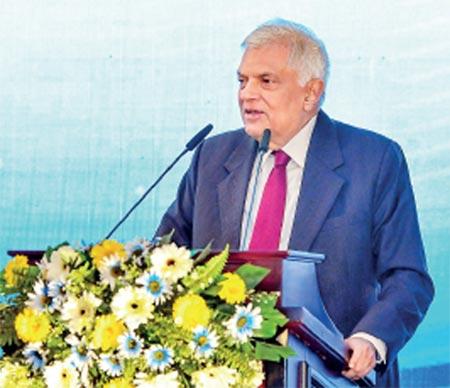 Amid the current human capital shortage, in particular the science, technology, engineering and mathematics (STEM) graduates increasingly looking to migrate, the government said it has plans to establish a number of new universities and vocational training centres with greater participation of the private sector on an urgent basis.
Speaking at the 36th Annual Conference of the Organisation of Professional Associations (OPA) in Colombo this week, President Ranil Wickremesinghe emphasised that the most pressing issue confronting the country currently is the scarcity of human capital, a consequence of outward migration triggered by the onset of the economic crisis
"In the short term, if we do good, some of them might come back.
Don't think that's going to resolve our issue. We haven't got the human capital we need. Today, when I speak to any company, they say they need human capital. I travel around and stay in hotels and there are always people who come and talk to me.
Now with the last year, I don't find them anymore. They have long gone. Then, I spoke to people who replaced them. Now, when I go, I can't even find them. This is what has been happening," he said.
In this background, Wickremesinghe emphasised the urgent need for the establishment of vocational training centres and universities to address the skill gap and meet the demands of a competitive economy.
He outlined the plans to collaborate with the private sector institutions to create a robust framework for education and training. "There are 300-400 vocational training centres. We need to run them with the private sector and get the chambers to develop. We need to train teachers for our education system. Fortunately, we can take two to three years to achieve that.
But our problem is with the universities. Those who are in the STEM subjects are leaving in large numbers. We are going to establish universities with the private sector and other agencies. Some will be for-profit universities, others like SLIIT will be on a non-profit basis," he elaborated.
Wickremesinghe said Chennai-based Indian Institute of Technology (IIT) has already agreed to establish a campus in Kandy while SLIIT is in the process of expanding the number of campuses, which would be soon elevated to
university status.
In addition, he revealed that a number of foreign universities have filed applications to set up medical colleges in the country. In addition, the government is also looking at setting up four to five universities by combining several institutes.
Meanwhile, Wickremesinghe presented the proposed legislative changes, including the devolution of powers to provincial councils, which would allow provincial councils to approve new universities under the streamlined procedures.
He emphasised that Sri Lanka's future success hinges on the strategic handling of both financial and human resources and noted that these factors are pivotal for the country to have a competitive economy.