Eran challenges Speaker to reveal names of legal advisors on DDO
Tuesday, 15 August 2023 01:03 –      – 55
Poses a series of questions to Speaker Mahinda Yapa Abeywardena 
Says Speaker must further clarify his ruling on Domestic Debt Optimisation resolution
Calls for a post-enactment judicial review procedure to be implemented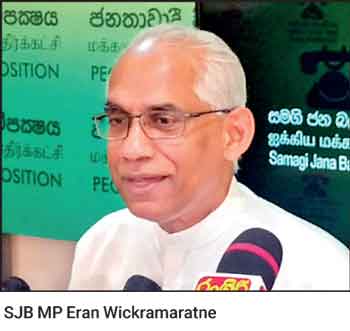 Main Opposition Samagi Jana Balawegaya parliamentarian Eran Wickramaratne, yesterday challenged Speaker Mahinda Yapa Abeywardena to disclose the identities of his legal advisors, as the latter had asserted he had sought legal counsel before making a decision that approved Domestic Debt Optimisation (DDO) motion was not open to legal challenge in the Courts.
Wickramaratne, at a media briefing emphasised that it is widely understood that the Parliament is the arena where bills transform into laws, and anyone has the option to approach the Supreme Court prior to a bill's passage to assess its constitutionality.
The MP was commenting on the Speaker's recent announcement in Parliament that neither the Supreme Court nor any other court can rule on the Government's domestic debt optimisation plan as it has already been sanctioned by the Parliament.
Wickramaratne posed some pertinent questions to the Speaker and the legal fraternity in the country on the issue.
He asked if the motion passed on domestic debt optimisation is a law as it is an executive action passed with a vote in Parliament.
"If it is a law then has there been a bill? Then the people are allowed within a stipulated time frame to go to court against it. Or is it regulation? If so, shouldn't there have been a gazette notification?" he asked.
"Various motions can be introduced in Parliament, including the possibility of passing a motion with a majority vote to close down all courts in the country. However, it's crucial to note that such a motion doesn't automatically transform into a law. This is because the process of passing a law requires the prior existence of a bill," he said.
"Parliament is supreme. Yet, we must be precise about the extent of its supremacy. Therefore, it is imperative for the Speaker to provide clarification regarding this ruling," he remarked.
Wickramaratne also placed added emphasis on the necessity for Sri Lanka to establish a post-enactment judicial review system. "At present, Sri Lanka lacks such a mechanism, unlike many democracies where the Supreme Court possesses the authority to invalidate Acts if they are deemed inconsistent with the Constitution. Sri Lanka should institute a post-enactment judicial review procedure, as there are currently no legal provisions enabling the review of laws enacted by Parliament," he said.