Where is the Opposition when IMF is not about people?
Thursday, 17 August 2023 00:26 –      – 28
SJB Leader Sajith Premadasa
---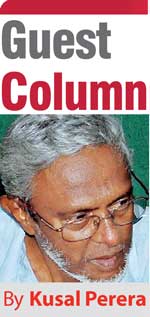 What difference is there between then President GR's rule and the present? Basically, there is none as far as answers to the present economic crisis is concerned. As we now see, all we have been provided for by IMF is a long recess on foreign debt repayment to scramble out of the crisis without the "bankruptcy" label. That has no proposals for more forex earnings to meet cost of imports and cut back on loans. That would have been no different, even if Gotabaya remained President. The difference lies with the "#GotaGoHome" campaign turned into "Aragalaya" leaving a new repressive regime the urban middleclass is content with for now, despite the economic itch they feel.
Reputed economists and high profile professionals in numerous think tanks, research organisations and in businesses talk of taxes, State revenue, GDP growth, single digit inflation, incentives for new FDIs, market expansions, topics discussed, debated, and hacked during the past 40 plus years. And gained what? A massive economic crisis with reeking corruption at every level in the State apparatus and in political leaderships with a wheeler dealer filthy rich clan influencing all Government decisions. Well over one year with the Government under the new President, this year (2023) began with poverty doubling to 25% and urban poor tripling to over 15%.
One would say we are only five months yet into the IMF assistance package to make judgement. But this long quote from the UNICEF Sri Lanka Humanitarian Situation Report No. 01 (Economic Crisis) – January to June 2023, sums up the growing catastrophe Colombo based economists and professionals avoid discussing. [quote] The FAO/WFP Crop and Food Security Assessment Mission (CFSAM) to Sri Lanka in May 2023 reports that 3.9 million people are moderately acutely food insecure while over 10,000 households are severely acutely food insecure. Estate sector communities are found to be suffering from the highest level of acute food insecurity followed by households highly dependent on social protection schemes such as Samurdhi or disability benefits. Despite the apparent economic stability and improved food security in the country, a significantly high percentage of households (62 per cent) are adopting livelihood-based coping strategies (i.e., withdrawing savings, borrowing money, purchasing food on credit) to access food compared to 48 percent in May 2022. The report highlights that 26 percent of households are employing emergency or crisis-level livelihood coping strategies, which include "selling productive assets (e.g., farming equipment), reducing essential health/education expenses, withdrawing children completely from school, and selling land". [unquote]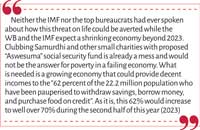 What has been the focus of this Government, policymakers and economists in addressing this major social breakdown in especially the rural and plantation sectors? Can anyone imagine people in agriculture selling their "farming equipment" to buy food? "Withdrawing children completely from school" to buy food? And this report says, "Despite the apparent economic stability and improved food security in the country," (wherever it is) 62% are into "withdrawing savings, borrowing money, and purchasing food on credit". One year ago, it was 48%.
Neither the IMF nor the top bureaucrats had ever spoken about how this threat on life could be averted while the WB and the IMF expect a shrinking economy beyond 2023. Clubbing Samurdhi and other small charities with proposed "Aswesuma" social security fund is already a mess and would not be the answer for poverty in a failing economy. What is needed is a growing economy that could provide decent incomes to the "62 percent of the 22.2 million population who have been pauperised to withdraw savings, borrow money, and purchase food on credit". As it is, this 62% would increase to well over 70% during the second half of this year (2023).
This Government not only lacks any serious thinking on these issues but also the collective commitment of facing such tragedy. The cabinet of ministers does not seem to be interested in working together, sharing information and responsibility in sorting out social issues. The present "me and my ministry only" attitude and approach of ministers came to be quite conspicuous since the fall of the GR government that left the majority SLPP in Parliament without their own political leadership in the present Wickremesinghe regime, run with a heavy hand. Thus, we are with a fractured cabinet of ministers, each trying to survive for whatever duration this Government would manage a majority in Parliament.
This mindset of surviving alone, was most evident in how the Samanala weva water, Uda walawa paddy farmers and power generation was handled by each minister. All three ministers, Irrigation, Agriculture and Power and Energy were responding separately to say each by himself was not to be blamed. That each did right as the minister concerned. So is it in education. There is no co-ordination and collaboration with health and social service ministry to improve declining nutritional levels in primary grades, and no collaboration with transport ministry to arrest fast increasing school dropouts and get children back to schools when parents cut back on meals and schooling to have at least a minimum feed for the family. Health is another that is all by itself despite increasing numbers of fatalities due to mega corruption resulting in medicinal supply imports without proper certification on quality and efficacy. Sunday last too, a person who had his wound dressed at the Gampaha hospital had died due to an antibiotic given. The drug had to be withdrawn.
Meanwhile numerous committees are appointed to pacify different social groups and ethno-religious majority in an attempt to show President Wickremesinghe's Government is attending to people's aspirations. An expert committee on sports, a special committee for development of Maha Viharaya, two committees to stop COIVD-19 and dengue spread, a ministerial committee for educational reforms, an Action Committee to re-employ those affected by the economic crisis, are some of those committees. Story with these committees as with all such committees before is that this country would never learn what they decided as solutions and how much public funds were spent for their daily work.
Interestingly, the IMF also remains silent on conditions laid in their agreement that says, "The ongoing efforts to tackle corruption should continue, including revamping anti-corruption legislation. A more comprehensive anti-corruption reform agenda should be guided by the ongoing IMF governance diagnostic mission that conducts an assessment of Sri Lanka's anti-corruption and governance framework."
Almost after five months since signing the IMF agreement, can someone tell the public where we are on this "comprehensive anti-corruption reform agenda?" What had happened to the "ongoing IMF governance diagnostic mission that conducts an assessment of Sri Lanka's anti-corruption and governance framework?" I think I could say something.
President's Chief of Staff and National Security Advisor Sagala Ratnayake was named twice in Parliament within about two months, first for playing the facilitator role for two wheat importing companies to monopolise the wheat flour market allegedly for collecting funds for elections. Thereafter on 11 August for manipulating international tender procedure in selecting a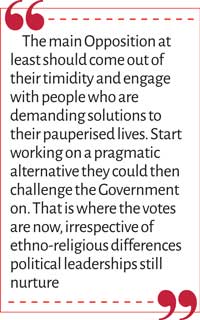 security printer from Chennai for the Rs. 41.3 billion project part funded by India to print digital NICs for SL citizens.
They come nowhere close to the mega drug scam Health Minister Rambukwella is accused of. He is having an FR petition filed against him in the SC by the TISL for blatant violation of all procedures for procurement of medical supplies. With many fatalities recorded during this year due to inferior quality drugs used in Government hospitals the health authorities now accept they have withdrawn some medicinal supplies from use in hospitals. Ironically, instead of removing Rambukwella from the health portfolio to allow for an independent investigation, the President has allowed Minister Rambukwella to appoint a committee of his own to investigate the drug scam he is accused of.
It is now common sense, the whole IMF assistance package is about resurrecting the decades-old failed free market economy. It is for investor profits and urban middleclass comfort in a profitable market. All things else about anti-corruption proposals, social security networks are cosmetic and for publicity to hold the larger percentage of the population in eternal hope of better things to come.
This socio-economic mess would no doubt lead to a political crisis if not today, then tomorrow. Without any alternatives in social discussions, it may turn out to be a prolonged conflict between deprived and marginalised communities and a repressive Government. Loud Opposition voices in Parliament provide no solutions to this "62 percent of the population who have been pauperised to withdraw savings, borrow money, and purchase food on credit". They need immediate and long-term answers for sustainable income sources in their own localities. They too need a decent, stable life.
The popular slogan that all political parties should unite at this moment for the sake of the country is nothing short of insanity. What would they propose as answers to the crisis? For any common program to be worked out, political parties should have some valid idea for a common program. None have proposals other than trimmings to what is already agreed with IMF.
The main Opposition at least should come out of their timidity and engage with people who are demanding solutions to their pauperised lives. Start working on a pragmatic alternative they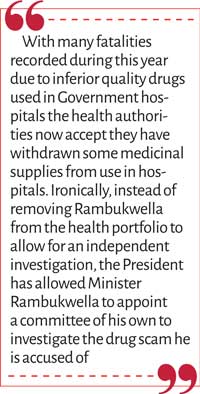 could then challenge the Government on. That is where the votes are now, irrespective of ethno-religious differences political leaderships still nurture.