How five companies are setting the blueprint for sustainable growth in Sri Lanka's north and east
Friday, 18 August 2023 00:30 –      – 424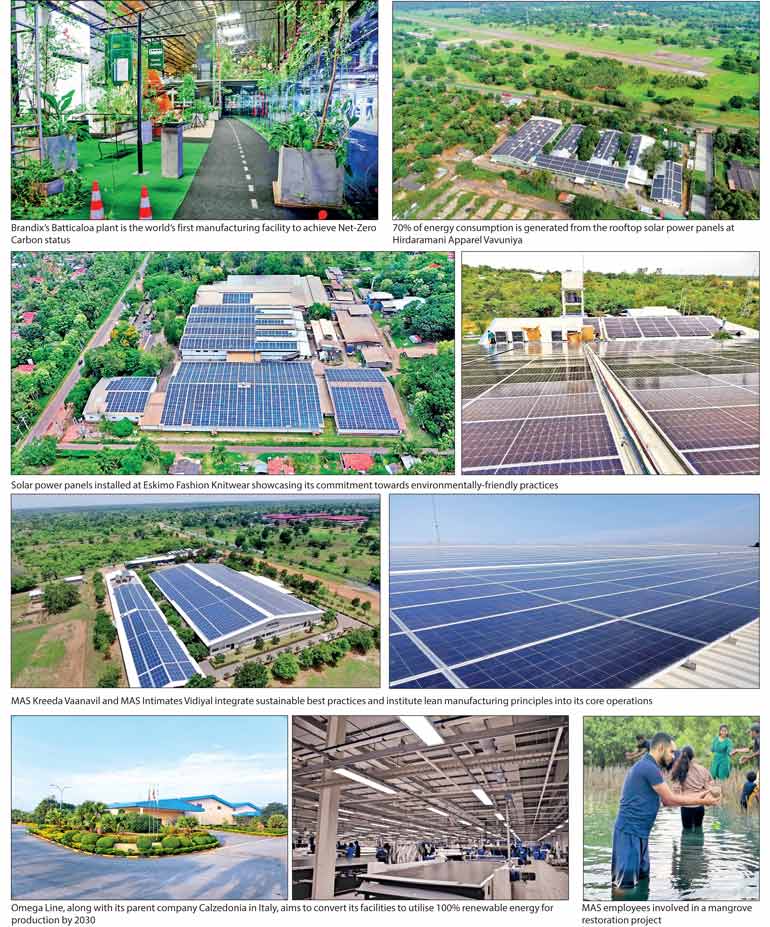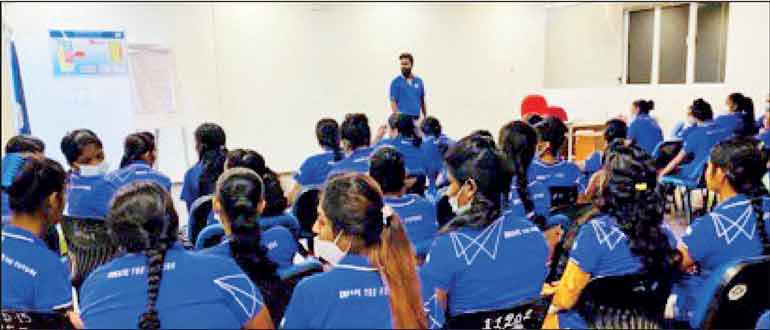 A sustainability workshop being held for the employees at Hirdaramani
Apparel Vavuniya
---
By the Joint Apparel
Association Forum
It has been just over a year since Sri Lanka faced its most severe economic crisis. In its aftermath, the nation's exporters are urgently exploring all avenues to improve its quantitative and qualitative benchmarks. In the face of significant challenges, the nation's leading apparel companies believe that doubling down on ESG-focused innovation as a national USP is the only way forward.
The rationale is simple: Sri Lanka's economies of scale limit its ability to compete purely on price and volume, especially relative to competitors like Bangladesh. However, with the race for meaningful climate action heating up, Sri Lanka's ability to deliver sustainably produced apparel may be its most powerful value proposition.
Globally, fashion has one of the largest environmental footprints. Achieving genuine sustainability is a monolithic challenge. Yet pressure is mounting on brands to find better ways of doing business. Most recently the EU ban on 'fast-fashion' by 2030 – a move which is likely to hit mass-producing nations first and the hardest.
By contrast, Sri Lanka's apparel giants have been steadily honing their expertise in sustainability best practices including environmental protection and resource efficiency.  Using expertise in decades-led RandD, adding state of the art technology, material and production techniques to the formula, the apparel industry in Sri Lanka is now a trailblazer in sustainable production.
Today, the island nation's wealth of experience in sustainable production is giving rise to a new generation of manufacturing facilities in the island's North and East. Once wracked by a decades-long ethnic conflict, these regions are now the leading edge of a global movement to champion circular fashion economies.
The North-East's five-pronged sustainability spear
Away from the city lights, sitting serenely among the lush green agricultural basin of the country's North and East, five organisations in particular, are forging a new blueprint for scalable sustainable apparel manufacturing that may prove to be of global relevance.
Six manufacturing plants – MAS Kreeda Vaanavil, MAS Intimates Vidiyal, Hirdaramani Apparel Vavuniya, Omega Line Vavuniya, Brandix Batticaloa, and Eskimo Fashion Knitwear Ltd have each taken the lead to integrate sustainable best practices and institute lean manufacturing principles. Their success has brought with it employment, innovation, and most importantly, sustainable growth to a region once devastated by armed conflict.
Yet what truly sets these organisations apart is their commitment to integrate, adapt and continuously refine sustainable processes, practices and models from the grassroots. Each organisation developed every step of their production aligned with their broader goals of augmenting the region's agriculture-dependent economy without disruption or the sensitive ecosystems connected to it. This has, in turn, created sustainable economic growth firmly linked to social development.
Realising value in a realistic green value chain
For Hirdaramani Apparel Vavuniya, the initial focus was on the integration of sustainable principles into the literal foundations of their operations. From the design phase onwards, all construction and engineering were implemented in compliance with green building standards. This includes an onsite domestic wastewater treatment and a recycling facility that ensures that 100% of wastewater from the production process is treated and reused. Further, a rooftop solar of the capacity of 975kW is also installed in this facility.
Similarly, Omega Line Vavuniya was among the first in the region to introduce a comprehensive "Reduce, Reuse, Recycle" approach across all material inputs. This enabled drastic improvements in resource consumption across the board, reducing wastewater and enhancing internal efficiency. Today, Omega Line, along with its parent company Calzedonia in Italy, aims to convert its facilities to utilize 100% renewable energy for production by 2030. This will also add momentum to Sri Lanka's commitment to achieving 80% of its energy requirements from renewable energy sources by 2030.
MAS aims to reduce its emissions footprint to achieve an absolute reduction of 25.2% in its Plan for Change, which outlines 12 sustainable commitments through to 2025. These include systemic reduction of direct emissions as well mitigating secondary impacts through carpooling.
As emerging players, Eskimo Fashion Knitwear Ltd is also integrating sustainable best practices across its operations. Accordingly, energy-efficient equipment, in-house solar, water management strategies, waste reduction programs, eco-friendly materials and fair labour practices are all integrated into the production chain.  Eskimo Fashion Knitwear Ltd also dedicates significant resources towards training staff to internalise sustainability-oriented mindsets so they become catalysts for change within their communities as well.
Meanwhile, Brandix transitioned to low Watt VSD Servo Motors saving up to 73% more energy than traditional clutch motors. Upgraded equipment also enabled a 40% saving of pressured air in the ironing process. Discarded yarn and remnants are recycled for new designs and efficient wastewater management provides filtered water for vegetation and toilets, while installation of modern plumbing saves 53% more water. Food remnants produce compost manure for factory and employee use, and dishwashers minimise water usage, while solar power is used to power operations and boil water for dishwashing.
Recognising the significance of active listening, each organisation has created mechanisms for employee feedback, fostering a more vibrant culture of innovation. Together with valuable customer insights, initiatives that integrate feedback to further refine circular production systems, which can eventually achieve ambitious goals of zero-waste in production have been embarked upon.
Beyond borders: Cultivating a grass-rooted culture of sustainability
Development of industrial capacity in post-conflict regions was part of a structured programme by apparel firms to support livelihoods and promote social development through sustainable industries.
Each firm realised that both the communities and locale had several opportunities to further sustainability efforts both within the company's boundaries and in the wider spectrum.  This is in tandem with the community's sustainable lifestyles and Sri Lanka's pledge to transition to a Blue-Green Economy, which places special focus on the development and conservation of marine resources and a host of other initiatives focused on ocean and mangrove conservation.
To supplement coastal community lifestyles, Omega Line partnered Parley Lanka, a local organisation focusing on beach clean-ups and marine conservation. Seizing the opportunity for integrated sustainable development, Hirdaramani too collaborated with Parley Lanka for eco-innovation and ocean conservation efforts.
Meanwhile, Hirdaramani established an organic garden in collaboration with its employees with the produce distributed free of charge to the team and their families. Particularly during the peak of Sri Lanka's economic crisis, these measures provided invaluable economic relief to these communities.
Hirdaramani also focused on greening their immediate surroundings by leveraging community awareness programmes, tree planting initiatives and sustainability-focused competitions for staff. In addition to water reduction through the integration of rainwater harvesting, the Company also initiated a programme to formally incorporate the wealth of knowledge from the local indigenous community, adding know-how about the surrounding environment, flora and fauna into its environmental conservation strategies.
Since its establishment in the region, Eskimo Fashion Knitwear Ltd has focused on being inclusive, hiring ex-combatants into its team cadre and supporting them through rehabilitation and reintegration programmes. Partnering a local NGO, the Company provides skill development and vocational training for underprivileged youth in the community. Provide transportation for all employees and to uplift employees living standards provide 10kg rice packs as a monthly program from May 2022 onwards.
Brandix Batticaloa established a transportation system for its workforce who did not have access to public transport given the remote locations some of its team members live in. This ensured safe and reliable transport of approximately 30-40 female workers from each village. The provision of such transportation holds significant importance, as it empowers women – many of whom are survivors of the conflict – to be financially independent, particularly benefiting women-led families and those impacted by domestic violence. In addition, Brandix has partnered with the United Nations Development Program (UNDP) to ensure food-security within the Batticaloa Divisional Secretariat, enriching thousands of lives in the area.
Players on a global stage
These companies aim to set the benchmark for greener regionalised operations by mainstreaming sustainability in apparel across Asia. Already, all five companies have gained global recognition for their efforts.
Brandix's Batticaloa plant is the world's first manufacturing facility to achieve Net-Zero Carbon status. The Brandix facility has a Platinum LEED certification and is the highest-rated facility in Sri Lanka with Hirdaramani being Gold LEED certified. A majority of MAS and Hirdaramani facilities have also secured ISO 14001 certifications for Environmental Management Systems. Along with Brandix, they share the GOTS (Global Organic Textile Standard) certification. Eskimo Fashion Knitwear Ltd's Punanai facility is also expected to receive both certifications in 2023. Furthermore, Hirdaramani took bold steps towards energy accountability by being the first in Sri Lanka to receive International Renewable Energy Certificates (I-RECs) for its energy usage. Hirdaramani also has GOTS (Global Organic Textile Standard), RCS (Recycled Claim Standard), GRS (Global Recycle Standard) and OCS (Organic Content Standard).
The success of these next-gen factories is directly attributed to the growth strategy implemented by the EU's GSP+ scheme, given that a significant portion of these exports are to the EU. The current scheme comes to an end in 2023 and Sri Lanka has expressed its intention to reapply for the new scheme coming into effect in 2024.
Holistic sustainable growth with, within, and for everyone
Through focused efforts, a singular feature observed across these organisations is that the ideal sustainability blueprint deviates from rigid international frameworks to a structure that considers and promotes growth and green practices, not only within the value chain, but also with the surrounding environment and communities, while adhering to international compliance standards.
The road to holistic sustainability is not simple and is constantly evolving.  However, the success of these initiatives indicate that the apparel industry is moving in the right direction. The sustainability structure not only serves as a national model but also has immense relevance to a global industry that is under increasing scrutiny.
It is therefore rewarding to see how sustainability principles have been inextricably intertwined into the agriculture-based economy of the north and east and how communities have embraced green initiatives wholeheartedly, with the knowledge that sustainability is not just rhetoric, but is action-based. Walking the talk is the premise and making impactful change the benefit these communities will experience as the five companies integrate holistic sustainability best practices into everyday operations and lifestyles.