Mixed brew persists for tea

Saturday, 19 August 2023 01:10 –      – 129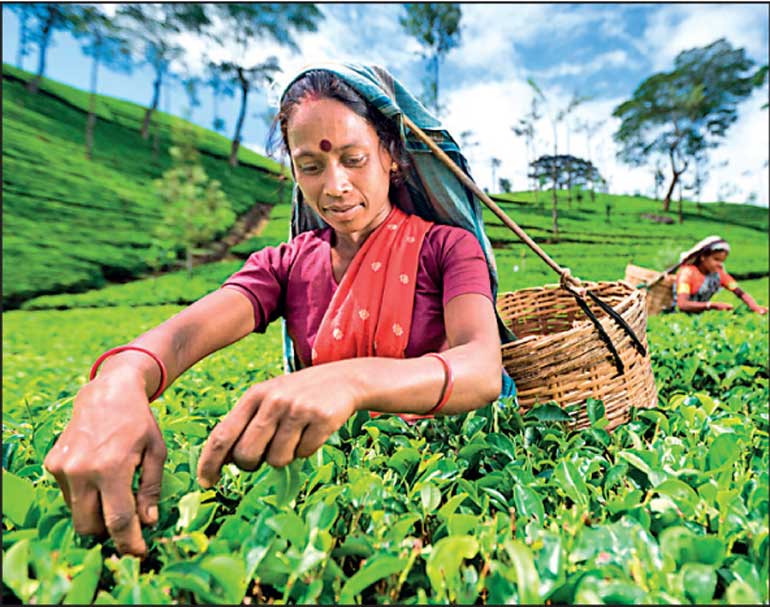 Exports and crops in first 7 months display diverse results
Jan.-July tea exports down by 9% YoY to 134.99 m kg, value up by 24% YoY to $ 742.45 m 
Tea in bulk and packaged tea continue to drop, but tea bags, instant and green teas grow 
July FOB value dropped by 
Rs. 248.43 YoY to Rs. 1,615.31 
Iraq, Türkiye and Russia emerge as top 3 importers
Cumulative tea crop reached 
155.82 m kg, up by 2.59 m kg YoY
July tea production improves by 1.45 m kg YoY to 21.37 m kg
Sri Lanka's tea industry continued to endure diverse patterns throughout the first seven months of 2023, with both exports and crops displaying a conflicting sequence that combined growth and decline.
During the first seven months of 2023, tea exports have declined by 9%, whilst earnings jumped 24% from a year earlier.
As per data analysed by Forbes & Walker Research 134.99 million kilos of teas were shipped during January-July this year compared with 148.05 million kilos in the corresponding period of 2022, reflecting a 13.06 million kilo drop YoY.
Sri Lanka shipped 22.77 million kilos in July; marginally higher than last year's 22.76 million kilos.
"Tea in bulk and packaged tea continues to show significant negative variances, whilst the remaining product categories of tea bags, instant tea and green tea recorded a marginal increase," it added.
Despite the decrease in export volumes, there has been a notable increase in rupee and dollar earnings.
The earnings from exports rose significantly from Rs. 1.39 billion to Rs. 1.82 billion YoY in the first seven of 2023. All categories showed gains in dollar terms as well when compared to the corresponding period of 2022. This translates to an approximate Free on Board (FOB) value of $ 5.55 per kilogram compared to $ 4.76 per kilogram with the first seven months' dollar earnings at $ 742.45 million.
In July, tea in bulk and tea bags showed a marginal increase, whilst tea packets witnessed a marginal decline against the corresponding month of 2022.
The FOB value in July 2023 was recorded at Rs. 1,615.31, a decrease of Rs. 248.43 YoY compared to Rs. 1,863.74 in July 2022. Furthermore, negative variances were recorded in all main categories in dollar terms as well.
Iraq continues to lead as the number one destination for Sri Lanka's tea exports though quantities sharply dropped by 33% YoY to 18.29 million kilos. Exports to and through Türkiye doubled its imports to 16.57 million kilos securing the second position. After a period of decline, exports to Russia also saw growth of 15% to 14.23 million kilos compared to 10.1 million kilos a year ago. The UAE stood at 9.83 million kilos, while China maintained a steady 6.67 million kilos. Other notable importers were: Azerbaijan, Libya, Saudi Arabia, Chile and Syria.
Simultaneously, the cumulative tea production from January to July 2023 reached 155.82 million kilograms, marking a growth of 2.59 million kilograms compared to the 153.23 million kilograms recorded during the same period in 2022.
Forbes and Walker Research also said all elevations have shown this year's numbers show positive variances in comparison to the notably low production figures of 2022. However, when set against the more robust tea production of January to July 2021, which totalled 188.10 million kilograms, the cumulative production for 2023 falls short by 32.28 million kilograms.
The total tea production in July was recorded at 21.37 million kilograms, representing a rise of 1.45 million kilograms when compared to the 19.92 million kilograms produced in July 2022.
"Notably, all elevations exhibit increases when compared to the tea production figures from the same period in the previous year. However, this upward trajectory contrasts with the tea production figures of July 2021, which stood at 26.38 million kilograms, with 5.01 million kilograms observed in July 2023," it added.