Remembering Jayantha Dhanapala: A role model citizen professional
Saturday, 19 August 2023 00:10 –      – 259
Jayantha delivered the E.F.C. Ludowyk Memorial Lecture, which I think should be essential reading for every diplomat. His chosen theme was "The diplomat as creative writer" and he said – "My twin life-long interests in literature and diplomacy have led me to a fascination with those in the diplomatic profession who have succeeded in retaining the creative spark under the carapace of protocol; to evoke through metaphor and imagery the kaleidoscope of different countries and cultural experiences they are privileged to live through forsaking the jargon of diplomatic dispatches and reportage; and, to remain sharply sensitive and emotionally responsive to the universality of the human condition unencumbered by nationalistic posturing and representational zealotry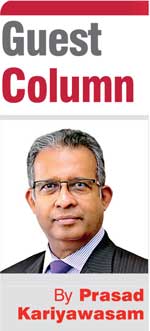 The traditional three-month remembrance of the late Ambassador Jayantha Dhanapala falls this month. It's an occasion not only to recall his impressive career but lessons from his illustrious professional and citizen life.   For those who had the good fortune of knowing and working with him, Jayantha Dhanapala, was the quintessential diplomat, trustworthy colleague, all-rounder par excellence and most importantly, a humanitarian to the core. His early life was shaped by two great educational institutions of international repute during his time, Trinity College Kandy, and the University of Peradeniya.
Born on 30 December 1938, Jayantha Cuda Bandara Dhanapala was a child of pre-independent Ceylon. When he joined the Foreign Service in 1965, which was then known as the Overseas Service, Sri Lanka was still Ceylon. Jayantha therefore, belonged to a generation of Sri Lankan diplomats who saw and experienced the country pass through a series of important phases and radical changes in the political, social, economic, and institutional realms. As a child, he saw the country gain independence. As a Foreign Service officer, he saw the country become a republic and change its name to Sri Lanka; adopt two constitutions and multiple amendments; become an open economy; and deal with insurgencies and terrorism. Later on in life he witnessed the country that was celebrated as a model democracy at the time of independence, face economic collapse and institutional decay. On the foreign policy front, he had a front row seat when Sri Lanka was punching above its weight on the international stage, playing a lead role himself, at times. In recent years he witnessed the country mired in difficult situations and lose its once celebrated position and credibility on the international stage.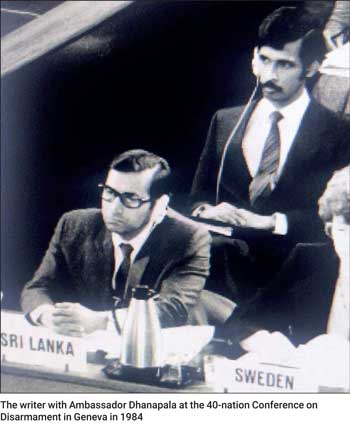 In the public eye and in the corporate world, as a diplomat in the service of his country, an international civil servant, President of the 1995 Nuclear Proliferation Treaty (NPT) Review and Extension Conference, academic, advisor to Presidents of Sri Lanka, Secretary General of the Secretariat for Coordinating the Peace Process, candidate for the Post of Secretary-General of the United Nations, advocate for global  disarmament,  civil society activist, member of Sri Lanka's Constitutional Council, Jayantha Dhanapala always took principled positions. He embodied honesty, high standards of professionalism, duty, and responsibility.  He was an eloquent speaker who had deep respect for all individuals and views, and was never afraid to speak the truth, doing so with dignity and grace.
As a schoolboy at Trinity College Kandy, in an era where students were encouraged to integrate studies with sports and extra-curricular activities, Jayantha played rugby for his school, and was awarded the Ryde Gold Medal for the Best All-round student in 1956. He retained his love for rugby through his university years when he captained the University of Peradeniya Rugby team. He was also a leading member of the University "Dram Soc" (Drama Society), while studying for English (Honours) B.A. He was an ardent thespian and kept his love for literature, drama and the arts alive throughout his life. As Ernest Macintyre had recalled in an appreciation of Jayantha, he continued to be active in theatre even after he left university and played leading roles in productions directed by Macintyre. He played the role of Horatio in Hamlet at the Lionel Wendt. Many years later, Jayantha delivered the E.F.C. Ludowyk Memorial Lecture, which I think should be essential reading for every diplomat. His chosen theme was "The diplomat as creative writer" and he said – "My twin life-long interests in literature and diplomacy have led me to a fascination with those in the diplomatic profession who have succeeded in retaining the creative spark under the carapace of protocol; to evoke through metaphor and imagery the kaleidoscope of different countries and cultural experiences they are privileged to live through forsaking the jargon of diplomatic dispatches and reportage; and, to remain sharply sensitive and emotionally responsive to the universality of the human condition unencumbered by nationalistic posturing and representational zealotry."
As a seventeen-year-old schoolboy in 1956, he wrote an essay titled "The World We Want". This qualified him to be selected as Sri Lanka's delegate to the World Youth Forum held in New York in 1957. He spent three months in the USA, and met President Eisenhower, and Senator John F. Kennedy who later went on to be elected President. Jayantha often said it was this exposure and experience that made him decide on becoming a diplomat, giving up his earlier inclination to choose a career in journalism.
He joined the Foreign Service in 1965, and had assignments in Sri Lanka's Missions in London, Beijing, New Delhi, Geneva, and Washington DC; and served as Sri Lanka's Permanent Representative to the UN in Geneva from 1984 to 1987, and as Sri Lanka's Ambassador to the USA from 1995 to 1997. At the Ministry of Foreign Affairs in Colombo, he held several positions, and as its only Additional Secretary at one time.
As an international civil servant, Jayantha served as Director of the UN Institute for Disarmament Research (UNIDIR) from 1987-1992, and later as UN Under-Secretary-General for the Office of Disarmament Affairs from 1998-2003.
In 1995, he served as Conference President of the NPT Review Conference which indefinitely extended the Treaty, following which the New York Times described him as, "a diplomat mostly unknown outside the arms-control world until he was elected to preside over this conference," and hinted that he may be in line as a future Secretary-General of the United Nations. Such was the stature and respect he had earned as a masterful diplomat.
Unfortunately, the complex and complicated nature of international and regional politics decided otherwise, and Sri Lanka's bid to have Dhanapala elected as the Secretary-General of the United Nations for the term beginning 2007 did not succeed.
Dhanapala did not let this setback hold him from pursuing the dream of the world that he and many others wanted, which included his commitment to create a world free of nuclear weapons and other weapons of mass destruction. He served as President of the Nobel Peace Prize-winning Pugwash Conferences on Science and World Affairs from 2007-2017 with great distinction, as Deputy Chairman of the Governing Board of the Stockholm International Peace Research Institute (SIPRI), and on several other advisory boards of international bodies. The recipient of many international awards and honorary doctorates, Dhanapala published five books, several articles in international journals, and lectured widely.
Through all these international efforts, he remained deeply devoted to the country of his birth and stood firmly for a democratic, secular, multi-ethnic pluralistic society. As an outspoken and strong advocate for human rights, good governance, and strong institutions, Jayantha Dhanapala used every possible opportunity to underscore the importance of political reform, and genuine reconciliation in Sri Lanka. He emphasised that no violations of law and order can be tolerated by an elected government in a democratic country which constitutionally holds the rule of law and human rights as fundamental foundations of the nation. He remained a firm believer in the United Nations and yearned to see Sri Lanka champion the values of the UN.
The citizen Dhanapala's vision for Sri Lanka is best summed up in his concluding words during a Tedx Talk recorded in Kandy in October 2016.
"It is important for us to realise that the United Nations remains a framework within which we have to work. We have come to recognise that there can be no security without development, and no development without security. And, there can be neither without human rights. So there is a tripod of security, development, and human rights that is important for national security throughout the world. But national security is not the only security. National security looks after borders and the sovereignty of the State. But there is also the question of human security. Because, you can have situations in any country where the country may be secure, it has secure borders, but the individual is very insecure, where he is subject to oppression, torture, and other human rights abuses. So what is ideal is to have human security and national security coinciding. That is where it is important for us to look at the Charter afresh and ensure that the rule-based society, the global order, and the arc of history bends towards this, and that we must share these values, and the legitimacy and the universality of the UN must apply to Sri Lanka. I think we have a glorious opportunity to forge a new foreign policy for Sri Lanka. After the terrible paroxysm we had because of the combat of terrorism for 30 years, we have now to reintegrate ourselves with the international order. We can reinvent ourselves as a responsible member of international society, and be innovative in our foreign policy, because that is what is important now so that we do not join any particular group or groups but work in a pragmatic way non-ideologically with a foreign policy that is embedded in our culture, history and fundamental national interest. And I call upon the citizens of Sri Lanka to use this unique opportunity to once again forge a policy that will be of benefit to our country in the current situation".
If these profound words of Jayantha Dhanapla can be studied and followed through with honesty and not for the sake of rhetoric by foreign policy professionals and citizens of Sri Lanka, it would be the best way to honour his memory and for Sri Lanka to achieve genuine social and economic progress and reach the levels of the developed world that has eluded the country even after 75 years since independence.
(The writer is a former Foreign Secretary of Sri Lanka, Ambassador to USA, High Commissioner to India, and Ambassador/Permanent Representative  to the UN in Geneva and New York.)