SLPP urges President to probe NPP's alleged investments abroad
Tuesday, 22 August 2023 01:25 –      – 56
General Secretary Sagara Kariyawasam says Govt. must inquire how NPP secured funds and invested abroad 
Accuses NPP of hindering inflow of forex while making own investments in Malta
Calls accusations levelled against NPP a form of retribution imposed by nature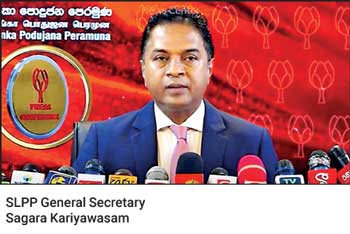 Sri Lanka Podujana Peramuna (SLPP) General Secretary Sagara Kariyawasam yesterday urged President Ranil Wickremesinghe to probe the recent allegations against the National People's Power (NPP) party over their alleged investments in the island country of Malta.
"If they have in fact made such investments the Government must make inquiries on how they secured the invested funds and how the investments were made abroad," he said.
Kariyawasam was referring to allegations levelled against NPP leader Anura Kumara Dissanayake by Front Line Socialist Party (FLSP) member Duminda Nagamuwa. Nagamuwa recently accused Dissanayake of making significant foreign exchange investments in Malta. However, he has since failed to provide any evidence to support the claim despite being challenged by the NPP.
Kariyawasam alleged that the NPP hindered the inflow of foreign exchange into the country through protests and creating a social upheaval, only to subsequently transfer a substantial amount of foreign exchange that was already within the country to overseas investments.
"They levelled false accusations against our party and its leaders. They subjected us to insults. But it was our party that developed this country post-Independence. But they who did nothing for this country levelled baseless allegations against Mahinda Rajapaksa and Basil Rajapaksa calling them thieves and fraudsters. Now the same allegations have been levelled against them," he said.
Kariyawasam referred to the incident as an unexpected turn of events and viewed it as a consequence delivered to the NPP by nature itself. "We urge the President to pay special attention to the matter," he added.