MP Gammanpila on the CBSL's step-motherly treatment of the EPF
---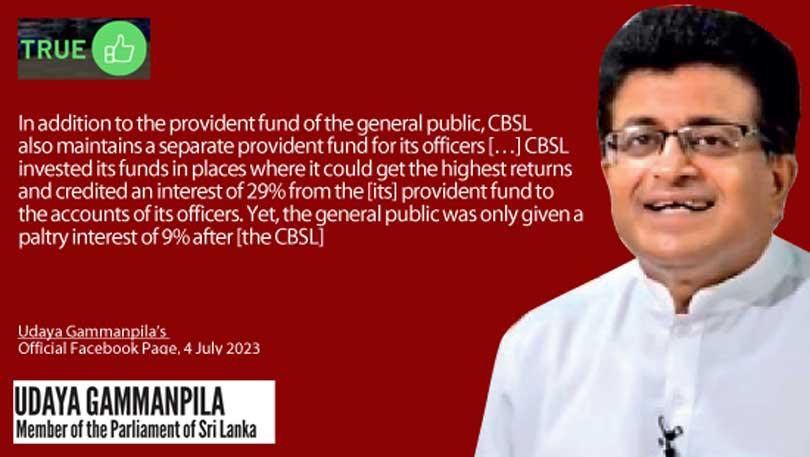 The MP in his statement claims that (1) CBSL maintains both the Employee Provident Fund (EPF) of private and semi-government sector workers and a separate provident fund for its employees; and (2) the CBSL Provident Fund (CBSLPF) gets a return of 29%, while the EPF gets a much lower return of 9%.
To evaluate these claims, FactCheck.lk consulted the CBSL Annual Report (CBSLAR) 2022, the 2022 financial statements of the EPF and the EPF Act of 1958.
Section 5 of the EPF Act designates the CBSL as the authoritative 'custodian' of the EPF. CBSLAR (Volume II, Part II, Page 35-40) confirms that the CBSL operates seven defined benefit plans, which cover all eligible CBSL employees, that can be collectively referred to as the CBSLPF. Thus, the MP is correct in claiming that both provident funds are managed by the CBSL.
The graph presents the expected return on average investment of the EPF at 9.52% and the return on assets/investments of the CBSLPF at 19% for 2022 (see Additional notes on website). These figures, the CBSLPF figure in particular, do not align with those cited by the MP (9% and 29%).
The MPs statement, however, can be read as referring to the return that is credited to the members of the funds ('credited returns'), which can differ from the 'investment return.' Credited returns are calculated after deducting various expenditures, such as taxation. FactCheck.lk cannot verify the MP's figures on the 'credited returns' (9% and 29%) for 2022 due to the lack of published reports since 2020. However, in a recent CBSL Monetary Board Review, CBSL Governor Nandalal Weerasinghe mentioned a special 'formula' used for the CBSLPF, which could make 'credited returns' much higher than 'investment returns' (see Additional Note on website).
The MP is correct in claiming that the CBSL manages a separate provident fund for its own employees in addition to managing the EPF and reports the credited return to the EPF member balances that are close to the investment return. The MP's figures for the credited returns to the CBSL member balances exceed the expected return on investment, while is possible, but not verifiable from available data. Nevertheless, the MP is correct in his overall claim that the funds managed by the CBSL for CBSLPF are reported as having a much higher return in 2022 than the funds managed by the CBSL for the EPF.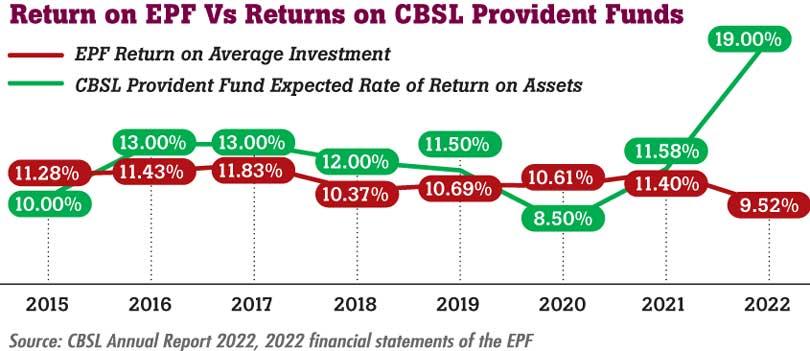 Therefore, we classify the MP's statement as TRUE.
*FactCheck.lk's verdict is based on the most recent information that is publicly accessible. As with every fact check, if new information becomes available, FactCheck.lk will revisit the assessment.
FactCheck is a platform run by Verité Research.
For comments, suggestions and feedback, please visit www.factcheck.lk.