Fukushima: Sushi lovers grab last bites as seafood ban hits Japan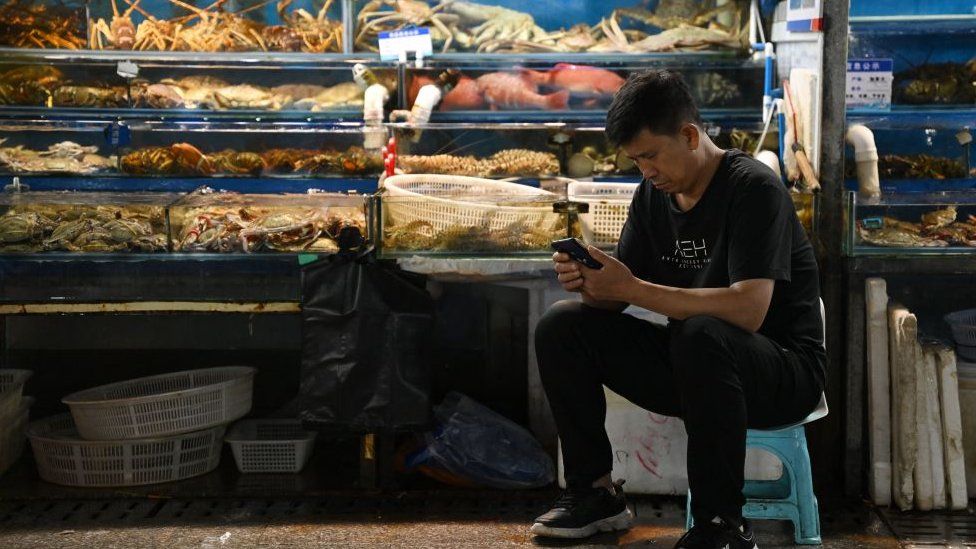 "I'll keep eating Japanese seafood… It's just that addictive," said Hong Kong diner Mr Ho while standing outside a Japanese seafood restaurant.
He was among a number of Hongkongers who had been flocking to Japanese eateries for their fill of sushi and sashimi in recent weeks.
Japanese seafood has always been very popular in the city. But there has been a renewed urgency to consume it in the days leading up to the Fukushima nuclear waste water release.
On Thursday, Japanese authorities announced at 13:00 local time (05:00 BST) that they had begun pumping the water into the ocean through an underground tunnel. It prompted an immediate outcry from regional neighbours.
Soon after, mainland China's customs office announced that an existing ban on seafood imports from Fukushima and some prefectures would be immediately extended to cover the whole of Japan to "protect the health of Chinese consumers".
Many expect Hong Kong to follow suit in the coming days.
This would be a massive hit to Japan. China and Hong Kong account for nearly half of all Japan's seafood exports – amounting to $1.1bn (£866m) every year.
Chinese social media has been flooded with posts from users expressing concern about the release of waste water, with some worrying about its long-term effects on fish that finds it way to restaurants around the world.
"This isn't just a question of whether seafood is safe to eat. The circulation of currents means this will affect the whole world," read one comment on social media site Weibo.
China's state-backed Global Times published a cartoon depicting the planet as a human head being poisoned by brown water from Japan. The Japanese flag and the name of Fukushima plant operator Tepco featured prominently in the image.
One Weibo poll seeking public reactions to Japan's move offered three suggested replies – all against the release of the water.
But Japan has been bracing itself for the backlash.
The government said in 2021 that it will buy marine products to support fishermen as an "emergency step" if the planned discharge has a negative impact on sales, The Japan Times reported.
The report also said authorities were considering setting up a fund that can be "used flexibly to buy seafood from Fukushima and other parts of Japan".
Whether officials anticipated a total ban is unclear at this point.
The curbs from China come despite experts saying that the release will not make the sea more radioactive than it already is.
It was signed off by the UN's nuclear watchdog in July, with authorities concluding the impact on people and the environment would be negligible.
Many scientists say the concerns about the effects of treated water on seafood has "no basis in scientific evidence".
Prof Jim Smith, who teaches environmental science at the University of Portsmouth, says radiation doses to people will be "vanishingly small" if the discharge is carried out as planned.
The exposure would be "more than a thousand times less" than doses we get from natural radiation each year, Prof Smith says.
Mark Foreman, an associate professor of nuclear chemistry in Sweden, said people who consume a lot of seafood will only be exposed to "low" doses of radiation – in the range of 0.0062 to 0.032 microSv per year.
Humans can safely be exposed to tens of thousands of times more than that – or up to 1,000 microSv of radiation per year.
Back in Hong Kong, another diner who only wanted to be known as Ms Cheng said she was worried about the potential health impact of eating Japanese seafood.
Eating at Japanese restaurants has been a weekly ritual for her. But she now plans to cut back on this habit and observe the situation for the next six months, and will switch to Norwegian or South Korean seafood for now.
But a third diner who spoke to the BBC, Ah Yum said she did not think the release would change her fondness for Japanese cuisine. It's a 9.5 out of 10, she said.
"You like it, you eat it. There's nothing you could do about it," she said.