Setback for SJB's alliance moves, as Dullas woos Wimal's group and JVP
View(s): 2644
Talks held at Communist party office and JVP headquarters; objective to find common ground
SJB updates economic blueprint; despite crisis, "we can still recover, we can regain our ground, reform our economy, and rebuild our country"
President outlines massive development plan for east; opposition sees clues for election in Ranil's moves
 By Our Political Editor
Two parliamentarians – Nalin Bandara Jayamaha (Kurunegala District) and Wasantha Yapa Bandara (Kandy District) – were suspended for the day's sittings from Parliament on Tuesday by Speaker Mahinda Yapa Abeywardena.
It fell on the Serjeant-at-arms, Narendra Fernando, who is tasked to carry out the orders of the Speaker, to make sure they left the precincts of Parliament. He was walking with them out of the chamber and had to pass a location where the MPs were usually served Kola Kenda (a traditional herbal congee). The duo wanted to savour the health drink. He waited till they finished before escorting them out of the premises.
Other than that, a more serious event on Friday was the decision to place before the House Ethics and Privileges Committee the matter concerning Puttalam District MP, Ali Sabri Raheem. As exclusively revealed in these columns last week, an official report from Customs Director General P.B.S.C. Nonis to the Speaker has prompted the move. (See story on this page).
For opposition political parties represented in Parliament, the preoccupation appears to be preparing for a parliamentary election. Though there is no formal indication from President Ranil Wickremesinghe, their leaders do not want to take any chances.  That it would take months rather than weeks is clear from President Wickremesinghe's decision to implement the 13th Amendment to the Constitution. Except for the Janatha Vimukthi Peramuna (JVP), all other political parties have made proposals. They are now being tabulated at the Presidential Secretariat for scrutiny by the cabinet of ministers. It will thereafter be presented in Parliament for all political parties to agree on a common format.
The 13th Amendment which deals with Provincial Councils came about due to India's intervention in July 1987 as a solution to the ethnic conflict. Thus, the principal beneficiaries in the north and east were the Tamil political parties. On August 15, parliamentarian C.V. Wigneswaran, a former Supreme Court Judge, told a meeting chaired by President Wickremesinghe: "I have already made available to His Excellency a letter signed by the Leaders of seven of the 13 registered parties in the North and East asking for the full implementation of the 13th Amendment for the moment. Of the six remaining, a party in Government has supported our efforts but declined to sign on a protocol basis. The Tamil Congress feels two in the bush is better than one in hand. The other four registered parties have refused to sign the document for reasons best known to them." He noted that the Provincial Council elections have not been held for the past ten years.
The latest round of talks came between the Freedom People's Congress (FPC) led by Dullas Allahapperuma and the Uttara Lanka Sabhagaya (ULS) led by Wimal Weerawansa. The two sides met at the Communist Party office to discuss whether they could reach common ground. That was not good news for the Samagi Jana Balavegaya (SJB) which had hoped to wrap up an alliance with the FPC, as revealed in these columns last week.
The two sides reached a broader understanding on holding a further round of talks. They will centre on economic policy, foreign policy including regional power balance, political reforms including the proposed implementation of the 13th Amendment to the Constitution and the creation of a social democratic structure. Representing the FPC were G.L. Peiris, Dilan Perera, Nalaka Godahewa, Charitha Herath and Channa Jayasumana. The Uttara Lanka Sabhagaya team was led by Wimal Weerawansa and included Udaya Gammanpila, D.E.W. Gunasekera, Vasudeva Nanayakkara, G. Weerasinghe (General Secretary of the Communist Party) and Gevindu Kumarasinghe. The two sides are yet to agree on a date for the next round of talks.
Wooing JVP
The same FPC delegation had talks with the JVP at its office in Battaramulla on Friday. They are not seeking a tie-up but exploring the prospects of the two sides joining together on a common platform on key issues. JVP leader Anura Kumara Dissanayake, Vijitha Herath and K.D. Lalkantha attended the talks.
A sizeable section of the FPC are opposed to an early tie-up with the main opposition SJB. It came to light this week that they want to first end their dialogue with all opposition political parties before reaching finality. A key member who is opposed to an early tie-up with the SJB spoke on grounds of anonymity. He said, "They want to rope us in early for two main reasons. One is the support they will receive for the candidature of their leader Sajith Premadasa. The other is by doing so, they want to prevent a possible erosion of their ranks to the United National Party."
The same member said that one of the major stumbling blocks for an early tie-up with the SJB was its economic policy. The SJB came out earlier with a blueprint that was authored by Harsha de Silva. Now, it has improved on this same programme which makes clear that its policies are no different to those of the UNP or albeit the ruling disposition, the member said. "We will want the SJB to agree on a new economic policy if we are to support it," the member said.
Highlights of the Executive Summary of the SJB blueprint:
"Sri Lanka's economic crisis is not unexpected. Decades of short-sighted policies and half-hearted reforms weakened our foundation. Sudden global crises pushed us to the brink. Appalling mismanagement took us over the edge. Today, the state is bankrupt, inflation is rampant, the economy is faltering, and our socio-political order is in crisis. Yet we can still recover, we can regain our ground, reform our economy, and rebuild our country.
"Blueprint 2.0 tells us how. Anti-corruption and transparency laws are the bedrock of true, lasting change; and their rigorous implementation is essential to build a society that is just, equitable, and free from corruption. We must obtain bridge financing for our debt crisis and productively engage with the International Monetary Fund while restructuring our debt. We must maintain financial system stability as we do so. Carefully floating the exchange rate to market levels and raising interest rates will control inflation and restore the economy's international competitiveness.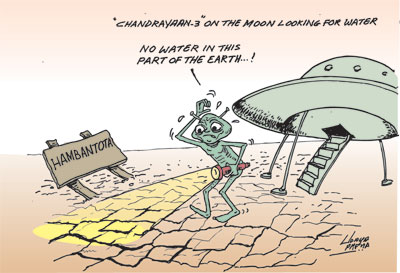 "Monetary policy reform will ensure that we do not backslide into crisis. Fiscal reform, including sustainable tax revenue increase, expenditure rationalisation, and reform of state-owned enterprises, is also critical. As we stabilise, we must also grow. It is essential that we promote trade, industry, agriculture, and services by unshackling markets, increasing competitiveness and productivity, promoting exports and investment, and integrating with global production networks. Transforming the public sector into a productive, efficient, digitally enabled workforce that serves the needs of Sri Lanka's citizens, is also vital for growth. Reforms in the energy and utilities sectors are particularly important.
"Land and labour market reform will enable and amplify this growth.
"Targeted, means-tested cash transfers within a strong, transparent, effective social safety net must safeguard those who need it most. These reforms will enable more citizens to access the opportunities stemming from growth. This will not be an easy path, but it is our only route out of debt and towards sustainable inclusive development.
"This document is prepared by Harsha de Silva, a member of the Samagi Jana Balawegaya (SJB)'s Economic Policy Unit consisting of the author, Kabir
Hashim, MP and Eran Wickremeratna, MP; and is endorsed by SJB Leader Sajith Premadasa, MP. Valuable advice and commentary from Professor Premachandra Athukorala and several economists are acknowledged with gratitude.
"This document also incorporates, in tables, the short-medium term action plan detailed in the 'Common Minimum Programme' compiled mid-2022 by the
National Movement for Social Justice (NMSJ) using proposals from Advocata Institute, Bar Association of Sri Lanka (BASL), Elle Gunawansa Thera, independent economists' group,
"This document focuses solely on economic stabilization and growth: it does not include in-depth views of the author, the SJB, or any others on reforms in
critical areas such as education, health, justice, reconciliation, environment, or any other aspects. It is not a comprehensive manifesto."
Clues in President's plans
However, the opposition political parties are still not sure when President Wickremesinghe will call for either presidential or parliamentary elections. Consequently, they are surmising every step he takes as a possible prelude to a poll. Upon his return from a short visit to Singapore, Wickremesinghe pitched camp in Trincomalee to direct a string of development projects. This was much like what he did earlier when he operated on from Nuwara Eliya. From Trincomalee, he travelled to Arugam Bay in the Ampara District. His Media Division said:
"Reflecting on the previous year, our nation faced an economic collapse that led us into a state of indebtedness. Thanks to well-executed government initiatives, we managed to avert bankruptcy this year, but the responsibility of repaying these debts remains. Additionally, foreign exchange is pivotal for propelling the country's progress. Hence, maintaining a favourable trade balance is imperative; otherwise, we risk encountering another economic crisis in a decade due to escalating debt. To counter this potential scenario, we have devised a novel programme. Notably, substantial focus has been directed towards the Eastern Province, with a particular emphasis on the Trincomalee district's development. In this endeavor, we have secured support from India for advancing the Trincomalee district.
"Our plan encompasses harnessing the land portion of the left bank of the Mahaweli zone to facilitate development activities. This includes the establishment of a sizable investment zone spanning approximately a thousand acres. It's crucial to highlight that, concurrent with the tourism industry's advancement, an agricultural modernization scheme and a development project for the fishing industry are being formulated to elevate these industries' prospects. Moreover, a primary objective is to enhance the living standards of the people in the Ampara district, a region inhabited by poor people. This has been a key focus, driving the modernization of both the fishing and agricultural sectors in Ampara. The target of achieving a rice yield of at least 7 to 8 metric tons per hectare is set, with corresponding initiatives in animal husbandry being enacted in the province as well.
"In the forthcoming decade, a concerted effort is being directed towards elevating the annual tourist influx from 2.5 million to 5 million initially, followed by a subsequent surge to 10 million In line with this, a robust initiative seeks to attract no less than 10-20 million tourists annually to this region. The formulation of a comprehensive strategy to levy fees of $300 or $500 per day per tourist is in progress, aimed at materializing this goal within the Eastern Province.
Presently, the landscape of tourism exhibits distinctive features. A segment of tourists gravitates towards these provinces. Nurturing activities such as water skiing, which holds substantial tourist allure, becomes pivotal….."
It is the breakaway groups from the Sri Lanka Podujana Peramuna (SLPP) that are keen to forge tie-ups with other opposition political parties. That it has emaciated the SLPP is no secret. Fresh moves are now being made to widen their support base among MPs. This is by being critical of the implementation of the 13A. The SJB which remains less than active but confident of victory at the polls is keen to shore up its support base. It is no easy task for it. It is known that the SJB's key members have formulated their own publicity machinery in the absence of a voice from the party. The result has been a campaign by media promoters of SJB leader, Sajith Premadasa, to have his lengthy speeches in Parliament publicised. Other than that, the absence of cohesive media machinery has prevented the SJB from speaking out in one voice over national issues. That may cost the grouping considerably though some of its stalwarts keep complaining that they do not have the funds for a full-fledged media operation. Their woes will continue.
Ethics and Privileges Committee to probe Ali Sabri Raheem's conduct

A cabinet minister told Parliament on Friday that Ali Sabri Raheem, as a people's representative, betrayed their trust and violated the privileges of the entire Parliament by smuggling gold and mobile phones.

Education Minister Susil Premjayantha moved a resolution that the case against Puttalam District MP Ali Sabri Raheem be probed by the Committee on Ethics and Privileges of the House in accordance with Standing Orders. It was seconded by Lakshman Kiriella, Chief Opposition Whip.

It was only last week, the Sunday Times revealed exclusively the contents of the report on the smuggling incident. It was sent by Customs Director General P.B.S.C. Nonis to Speaker Mahinda Yapa Abeywardena.

Ali Sabri Raheem is also a member of the Committee on Ethics and Privileges. However, since the inquiry is against him, he will not be able to sit. Former Speaker Chamal Rajapaksa is the chairman of the Committee. Other members are Wijeyadasa Rajapakshe, Kanaka Herath, Vijitha Berugoda, Tharaka Balasuriya, Anuradha Jayaratne, Johnston Fernando, Dullas Alahapperuma, Kabir Hashim, Ranjith Madduma Bandara, Thalatha Atukorala, Jayantha Ketagoda, G.G. Ponnambalam, Hesha Vithanage, Kokila Gunawardene, Samanpriya Herath and Dr. Harini Amarasuriya.

The MPs' nine-page Code of Conduct which became effective from August 15, 2018, lays down under different heads how the Members of Parliament should discharge their duties. The chapter dealing with Procedure for Inquiry and Sanctions states: "If the Committee on Ethics and Privileges finds any evidence to the effect that any breach relating to criminal law is present, it shall forthwith refer such matter to the Police or any other institute having jurisdiction to inquire into such matter.

"After the investigation and inquiry of such matter, the Committee on Ethics and Privileges shall report its findings or recommendations to the House for further proceedings in accordance with the rules.

"Where it has been found that a member has indulged in any unethical behaviour or that there is other misconduct in respect of any Member or that any Member has breached any provision of the Code of Conduct, the Committee on Ethics and Privileges may recommend to the House the imposition of one or more of the following sanctions:

(a)  Censure

(b) Reprimand

(c) Suspension from Parliament for a period as may be specified by the Committee on Ethics and Privileges. However, such period shall not exceed the limits as set out in the Parliamentary (Powers and Privileges) Act No 5 of 1978; and

(d) Any other sanction the Supreme Court may prescribe on a matter that has been referred to the Supreme Court by Parliament under the aforesaid Act.

A chapter deals with the Principles of Conduct. Here are highlights:

l    No member shall in any way place himself under any financial or other obligation to any outside individual or organization which may influence such Member in the discharge of his official duties.

l    The Members shall be accountable for the decisions made by them, actions taken by them for the public, and shall subject to scrutiny appropriate to their office or to any public scrutiny.

l    The Members shall be open to public as much as possible in respect of any decision or action taken or done by them and shall assign reasons for such decisions and restrict information only when the wider public interest is protected.

A chapter deals with a Register of Members' interests and disclosure and publication of such interests. It states among other matters:

"A Register called the "Register of Members interests" shall be kept and maintained by the Secretary General in such form and manner as may be determined by the Committee on Ethics and Privileges which shall be available for inspection by any Member on request made in that behalf to the Secretary General.

"The provisions of the Right to Information Act, No 12 of 2016 shall apply to publication of any information contained in the Register.

"The members shall disclose information relating to their business relationships and financial interests including information of close family members in order to increase public trust in Members.

"Where any Member has any personal or pecuniary interest whether directly or indirectly relating to any matter under consideration by Parliament or any Committee thereof, such Member shall declare the nature of such interest notwithstanding the fact that such Member has registered such interest in the Register and shall not participate in any debate taking place in the house or in any Committee unless he has made such declaration as required by this paragraph."

Minister Premjayantha told Parliament: "MP Ali Sabri Raheem was apprehended at the Bandaranaike International Airport (BIA) on May 23, 2023 with more than 3 kilograms of gold worth over Rs. 70 million and a large number of mobile phones that he was trying to smuggle into the country while misusing his parliamentary privileges and diplomatic passport. Sri Lanka Customs imposed a fine of Rs. 7.5 million against him over this illegal act and took steps to confiscate the smuggled items. These facts have been confirmed by the letter dated June 14, 2023 sent by the Director General of Customs to the Secretary General of Parliament.

"As such, MP Ali Sabri Raheem has violated the Code of Conduct for Parliamentarians adopted by this House on March 7, 2018 and as a people's representative, has betrayed their trust. Since his conduct has violated the privileges of the entire Parliament and that of its Members, I request that the matter be referred to Parliament's Committee on Ethics and Privileges in accordance with provisions under Standing Order 118 for an extensive investigation and take appropriate action thereafter."

Chief Opposition Whip Lakshman Kiriella said: "Regarding the question of privilege of MP Ali Sabri Raheem, see where this Parliament has fallen. Supreme Court Justices are brought before the Privileges Committee. MPs who have brought in gold are referred to the Privileges Committee. What is this? Even if the Privileges Committee releases a report against MP Ali Sabri Raheem finding that he did wrong, this Parliament cannot expel such an MP. I brought this matter up at the party leaders' meeting as well.

The Soulbury Constitution had a provision that the government of 1956 used to expel four MPs who had accepted bribes. Their own government expelled them by bringing a resolution before Parliament. I propose to the Leader of the House that both the government and opposition bring that provision as a Constitutional amendment."