India's overhyped security concerns over Chinese vessels in Lankan waters
---

The Chinese vessel Shi Yan 6's proposed visit is the latest diplomatic challenge to Sri Lanka
The Sri Lankan government's tightrope walk is evident as it tries to navigate the latest diplomatic dilemma involving India and China over the proposed visit of the Chinese vessel Shi Yan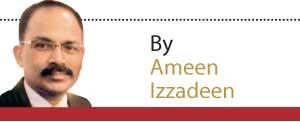 6.
India's objection is based on its claim that the Chinese vessel is capable of intelligence gathering and therefore poses a threat to its national security. Whether India's claim is evidence-based or mere speculation, only India knows. China, however, insists that the vessel is on an ocean research mission and that it in no way poses a threat to the security of any country.
India expects Sri Lanka to deny the vessel entry to Colombo or Hambantota ports. As pressure from both India and China increases, the Sri Lankan government has, for the time being, found a way out. It has said the vessel could conduct no research while in Sri Lankan territorial waters unless in the presence of Sri Lanka's National Aquatic Research Agency (NARA).
However, India is not happy and probably expects Sri Lanka to take a pro-India stance in return for its US$ 4 billion lifeline that prevented Sri Lanka last year from plunging into an economic abyss worse than bankruptcy.
Both India and China, by creating a diplomatic dilemma for Sri Lanka, may want to test Sri Lanka's loyalty. In August last year, too, Sri Lanka faced a similar predicament over the visit of the Chinese vessel Yuan Wang 5, also a research vessel, according to China. This was while India was disbursing its credit line to Sri Lanka. But Sri Lanka succeeded in finding a way out. It allowed the Yuan Wang 5 to dock at the Hambantota port on the condition that no research be done while it was in the Sri Lankan port.
Sri Lanka cannot afford to antagonise China, as its cooperation is also vital for the foreign debt restructuring bid. China is the biggest source of foreign direct investment (FDI) in Sri Lanka, accounting for 33% of all FDI. It is also Sri Lanka's single largest creditor.
However, it appears that India's security concerns over Chinese vessels, whether military or research, are overhyped. China does not have to send surveillance vessels to Sri Lanka to know where India has stationed its ballistic missiles or nuclear warheads. China possesses spy satellites, including synthetic aperture radar (SAR) satellites capable of creating detailed images of the ground, even at night or in bad weather, identifying missile launch sites, and tracking missile movements.
Today's advanced satellite technology means that no country's secret weapons system is a surprise to a country that has spy satellites in orbit.
This is perhaps why European countries and NATO have not made much of an uproar over the visits of Chinese military vessels to the Chinese-run port of Piraeus in Greece, a NATO and European Union member. The European Union bailed out Greece during several of its economic crises. But neither NATO nor the EU exerted pressure on Greece, urging it to deny the Chinese naval vessels access to the Piraeus port, which China's state-run China Ocean Shipping Company (COSCO) controls with a 67 percent stake in it. Today, Piraeus is regarded as one of the most important transshipment hubs in the Mediterranean.
As part of its Belt-and-Road initiative, China, apart from Piraeus, has also made major investments in several ports in European countries which are key NATO members.
COSCO has a 24.9 percent stake in Germany's Hamburg container terminal. Chinese companies such as COSCO and China Merchant Ports Holding, which runs Sri Lanka's Hambantota port, have invested billions of dollars in ports in Belgium, Spain, Italy, Turkey, and the Netherlands—all NATO members.
Chinese companies also have stakes in five major ports in the United States, despite US legislation to review foreign investment in the country's critical infrastructure. China is also present in Israel's Haifa port, not far from US weapons systems in that country.
Given the relatively low level of controversy in the West over Chinese investments in ports, it seems that India's pressure on Sri Lanka is driven more by its desire to dominate the South Asian region of the Indian Ocean, rather than any concerns over Chinese vessels' research activities while they are in
Sri Lankan waters.
It was only last week that India's Prime Minister Narendra Modi and China's President Xi Jinping had "candid talks" on the sidelines of the Johannesburg BRICS summit and agreed to ease tension along their disputed frontier. But this week, a map published by China's Natural Resources Ministry showing Arunachal Pradesh and Aksai Chin as Chinese territory reversed the progress the two leaders made in Johannesburg.
With the recent BRICS summit pointing to the emergence of a new world order based on multilateralism, both India and China stand to benefit by easing tensions on the frontier, working out mechanisms to clear suspicions, and building bridges on the diplomatic and trade fronts. The two countries cannot ignore the economic benefits of enhanced trade cooperation.
A world order based on multilateralism can only survive if it promotes trade under peaceful circumstances. China's Belt-and-Road initiative, which India has rejected, could become an important component of multilateralism if fears surrounding it are addressed.
China's investments in Sri Lankan ports have made India uneasy. However, China's investments in ports are not limited to Sri Lanka. They are spread across the globe, including in the seas around South America, which the US considers its exclusive backyard under the Monroe Doctrine. China has undertaken port projects in Cuba, Brazil, Peru, Argentina, Uruguay, and several Caribbean nations.
Today, China produces 96 percent of the world's shipping containers and 80 percent of port cranes. It also accounts for nearly half of the world's shipbuilding orders. It has the world's second-largest fleet of commercial vessels and, according to the U.S. Office of Naval Intelligence, has now surpassed the United States as the world's largest navy in terms of total battle force ships. Besides, China is home to more shipping ports than any other country, including the world's ten busiest ports.
Undoubtedly, these ground realities have made China a major sea power, causing security concerns among nations that still view China as a rival and reminding them of what 17th-century English explorer Sir Walter Raleigh said: "Whosoever commands the sea commands the trade; whosoever commands the trade of the world commands the riches of the world, and consequently the world itself."
But power needs to be exercised with responsibility if China is true to its claims that its investments in ports across the globe and its BRI project are essentially for world peace through enhanced trade cooperation and not aimed at entrapping other countries in debt snares.
Whether China exercises its sea power with responsibility may be reflected in President Xi's response to Sri Lanka's President Ranil Wickremesinghe when the Sri Lankan leader meets him in Beijing next month and discusses the diplomatic challenges posed by the visits of Chinese research vessels to Sri Lanka.