India working in collaboration with Sri Lanka: Will millets make a comeback to the island's culinary tradition?
---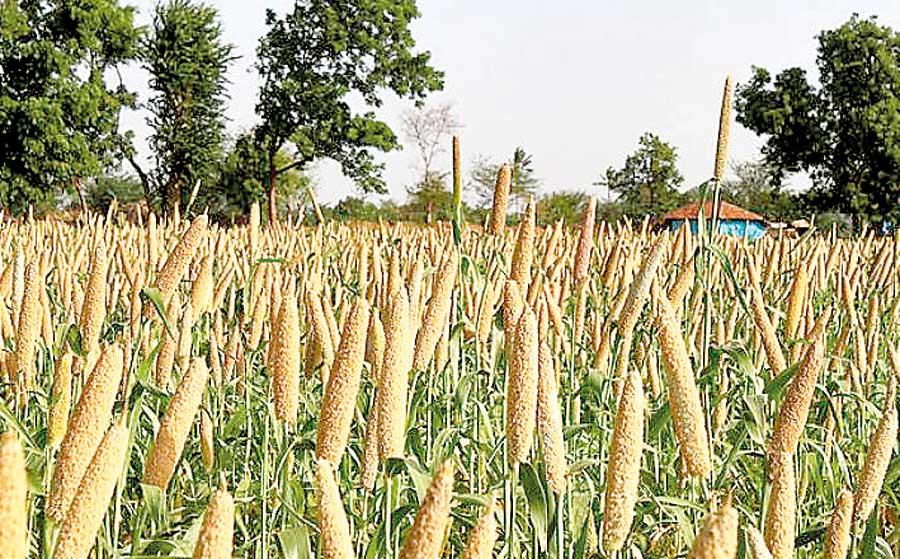 Currently, millet production in Sri Lanka covers less than 7,000 hectares compared to 800,000 hectares dedicated to rice cultivation
These ancient grains are now celebrated anew for their dietary benefits
Millets had a prominent place in Sri Lankan culinary traditions; particularly in rural areas in the past. While wheat products once overshadowed the cultivation of millet grains like Kurakkan,

 these ancient grains are now celebrated anew for their dietary benefits, particularly for individuals grappling with non-communicable diseases such as diabetes.
In a time when culinary choices are often used as markers of social status, millet products were once stereotyped as the fare of rural communities. However, perceptions have evolved over the years, recognising millets as invaluable, sustainable food crops rich in nutritional content and resilient in the face of climate challenges. They can thrive in impoverished soils and endure drought conditions.
India, as the world's largest millet cultivator, has spearheaded a global campaign to promote millets and successfully lobbied for 2023 to be declared the International Year of Millets. As the closest maritime neighbour, Sri Lanka has not escaped India's "millet diplomacy," which emphasises the role of food traditions in fostering international relations.
Earlier this year, the Indian High Commission in Colombo organised a curtain-raiser event themed "Millets – A Miracle Grain" as part of the International Year of Millets 2023 celebrations. The event showcased millet products from Karnataka, India, facilitated by the state government.
The event aimed to bring together stakeholders to underscore the importance of millets, boost millet consumption among Sri Lankans, explore avenues to increase millet production in Sri Lanka, share India's expertise on millets, and discuss potential cooperation between India and Sri Lanka in millet cultivation.
Agriculture Minister Mahinda Amaraweera stressed the significance of millets in the Sri Lankan diet, particularly among those battling cardiovascular diseases and diabetes. He called for India's support in enhancing millet production and diversifying millet varieties in Sri Lanka through research collaborations with Indian institutions, such as the Indian Council for Agricultural Research.
Gopal Baglay, the Indian High Commissioner, emphasised millets' cultural significance in India and their potential to strengthen bilateral cooperation in food security. He highlighted the growing popularity of millets as smart and healthy foods. Baglay underscored that both India and Sri Lanka prioritise food security and suggested that discussions on millets could further cooperation in this vital area.
Shivayogi C Kalasad, Agriculture Secretary of the Government of Karnataka, joined the event virtually and shared Karnataka's success story in mainstreaming millets. He elaborated on India's and Karnataka's positions as major producers and exporters of millets and discussed initiatives to promote and integrate millets into daily diets. He also highlighted opportunities for promoting Karnataka's millet products in Sri Lanka through trade delegations, road shows, and business-to-business meetings.
Vimlendra Sharan, FAO Representative to Sri Lanka and the Maldives, applauded India's efforts in popularising millets globally. He welcomed India's recent initiative, the Millets International Initiative on Research and Awareness (MIRA), aimed at coordinating millet research programs at the international level. Sharan called for the integration of millets into production and consumption cycles.
Abdur Rahim Siddiqui, Country Director of the World Food Programme (WFP), stressed the vital role of millets in ensuring food security and sustainable development. He also highlighted joint programs between the Government of India and WFP in India. Siddiqui emphasised the importance of climate-resilient crops like millets in addressing climate change challenges.
Currently, millet production in Sri Lanka covers less than 7,000 hectares compared to 800,000 hectares dedicated to rice cultivation. There is a pressing need to diversify millet varieties in Sri Lanka, which predominantly focuses on finger millets like Kurakkan, while also promoting millet-based value-added products, following India's successful model.
Sri Lanka is now endeavouring to promote millet products as healthy choices for everyone, moving away from the notion that they are exclusively for individuals with specific health conditions. This shift in perception is crucial to ensure the widespread acceptance and integration of millets into Sri Lanka's culinary landscape.