Impact of India's UPI in the economic recovery of Sri Lanka
Saturday, 2 September 2023 01:15 –      – 43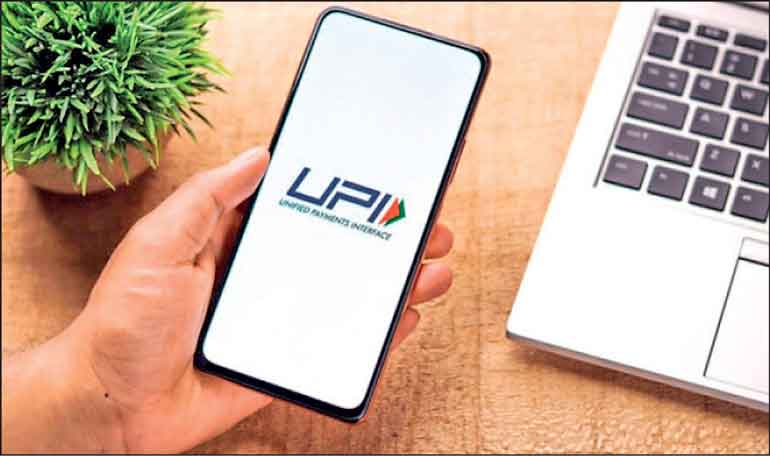 UPI payments can have a positive impact on the economy by reducing the costs of financial transactions, enabling a more convenient method to transact and driving financial inclusion
UPI will lead to Sri Lanka becoming a cashless economy. This has greater benefits. A cashless society leads to a safer environment. It will also address issues like money laundering and tax evasion leading to greater Government revenues. Enabling a culture of digital payments can help Sri Lankans to have a better record of their spendings which can help them attain greater financial discipline

The Unified Payments Interface (UPI) of India is growing exponentially in popularity in India and driving India's economic transformation. 40% of global real time payments are processed by UPI which places India at the forefront of transforming the way people make payments. So far, France, United Arab Emirates and Singapore have partnered with India on fintech solutions. Sri Lanka is the latest country to join.
What is UPI? 
UPI is part of "India Stack", a unified software platform, is the first national digital infrastructure in the world, offering a low-cost digital push, leaping at least two financial technology generations. A "stack" is known as all the technologies required to execute an application: The UPI is a user-friendly, real time payment and collection solution that drives inter-bank transactions, and leads to greater digital payments adoption in the country.
Currently the digital payments in Sri Lanka are happening through the digital wallets by preloading an amount from the person's bank into the digital wallet and making payment to the beneficiary using QR code or phone number.
UPI on the other hand can directly and safely connect to multiple bank accounts and make payment using QR Code or virtual address or account details i.e. in 'Push' mode. It is also being used by payment service providers to pay using only phone numbers. UPI is also being used extensively to request fund transfer i.e. 'Pull' mode. It means it works in both 'Push' and 'Pull' mode, seamlessly, safely and securely.
Making payments directly from your bank account or receiving directly in your account without any commission being paid to any intermediary is a game changer when the credit cards, debit cards and even digital wallets have a cost for electronic payments. This greatly enhances transaction efficiency when it comes to shopping, paying bills and authorising payments.
The positive aspect of UPI is that payments can be made in one step without the usual hassle of entering bank details and other information and the payments are made directly to the bank account of the person or business entity that is receiving the payments. When it comes to paying using the mobile phone, the virtual address of the payee and a mobile app for payments is only needed.
UPI allows transactions throughout the year at any time and day. The fact that it is simple, immediate and free of charge makes it a formidable disruptor to the industry of debit cards as people in India do not see much value in continuing to pay with debit cards. Merchants find UPI payments even more attractive as they do not have to pay a percentage to the credit/debit card issuing companies.
UPI was launched in 2016 by the National Payments Corporation of India (NPCI) which oversees retail payments in India. The UPI system in India is governed by the Reserve Bank of India (Central Bank of India) while in Sri Lanka it would be governed by the Central Bank of Sri Lanka and operated by a special purpose company in collaboration with NPCI or its subsidiary. The transaction details and all data of Sri Lankans will be held and controlled by Sri Lankan entities in Sri Lanka. In the long term it would lead to the transformation of the Sri Lankan economy to a digital economy.
What will be the challenges? 
The attitude towards accepting the UPI system can be a major challenge as cultures and contexts differ. The enabling challenges can vary from preparedness of banks, availability of bank accounts, data coverage and legal and policy frameworks. There will also be integration challenges at the Central Bank level and the cost of running the system.
Lack of infrastructure to enable its use for a sizable population in Sri Lanka will be a challenge. The lack of awareness of the benefits and falling prey to false news about the UPI system can be a cause of concern. Making it an acceptable payment form by the majority of Sri Lankan merchants and service providers can prove to be challenging at first, though it will grow exponentially in the long term. But the benefits of UPI far outweigh the downsides.
How can UPI help
Sri Lanka's economy?
Firstly, the UPI payments (send and receive both) can drive economic activity by making it easier for businesses to send and receive payments. The cost-free transfer of money can drive greater usage and acceptance as currently businesses in Sri Lanka spend a percentage of the payments they receive through debit and credit cards. This will enable more merchants to switch to UPI payments. Removing the transaction costs will also result in lowering the cost of the product which can benefit the consumer and also increasing the profit margins of businesses.
Secondly, UPI payments make payments simpler and more convenient to adopt. This will drive financial inclusion for most Sri Lankans and drive Sri Lanka towards a digital economy as envisioned by President Ranil Wickremesinghe in his recent speech. According to the Central Bank of Sri Lanka, 88% of Sri Lankan adults have a bank account though a significant percentage of those accounts are not active. UPI can further grow financial inclusion and also reactivate many bank accounts.
Thirdly, UPI will lead to Sri Lanka becoming a cashless economy. This has greater benefits. A cashless society leads to a safer environment. It will also address issues like money laundering and tax evasion leading to greater Government revenues. Enabling a culture of digital payments can help Sri Lankans to have a better record of their spendings which can help them attain greater financial discipline.
Lastly, receiving digital payments will also help business entities to have a record of their transactions which can help with access to finance as banks look into financial records in order to give cash flow based loans. In Sri Lanka, banks tend to give asset based loans which makes it tough for many people to access finance. UPI will be a game changer and will drive entrepreneurship which can lead to decreased unemployment rates and greater economic expansion.
Overall, UPI payments can have a positive impact on the economy by reducing the costs of financial transactions, enabling a more convenient method to transact and driving financial inclusion.
(Dr. Naresh Bana is a peer recognised international consultant, advising on PPPs for infrastructure projects in India and overseas. He is also co-founder, steering committee member, and Chair of the South Asia Chapter of the World Association of PPP Units & Professionals (WAPPP) and Vice Chairman of the Indo Sri Lanka Chamber of Commerce and Industry. A regular contributor to the UN Economic Commission for Europe's (UNECE) policy planning effort, he is a guest faculty to many business schools in India including IIM Nagpur.)
(Talal Rafi is an Economist and a member of the Deloitte Global Economist Network. He is an Expert Member of the World Economic Forum and a regular columnist for the International Monetary Fund. He is a Visiting Lecturer at the Centre for Banking Studies, Central Bank of Sri Lanka. Views expressed are his own.)