Tharman Shanmugaratnam: Singapore picks a president who could've been much more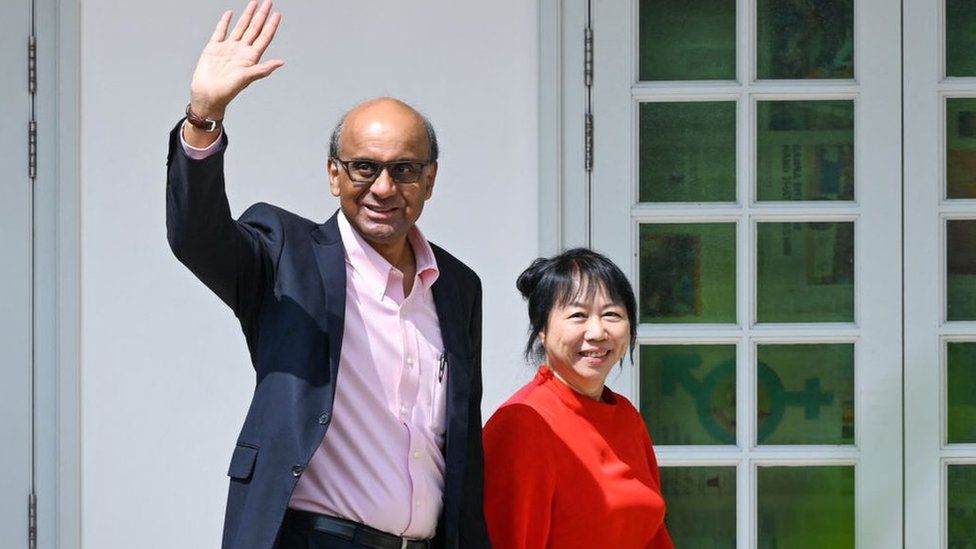 Singaporeans have chosen Tharman Shanmugaratnam as their next president – but many would have let out a small sigh of disappointment as they did so.
On Friday, the former top minister won a record 70.4% of the votes, comfortably beating two other candidates in the country's first contested presidential election in more than a decade.
Mr Tharman was always the clear frontrunner. Urbane, well-spoken and intelligent, he is highly regarded by Singaporeans and consistently polls as one of the island's most popular politicians.
Which was why, when Mr Tharman announced several months ago he was quitting the ruling People's Action Party (PAP) to run for president, many Singaporeans were baffled by what they viewed as a waste of his potential.
The role of president is a largely ceremonial one that holds little power, apart from having some say on the use of Singapore's sizeable financial reserves. It has even less say in public affairs – the government, which has the power to remove the president, has made it clear the president cannot speak too freely and has likened the role to the British monarch.
It is a figurehead role that many see suitable for a pleasant, uncontroversial person to inhabit, as has been the case with past presidents. But Mr Tharman is much more than that.
Besides helping to helm Singapore's political leadership as finance minister and deputy prime minister, the former economist has also held top council positions at global institutions such as the United Nations and the International Monetary Fund (IMF). At one point, he was even tipped to head the IMF.
Some Singaporeans thought that if he ever left the PAP, he would go on to make his mark in the international arena.
Even more hoped he could be prime minister. A survey some years ago saw him poll as the first choice to become PM after incumbent Lee Hsien Loong steps down. In general elections, Mr Tharman's constituency often scores the highest after Mr Lee's.
Part of this popularity stems from the fact that as a long-time deputy, Mr Tharman's reputation has been shielded from the slings and arrows of public criticism which Mr Lee has had to bear.
But the 66-year-old has also cultivated a gentlemanly image, and has refrained from engaging in personal attacks unlike some other politicians. This has played well with an electorate that likes its leaders genteel and statesmanlike.
Many felt he had the chops and stature to become that almost mythical creature – the first non-Chinese prime minister of Singapore – and break a glass ceiling that the government has long insisted is concrete.
Famous for their racial realpolitik, PAP leaders often reiterate that Singapore, a Chinese-majority country, is not ready to accept a minority PM.
Mr Tharman kept mum on this topic until last week when he said he felt Singapore was ready, sharpening the sting of disappointment among his supporters.
But Mr Tharman has also insisted he would not be good at being PM, and with the PAP's new leadership waiting in the wings, it could be said he was already on his way out. One theory is the PAP wanted him to run for president to help shepherd the next generation of leaders.
And so, he chose to run for president instead. Although Singapore has had non-Chinese presidents in the past, Mr Tharman is the first one voted in by the public.
His supporters could claim his victory as a win for representation and a repudiation of racism. In the lead-up to the election, some social media posts insisted that Singapore must have Chinese leaders. Mr Tharman's two competitors were both Chinese.
Ironically he has also blown apart the argument for a key PAP racial policy.
Prior to the presidential election in 2017, the government passed laws ensuring some polls would be restricted to minority race candidates. They argued the rules were needed to ensure better representation of minorities in Singapore, which include Malays, Indians, and Eurasians.
Those rules did not apply this time, so Mr Tharman has proven that a minority race candidate can win under their own steam – and resoundingly so.
For this reason, his victory "is certainly a win for race relations" in Singapore, said Mathew Mathews, a principal research fellow specialising in race at the Institute of Policy Studies.
But he added that the results "don't necessarily mean that Singapore society is race-blind", as race would likely be a bigger factor in a more even competition. The other candidates had CVs less distinguished than Mr Tharman's, or were less known.
As with any election in Singapore, this one was seen partly as a referendum on the PAP, which has suffered rare political scandals recently.
Though Mr Tharman's landslide win can be largely attributed to his personal popularity which has always outstripped the PAP's, it also "shows that the party brand is not so toxic such that the association with it drags a person down", noted Walid Jumblatt Abdullah, an assistant professor in social sciences at Nanyang Technological University.
Still, the victory has also been overshadowed by questions about the PAP's influence. Mr Tharman was widely seen as the government-backed candidate.
Though he has insisted he will act independently, few believe this to be true of a man who has been one of the PAP's most loyal team players.
This election also saw renewed disgruntlement over its opaque and restrictive criteria. A potentially popular candidate, George Goh, was disqualified while a more controversial one, Tan Kin Lian, who had been accused of sexism and racism, was let in.
Mr Tharman's win has thus deepened the perception that the presidential race is increasingly rigged by the government.
There was even a movement urging Singaporeans to spoil their ballots in protest, though in the end that percentage was around 2%, the usual average.
"[This election] left a bitter taste. It reminded them of what happened in 2017, and how restrictive this thing is in letting the voters decide," Dr Abdullah said.
Mr Tharman ran on a campaign promising "respect for all", including "respect for different views and political leanings".
But it is not certain how he would achieve that as president in a system perceived as perpetuating the PAP's power – a system he helped to shape for decades.