Sabry, Wijeyadasa brief diplomatic corps on draft Anti-Terrorism Bill
Monday, 4 September 2023 01:13 –      – 26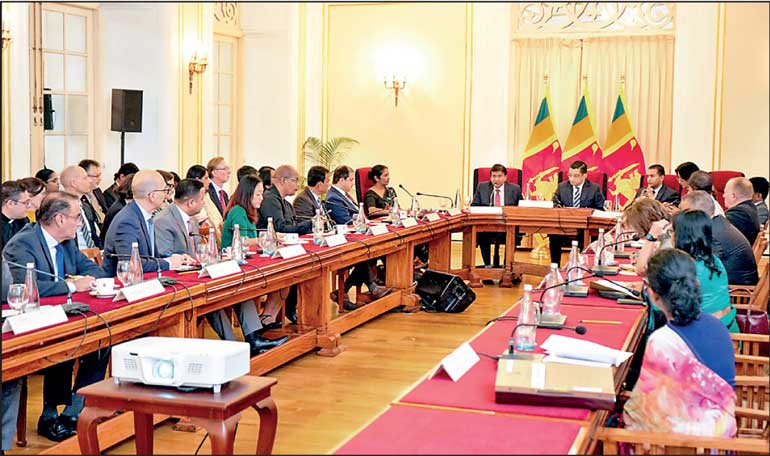 A diplomatic briefing was convened at the Ministry of Foreign Affairs for the Colombo-based diplomatic corps on current developments related to the draft Anti-Terrorism Bill, on Friday.
Justice, Prison Affairs and Constitutional Reforms Minister Dr. Wijeyadasa Rajapaksa and Foreign Affairs Minister Ali Sabry addressed the briefing. State Minister of Justice Anuradha Jayarathna, Foreign Secretary Aruni Wijewardane, Ministry of Justice, Prison Affairs and Constitutional Reforms Secretary Wasantha Perera, and Additional Solicitor General Nerin Pulle were associated with the briefing.
At the outset, Minister Sabry recalled that the Prevention of Terrorism Act (PTA) was amended in 2022 following extensive deliberations with all relevant stakeholders including the civil society, taking into consideration the constructive comments and concerns expressed by domestic and international stakeholders.
Minister Sabry outlined the steps taken by the Government to ensure that the draft anti-terrorism legislation addresses national security requirements while upholding international standards and best practices. He highlighted the transparent and open consultative process that was followed in in evolving the latest draft, including the consideration of views expressed by the public, civil society and international partners. The Minister informed that, following discussions on the suggested amendments, the Bill will be presented to the Cabinet for approval, and that once it is re-gazetted, any person will be able to petition to the Supreme Court with regard to the constitutionality of the Bill.
Minister Rajapaksa briefed the participants on the initiative taken by the Ministry of Justice to actively reach out to the public to receive further views, pursuant to the decision of the Cabinet. He said that concerns relating to the admissibility of confessions, detentions orders and the definition of terrorism were considered during the deliberations. The Minister explained as to how these concerns have been addressed in the draft legal framework.
Additional Solicitor General Pulle presented the salient features of the draft legal framework and said that the Counter Terrorism Bill of 2018, the report of the Commission of inquiry on Easter Sunday as well as observations made by the Bar Association of Sri Lanka (BASL) and the international community, were among the elements considered in developing the framework. He said the new draft seeks to ensure protection of fundamental rights such as freedom of expression and will not include the death penalty, while judicial oversight will be ensured throughout detention. The draft Bill will be subject to approval of the Cabinet and subsequent procedures as per the Constitution.
Following the briefing, the members of the diplomatic corps engaged in a constructive discussion and appreciated the regular briefings to the diplomatic corps on relevant developments in Sri Lanka.