August draws 136,405 tourists but misses monthly target

Tuesday, 5 September 2023 00:00 –      – 172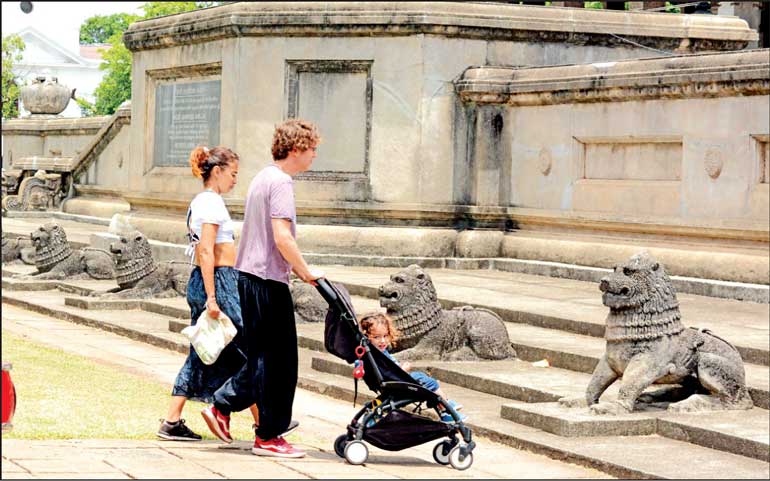 Pic by Pradeep Pathirana
---
Arrivals in the first 8 months at 904,318 
India remains single largest source market followed by UK, China
By Charumini de Silva
Sri Lanka's tourism industry continued its recovery in August 2023, welcoming 136,405 tourists despite the figure falling short of the monthly target of 149,075 as daily average numbers fell towards the latter part of the month.
August arrivals were also lower than July arrivals of 143,039, making July the highest monthly arrivals so far in 2023. The latter part of August saw a sharp decline in the average daily influx of tourists, dropping from over 5,000 to end the month at 4,400.
A significant milestone was reached in August as well, with the total number of tourist arrivals surpassing 900,000 for the year, making it the largest influx since 2019. This achievement comes as a ray of hope for the Sri Lankan tourism industry, which has faced severe challenges in recent years.
During the first eight months arrivals amounted to 904,318 (as against 37,760 in crisis-hit 2022) – a welcome development for the triple-hit tourism industry, but performance is still down by 43% compared to the same period in the benchmark year 2018.
Breaking down the tourist demographics, India emerged as the top generating market, contributing 30,593 visitors, accounting for 22% of the total arrivals. The United Kingdom followed closely behind with 15,035 tourists (11%), while China, Germany, and Russia rounded out the top five markets with 9,262 (7%), 8,472 (6%), and 6,853 (5%) visitors, respectively.
The increase in tourist arrivals is seen as a promising development for the triple-hit tourism industry, which had faced numerous challenges due to the Easter Sunday bombings in 2019, followed by the COVID-19 pandemic, and the economic crisis in 2022.
Sri Lanka's authorities are now focusing on further reviving the sector, aiming to attract more visitors and reach pre-crisis levels in the coming years. Sri Lanka's tourism sector is cautiously optimistic about the prospects of continued recovery in the coming winter season, whilst hoping to attract 1.55 million visitors by the year's end.