Gota denies Channel 4 allegations
Friday, 8 September 2023 00:28 –      – 61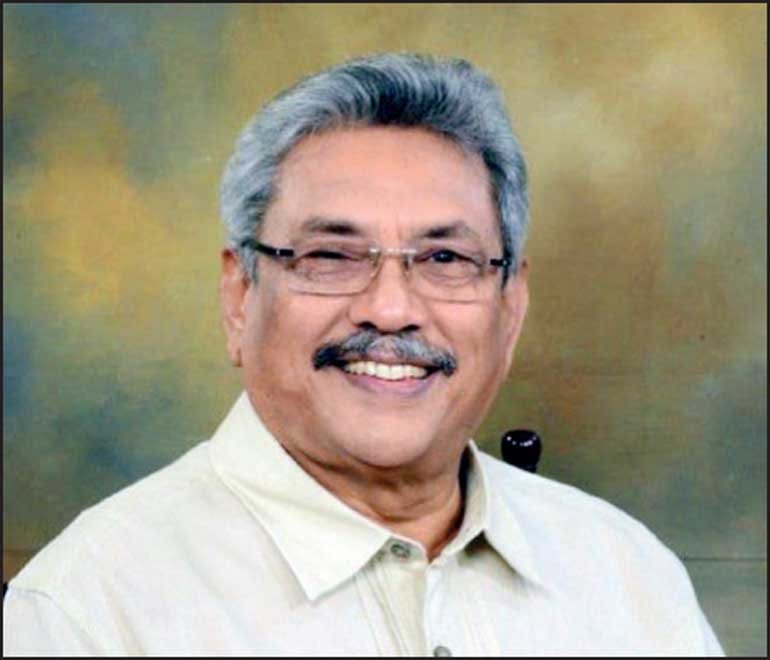 Former President
Gotabaya Rajapaksa
---
Says the film is a mere anti-Rajapaksa tirade and a deliberate attack against their legacy dating back to 2005
Claims he had no contact with SIS Chief Suresh Salley from 2015 – 2019 
Highlights failures of the then Govt. to investigate rise of Muslim extremist elements despite receiving tip-offs
Asserts he personally did everything possible to help the Roman Catholic community in SL
Former President Gotabaya Rajapaksa issued a statement yesterday denying the allegations levelled against him in the recent Channel 4 documentary on the 2019 Easter Sunday attacks.
Rajapaksa refuted claims made in the film by an alleged whistleblower identified as Hanzeer Azad Maulana that the Easter Sunday suicide bombings were carried out by Islamic extremists to deliberately facilitate his win at the Presidential election in November 2019.
The former President denied he had any connections with the current State Intelligence Chief Major General Suresh Salley between 2015 – 2019, whom Maulana accuses of having connections to suicide bomber Zaharan Hasheem and his brother Zainee Moulavi.
Rajapaksa said the allegation that Salley had met with the suicide bombers in February 2018 is a fabrication as he was residing abroad at the time and had not been part of Sri Lanka's intelligence apparatus from 2016 to 2019.
Commenting on the claim that the Military Intelligence had sabotaged the police investigations into the Vavunathivu killing of two policemen by extremists on 16 January 2019, Rajapaksa dismissed it as 'plain nonsense' and stressed the Government at the time was known to persecute intelligence services.
The former president highlighted the failures of the then government to investigate the rise of Muslim extremist elements despite receiving tip-offs including early incidents such as the vandalisation of Buddha statues in Mawanella.
"I was not in power during this entire period, like many members of the intelligence services and armed forces, I too was going from one police unit to another and from one courthouse to another from 2015 till I became President in November 2019 as a result of relentless government persecution," he said.
Rajapaksa denied he had transferred any police officers attached to the Presidential Commission to investigate the Easter Sunday attacks. He also called the allegation that he refused to make the Commission report public an 'outright lie'. "Everyone in Sri Lanka knows that it has even been tabled in Parliament," he said.
Rajapaksa characterised the documentary as a deliberate attack against the Rajapaksa legacy dating back to 2005, alleging that it is filled with falsehoods, much like the earlier films aired by the same channel.
"To claim that a group of Islamic extremists launched suicide attacks in order to make me President is absurd.  Despite the politically motivated accusations being made against me by certain individuals, I have personally done everything possible to help the Roman Catholic community when I held government office," he claimed.