Channel 4 exposé: President to order probe by retired SC judge
View(s): 2608
Parliamentary Select Committee inquiry also possible, but no international investigation
Minor Cabinet reshuffle with removal of Rambukwella
SLFP in crisis after party leader Sirisena suspends General Secretary Jayasekera
Ranil to visit Cuba and address UN General Assembly; major changes likely on his return
By Our Political Editor
President Ranil Wickremesinghe will appoint a retired judge, possibly from the Supreme Court, to probe controversial revelations made by Britain's Channel 4 television.
The Sunday Times learns that it will be a prelude to the appointment of another Parliamentary Select Committee (PSC) if it is found that the matter requires further investigation. Already, a Parliamentary Select Committee and a Presidential Commission of Inquiry have probed the incidents. However, this makes clear that President Wickremesinghe will not heed calls for an international investigation. Nevertheless, it acknowledges the need for a deeper probe despite vehement denials of those principally implicated in the disputed disclosures.
An indication of a proposed appointment of a PSC came early this week when Minister Manusha Nanayakkara declared that the Cabinet of Ministers had decided on such an appointment. However, his remarks were contested by government spokesperson and media minister Bandula Gunawardena. He declared that no matter outside the agenda was discussed at last week's ministerial meeting. Nanayakkara also issued a statement together with his ministerial colleague Harin Fernando to say they had spoken much earlier about the revelations in the Channel 4 broadcast. That appears to be an endorsement of the report.
Both Colombo's Archbishop Malcolm Cardinal Ranjith, and Opposition Leader Sajith Premadasa have called for an international investigation. The prelate said in a three-page statement that "all those officials who are in the police and intelligence services coming under investigation on this matter (the massacres) and who hold positions presently should be suspended forthwith." Premadasa made the call when he spoke in Parliament. He held the view that previous probes had not been adequate.
In its regular series titled Dispatches aired on September 5, the television channel claimed that Sri Lanka's national intelligence chief was complicit in the 2019 Easter Sunday massacres. The killings left 269 men, women and children dead including 45 foreign nationals. Eight among them were British citizens.
Hanzeer Azad Mowlana, claimed in an interview with Dispatches that he set up a meeting in 2018 with the head of national intelligence and Islamic State-affiliated bombers to hatch a plot "to destabilise Sri Lanka and facilitate the return to power of the Rajapaksas." It was a time when the yahapalana (or good governance) government under President Maithripala Sirisena and Prime Minister Ranil Wickremesinghe was in office. The Supreme Court has ordered Sirisena to pay Rs 100 million in compensation to the fund for victims. Only a small part of the payment has been made.
Mowlana was one-time private secretary to Sivanesathurai Chandrakanthan, better known as Pillayan, a former Tiger guerrilla frontliner in the east and now State Minister. Mowlana lives in Switzerland and is known to have claimed asylum. The accusations have been made against retired Major General Tuan Suresh Salley, once Director General of Military Intelligence (DGMI) and thereafter Director of the State Intelligence Service (SIS), the national intelligence organisation. He retired from the Army months earlier but remains head of the SIS under a "pay and pension scheme." This scheme entitles military officials to receive their pensions and serve in a government position with pay. He was appointed to the two positions by Gotabaya Rajapaksa, who first served as Defence Secretary and later as President. Other than under Gotaba Rajapaksa, he served a stint under the yahapalana government.
According to sources in London, a camera crew from a production house was in Colombo to film part of the footage for Channel 4 including interviews. They are said to have re-enacted some scenes to back up their report. Their presence, however, had not come to the notice of any state agencies, including intelligence.
One is not wrong in asking whether there was a considerable overreaction to the latest Channel 4 disclosures. Were the responses overhyped? Wouldn't a brief statement after the broadcast have served the purpose? Cannot one argue that the Channel 4 disclosures shook those concerned prompting widely publicised responses locally? Responses at first came only from ex-President Gotabaya Rajapaksa and Major General (retd) Salley and not from any single state agency. Why? It was only on Friday that the Ministry of Defence issued a three-page statement rejecting the Channel 4 claims.
This is not the first time Channel 4 has been critical. When Mahinda Rajapaksa was President, there had been several controversial accounts during the separatist war. Yet, on this week's disclosures, opinion is sharply divided with some wholly debunking them and others claiming they merited further investigation. Gotabaya Rajapaksa, who fled the country and later resigned as President, broke silence to issue a three-page statement. Calling the broadcast, a "tissue of lies," he said, retired Major General Salley is a "career officer who has served many presidents and all military officers are loyal to the state and not private individuals."  Gotabaya Rajapaksa added that "the latest film by Channel 4 is mostly an anti-Rajapaksa tirade aimed at blackening the Rajapaksa name from 2005 onwards……" Maj. Gen. (retd.) Salley vigorously denied the accusations and declared the time references for his actions were wrong. He was not in Sri Lanka during those periods.
Protagonists included Field Marshal Sarath Fonseka who led troops to victory against the Tiger guerrillas in 2009. He told Parliament on Thursday, "There should be an international investigation into the Easter Sunday incidents. There is no use going before Select Committees…… He (Salley) says he did not come to the country during that period. He could change his passport as he was in the intelligence service. He can change immigration reports …These are things that could be done over the phone. Though he says they could not get in touch with senior intelligence officers, Salley is a……." (There were highly critical references to Rajapaksas).
He was also bitterly critical of Maj. Gen. (retd.) Salley though his outstanding military victory came under the Rajapaksa administration. He was decorated to the highest military rank thereafter by President Sirisena.  In the social media there were claims that long before last week's Channel 4 revelations, they had made similar disclosures. That included one from journalist Chamuditha Samarawickrema who uploads to the YouTube a programme titled "The truth with Chamuditha".
The appointment of a retired judge, the Sunday Times learns, will be made when President Wickremesinghe returns after his visit to Cuba and the United States. He leaves on Wednesday for Cuba on an invitation from that country's President, Miguel Diaz-Canel. He will address the G-77 and China Leaders' summit. Thereafter, he will travel to New York to attend the 78th sessions of the United Nations General Assembly. The sessions, which began on September 5, will be addressed by the President. The Sri Lanka delegation will include Foreign Minister Ali Sabry, Water Supply and Estate Infrastructure Minister Jeevan Thondaman, two more government representatives, and two opposition parliamentarians. It is not immediately clear whether approval has been granted for a request by a cabinet minister to include his son in the delegation. Such approval would mean the state would have to pay for his air travel, accommodation and expenses.
Also expected to take place when President Wickremesinghe returns to Colombo is a minor cabinet reshuffle. According to authoritative sources, one of the main changes is expected to be the removal of Health Minister Keheliya Rambukwella. He faced a three-day vote of no-confidence in Parliament. Though it was defeated with 113 voting against and 73 in favour, thirty-six MPs were absent at the time of voting. Opposition members raised several issues involving corruption and other irregularities in the import and distribution of drugs.
President Wickremesinghe also cancelled a meeting of State Ministers he had summoned for last Monday. He was to hear their grievances about cabinet ministers not assigning any functions to them. He has now directed Saman Ekanayake, Presidential Secretary and Anura Dissanayake, Secretary to the Prime Minister to jointly formulate a report for his consideration. This will incorporate the representations made by the State Ministers and the response of the ministers. It is likely that some of the functions of the ministers would be gazetted under State Ministers.
On Friday, President Wickremesinghe met with three former Sri Lanka Podujana Peramuna (SLPP) members who are now backing the New Alliance that has been formed by Negombo District parliamentarian Nimal Lanza. They were Anura Priyadarshana Yapa, Sudharshani Fernandopulle and Priyankara Jayaratne. The trio were of the view that President Wickremesinghe would carry out a major cabinet reshuffle in January, next year, just ahead of the proposed presidential elections. Yapa is already playing the role of an interim leader of the New Alliance and will hold the first district leaders meeting in Kurunegala on September 15. It will be followed by a similar meeting in Colombo. Lanza this week met groups of trade unions that have been backing the SLPP to plead his case for them to join the New Alliance. The SLPP is said to have 105 trade unions under its fold.
Crisis within SLFP
Another development of significance is the move by former President Maithripala Sirisena, leader of the Sri Lanka Freedom Party (SLFP), to suspend Dayasiri Jayasekera from the post of General Secretary. Jayasekera was refused an injunction to suspend the move by the District Court on Friday. What caused the suspension? A well-informed source said Sirisena was infuriated by reported moves Jayasekera engaged together with unidentified SLPP ministers to gain control of the party and make it an entity supporting the government. Jayasekera did not respond to both messages and calls.
Sirisena appointed Sarath Ekanayake as the acting General Secretary of the SLFP. Ekanayake said, "I have been appointed to take forward the activities of the SLFP as the Acting General Secretary.  Jayasekara's party membership is suspended. I personally do not know the reason for the sudden suspension of the membership of  Jayasekara. The Charge Sheet would be sent to him within 14 days. The reason or reasons will then be known. He must give his explanation to the Central committee.
"The suspension letter says that Jayasekara violated the party constitution.  Party Chairman Maithripala Sirisena has power to suspend party membership of any member on suspicion and call for an inquiry. Then the member can face the inquiry.  I must carry on the work as acting General Secretary. There is little office work to be done. Apart from that I would discuss with the Party Chairman, the Politburo and the Central Committee when engaging in political matters."
Soon after he received the letter of suspension, Jayasekera told reporters, "I received a letter signed by former President Maithripala Sirisena, the
Chairman and the leader of the SLFP. The letter said that my party membership was suspended. It also says that I can no longer serve as the party secretary.
I am unaware of the reason for the removal of my position and the suspension of my membership. However, the letter says that I must face disciplinary action for violating the party constitution. The letter also says that the charge sheet will be sent to me within the upcoming 14 days. I will not leave the party considering this incident; I will face a disciplinary inquiry. Let's see what happens in the future."
Sirisena told reporters, "There is a court case against him for trying to remove me from the party leadership,  I don't like to elaborate. He can come to the party without any issue. We will welcome him as a member but not as the General Secretary. We will give him any other position apart from the General Secretary post. Dayasiri's membership is suspended. It can be removed at any time if he comes to an understanding and stops his unnecessary activities. This is a party decision. The people who are the closest are the ones who are most unsure."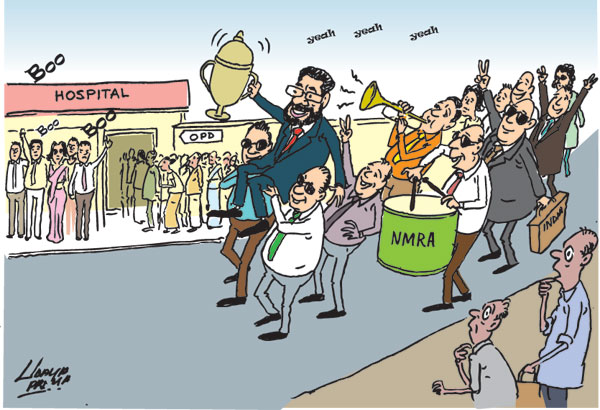 Sirisena's letter to Jayasekera dated September 5 state:s "According to clause 15 of the constitution of the Sri Lanka Freedom Party (SLFP) under the powers vested to me as the chairman of the party, I suspend your party membership today.
"Accordingly, you will not be able to further serve as the secretary of the
party. According to clause 15 of the Sri Lanka Freedom Party constitution, a disciplinary inquiry is to be held against you. Action will be taken to send the charge sheet regarding the discipline violation within the upcoming 14 days.
"In addition, the powers vested in the chairman and the politburo are implemented according to clause 16 of the party constitution's paragraph on the politburo."
The SLFP was founded on five pillars – Sangha (Clergy), Veda (Physician), Guru (Teachers), Govi (Farmers), and Kamkaru (workers).
Yet, their 72nd anniversary celebration was held in a luxury reception centre in Kotte. The attendees were diplomats and representatives of other political parties. On that occasion last Sunday, Jayasekera declared, "Some people say I was sidelined at the 72nd anniversary. I pointed out that we cannot be with the government and the opposition at the same time. A decision must be made about this as soon as possible." A decision was indeed made. And that was by the party leader to suspend Jayasekera.
As President Wickremesinghe makes plans to embark on a presidential election early next year, the return from his visits to Cuba and the United States would be significant. Many new moves are in the offing.
UNHRC report refers to probe by several countries on ten leading politicians and military officials

 

The 15-page 'advanced unedited' report of the United Nations Human Rights High Commissioner, Volker Turk, made public Wednesday, is strongly worded, and covers new ground apart from critical comments on rollovers of issues in previous resolutions.

It will come up for interactive dialogue at the 54th sessions which begin in Geneva tomorrow. In accordance with a directive from President Ranil Wickremesinghe, there will be no delegation travelling from Colombo, a saving of air travel and hotel costs on tickets for the grandees to deliver prepared speeches or simply mark their presence. After all, such lordly exhortations by them find a place only in the local media and have not changed the course of events. Not since issues over Sri Lanka surfaced at this UN body more than a decade ago.

This report is being presented because of the Human Rights Council resolution 51/1 of October 2022. It urged the Human Rights High Commissioner to submit a written update on the human rights situation in Sri Lanka at the 54th sessions and covers developments after October 2022. Notwithstanding the government's consistent opposition and rejection, operative paragraphs in two previous resolutions have found further elaboration and critical comments.

They are Operative Paragraph 6 in Resolution 46/1 of March 23, 2021. It "recognizes the importance of preserving and analysing evidence relating to violations and abuses of human rights in Sri Lanka with a view to advancing accountability and decides to strengthen the capacity of the Office of the High Commissioner for Human Rights to consolidate, analyse and preserve information and evidence and develop possible studies for future accountability processes for gross violations of human rights or serious violations of international humanitarian law, to advocate for victims and survivors, and to support relevant judicial proceedings in Member States with competent jurisdiction." Last year's resolution (51/1) has a reworded account of the above paragraph.

The latest OHCHR report has gone further with what the Council calls the Sri Lanka Accountability Project or SLAP. It says, "The project has provided increased support to jurisdictions that are investigating and prosecuting international crimes committed in Sri Lanka. It is receiving a steady increase in the number of requests being made by State investigative, prosecutorial, or judicial authorities for information and evidence. To date, requests have been received from authorities in relation to 10 named individuals.

"OHCHR will only share information if it has the relevant form of consent, that it is not contraindicated by a risk assessment, and that the information would not be used in a manner which is inconsistent with international human rights law. Once relevant information and evidence is identified, it is reviewed in light of these and other applicable criteria for the purpose of sharing the information and evidence with the requesting authority in appropriate form. During this period, the project has also sought to increase its engagement with State prosecutorial authorities. In April 2023, the project briefed representatives from 29 States drawn from national prosecutorial authorities and/or law enforcement agencies on the mandate and work of the project, and to explore potential collaboration."

The Sunday Times has learnt that the ten individuals whose names have not been disclosed include military officials and leading politicians who are linked to the now-concluded separatist war.

The report itself was described as "pretty good" by one diplomat and as "damning" by another. Obviously, the government wasn't too impressed and the timing of the Channel 4 documentary on the Easter Sunday Bombing.

A seasoned UN official over several decades, the new Human Rights High Commissioner Türk, who holds a doctorate in international law from the University of Vienna and a Master of Laws degree from the University of Linz, Austria, delved into various and wide-ranging aspects of human rights, unlike his predecessor Michele Bachelot. In summary, the report calls for deeper institutional reforms and tangible progress on accountability, reconciliation, and human rights in Sri Lanka. It refers to significant recent incidents, gives statistics to validate observations, and is prescriptive.

The report notes that the economic crisis has resulted in "a dramatic increase of the poverty rate, which the World Bank estimates to have doubled from 13 to 25 percent between 2021 and 2022: an additional 2.5 million poor people. It points out, "The poverty rate is forecast to rise to 27.4 percent in 2023 and remain above 25 percent for the next few years due to "multiple risks to households' livelihoods". This level of material deprivation leads to growing inequalities

and serious impact on the enjoyment of economic, social and cultural rights of Sri Lankans."

It adds: "Food insecurity remained a major barrier for the enjoyment of human rights. Thirty-seven percent of households were estimated to have faced acute food insecurity in November 2022 and 86 percent of Sri Lankan families are buying cheaper, less nutritious food, eating less and in some cases skipping meals altogether.  Poverty in urban areas has tripled in recent years.  In rural areas, while agriculture for self-consumption has provided a safety net for some, it has often come at a cost in terms of lost revenue from selling crops, and overuse of natural resources."

Among the conclusions in the report are:

"Sri Lanka is still facing a difficult economic, social, and political situation. The economic crisis continues to have a severe impact on the rights and well-being of many Sri Lankans. Financial support from international financial institutions and Structural reforms are important steps to bring the economic crisis under control, but it is essential that the burden of reforms does not fall unequally upon some segments of society. Robust safety nets and social protection are required to shelter the most vulnerable from the negative spillovers of economic restructuring. It is vital to address the underlying factors in the crisis, including corruption, centralization of power, lack of transparency and institutional checks and balances, and the unresolved legacy of conflict, including accountability.

"The High Commissioner urges the international community to keep supporting Sri Lanka in its recovery, in line with obligations around international cooperation and assistance, while pressing for genuine progress in governance, transparency and accountability. Solutions will only be long-lasting if supported by society as a whole. Both the necessary economic reforms and the historical institutional challenges affecting Sri Lanka require tremendous political capital, broad consensus, and the trust of society.

"Lack of accountability at all levels remains the fundamental main human rights problem. Whether it refers to war crime atrocities, post-war emblematic cases, torture and deaths in police custody, excesses in crowd control, corruption and the abuse of power, Sri Lanka suffers from an extraordinary accountability deficit that unless addressed will drag the country further behind. The High Commissioner urges the Government and Sri Lankan political parties to strive for and deliver on long over-due democratic renewal, deeper institutional reforms and tangible progress on accountability, reconciliation, and human rights.

"This would be particularly appropriate in a year that marks both the 75th anniversary of Sri Lanka's independence and the 75th anniversary of the Universal Declaration of Human Rights. Last July marked also the 40th anniversary of "Black July", the anti-Tamil pogrommes in Colombo in 1983 that killed many hundreds and left thousands homeless, exponentially magnifying the ethnic divide and setting the scenario of armed conflict that defined Sri Lanka for the following three decades.

"OHCHR welcomes the intention of the President to dialogue with Tamil political parties and diaspora groups and advance reconciliation options through truth-seeking and other political solutions for devolution as presented in the 13th Amendment. However, accountability remains a crucial element of any genuine reconciliation agenda and any new transitional justice measures, including a truth commission, must meet international standards and the expectations of victims and their relatives to deliver lasting gains. While it remains the responsibility of the Sri Lankan authorities to acknowledge past violations and undertake credible investigations and prosecutions, the international community can play an important complementary role, including through supporting relevant criminal justice investigations and prosecutions, the use of universal jurisdiction, and consideration of appropriate targeted sanctions against persons credibly implicated in serious human rights violations."

Among the recommendations is one noteworthy. It calls upon the government to "decisively tackle corruption, increase investments in health, social security, and education, including through international co-operation and assess any potential human rights impact of international financial assistance programmes and take preventive measures to reduce it to the minimum.