Grow more, export more: An agri strategy to improve Lanka's external finances
View(s): 193
It is vitally important that merchandise exports be substantially increased to improve the country's external finances.
The current improvement in the external finances has been entirely due to increased remittances from abroad, earnings from tourism and foreign financial assistance. Foreign reserves that were US$ 3.7 billion at the end of June this year are projected to increase to about US$ 7 billion by the end of this year. A further improvement in external reserves is expected next year owing to these three factors rather than an improvement in the trade balance.
An improvement in merchandise exports has to be achieved by both an increase in agricultural exports and diversified manufactured exports.
Agricultural exports

The increase in agricultural production can assist the balance of payments as it will increase exportable commodities and reduce imports.
Agricultural imports
The country is dependent on several agricultural imports that could be reduced by increased pro-duction locally and substitutes.
Rice
Although the country achieved self-sufficiency in rice, this was suddenly thwarted by the ban-ning of chemical fertilisers and agrochemicals. This resulted in a sharp decline in rice production in recent years. Consequently, rice imports strained the trade balance further.
It is likely that with the availability of fertilisers and agrochemicals, there will be a revival of paddy production. This may not happen immediately owing to the prevailing drought in the country.
Hopefully, there will be rain in October, and the Maha paddy crop will be large.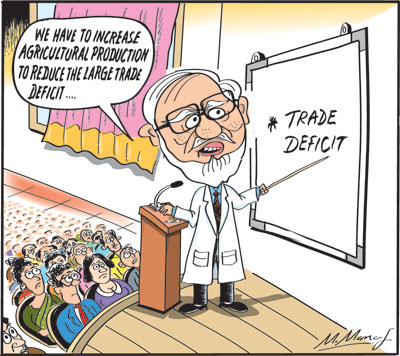 Irrigation
Another aspect that has to be seriously considered is the need for improved irrigation facilities and flood control.
Mahaweli
It is well known that one of the factors that enhanced the country's rice production was the ac-celerated multi-purpose Mahaweli development project.
It also increased hydropower generation and reduced energy imports.
Flood control
There is a need for similar efforts at flood control and irrigation in other parts of the country, es-pecially in the south.
Furthermore, water use and the need for water on rice fields must be reduced, on the one hand, and, on the other, the cultivation of crops such as maize that require less water should be encour-aged. In addition, farmers must be taught to reduce the amount of water utilised in rice cultiva-tion and move away from weed control by flooding to other methods.
Rice exports
If our rice production could be enhanced, there is a possibility of even exporting rice. Similarly, other grains could contribute to a lesser reliance on wheat imports.
There is a possibility of substituting rice for wheat consumption when the relative prices are in favour of rice.
Tea
The most important agricultural export is tea. In an average year, the country is able to earn about US$1.4 billion. However, in recent years there has been a setback to tea production with the banning of chemical fertiliser and weedicides. Consequently, tea exports fell to about US$ 1 billion. Tea production, too, is reviving with the availability of fertiliser and weedicides, though the damage done requires a time period.
Long-run
However, the focus should not be merely on the immediate revival of tea, but on its expansion to much larger volumes that would enable increased tea exports.
The long-term development of tea production is vitally important for the country's exports. This can only be achieved through the revitalisation of plantation agriculture.
Old tea
Many of the estates have senile tea plants whose yields are low. There is a need for widespread replanting of these old tea bushes with new higher-yielding vegetatively propagated (VP) teas.
In addition, tea plantations are known to have a low density of plants. The vacancies that have been created have to be filled. The in-filling of such vacancies is a prudent strategy that has, however, not been implemented, perhaps due to problems with inadequate labour.
Smallholdings
Fortunately for the country, what was lost in the plantations was recouped by the growth of small holdings.
Higher productivity
These smallholdings on virgin soils with more hours of sunlight had higher productivity. The productivity of smallholdings is about twice that of the plantation sector and accounts for about 80 percent of tea production in the country.
Demand
Fortunately, there has also been an increase in demand for the varieties of tea grown in the low country in the large tea-consuming countries of the Middle East.
Complacency
This development of smallholdings and their contribution should not lead to complacency. There are problems of credit, transport of produce and availability and cost of fertiliser that the tea smallholdings authority has to grapple with.
No doubt the government should support smallholdings in resolving these problems.
Rubber
Rubber production, too, has been in decline. The fluctuation in rubber prices, shortages in labour and diversion of rubber lands for urbanisation and housing have reduced the extent of rubber cul-tivation. Productivity, too, has declined.
Exports
This decline in rubber production has resulted in declining exports and, ultimately, the country not being an exporter of natural rubber. This is not only because of the decline in production but also because of the increased need for rubber in the country.
This is advantageous for the economy. However, the inadequacy of natural rubber for these in-dustries is a severe constraint.
Expansion
Therefore, there is a need to increase the area under rubber cultivation and the productivity of rubber.
Master plan
There has been a carefully thought-out Rubber Master Plan. The information available discloses that the plan has hardly been implemented due to a lack of resources.
Manufacturers
The country's rubber manufacturing industries have expanded.
During the COVID pandemic, Sri Lanka was able to expand its rubber exports, especially surgi-cal gloves. This was of immense benefit at a time when other manufactured exports declined.
Solid tyres
A lesser-known fact is that the country is the leading exporter of heavy-duty tyres in the world. This is no mean achievement that has to be expanded. Other tyre manufacturers should improve their quality to reduce imports and increase tyre exports.
Prospects
The prospects of the country's rubber industry expanding and contributing significantly to export earnings depend on an increase in rubber production. But this cannot be achieved in the short run. A solid foundation must be laid to increase rubber production in the decades to come.
Conclusion
Since agricultural exports can contribute significantly to improving the trade balance, only the effective implementation of a long-term plan for agricultural development can achieve this.
Do we have such a vision?