All's well that ends well for Keheliya and Govt. but not for the health sector
View(s): 300
By Sandun Jayawardana  
After being on the order book of Parliament for more than a month, the No-Confidence Motion (NCM) against Health Minister Keheliya Rambukwella was finally debated and ultimately defeated in Parliament by a majority of 40 votes.
When the vote was finally taken at about 5.30 p.m. on Friday after a fiery three-day debate, the motion received 73 votes in favour and 113 against, giving Mr Rambukwella and the Government a comfortable victory.
Despite speculation that some government MPs would support the motion, there were no such last-minute crossovers. There were no new crossovers from the opposition side either.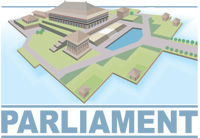 The main opposition Samagi Jana Balawegaya (SJB) as well as the National People's Power (NPP), the Tamil National Alliance (TNA), the Tamil National People's Front (TNPF), the Freedom People's Congress (FPC) and the Uththara Lanka Sabhagaya (ULS) voted for the motion. The Sri Lanka Freedom Party (SLFP) MP group under party Chairman and former President Maithripala Sirisena was not present when the vote was taken.
The opposition does not have any personal grudge against Minister Rambukwella but was bringing the NCM against him as he had failed to direct attention and take remedial measures regarding the crisis in the health sector, SJB MP Dr. Kavinda Jayawardena said, presenting the motion to the House. He claimed they had reports that there was currently a shortage of about 320 medicines in the country, with 120 of those classified as essential medicines. Some rural hospitals have been forced to close due to lack of doctors, he added.
The MP further claimed that people have paid with their lives due to substandard drugs that have entered the country's healthcare system.
He urged government MPs to vote according to their conscience when the NCM is taken up.
State Minister of Health Dr. Seetha Arambepola meanwhile, warned that many patients are now reluctant to take antibiotics prescribed by doctors at state hospitals. She noted that this was due to a fear psychosis that had been created among patients regarding medicines, especially antibiotics given in the health sector due to a wrong impression that has been created. "There may well be shortcomings that we need to remedy, but such impressions are especially harmful to the lives of patients."
Removing the Health Minister or Health Ministry officials will not resolve the issues affecting the health sector, she argued. "We need to introduce a new transparent mechanism using modern technology that will prevent anyone from engaging in corruption that allows low quality drugs from entering our country. That way we will not need to point fingers at anyone. Such technology is already being used elsewhere in the world," she stressed.
The Health Ministry has not settled bills amounting to billions of rupees due to usual medicine suppliers, paving the way for large scale corruption with many unregistered suppliers entering the market, former Health Minister and SJB MP Dr. Rajitha Senaratne alleged. He noted that the Auditor General has pointed out that there was none compliance with the procurement schedules when it came to medical purchases.
"Don't play with medicines. It is even more dangerous than playing with food. It is like playing with weapons," Dr. Senaratne warned.
SLPP MP Mahindananda Aluthgamage however, claimed that removing Mr Rambukwella as Health Minister will do nothing to resolve problems in the health sector as the main problem was the presence of corrupt officials who remain in their posts though different ministers come and go.
There are serious allegations of corruption involving officers of the State Pharmaceuticals Corporation (SPC), Medical Supplies Division (MSD) and the National Medicines Regulatory Authority (NMRA), he claimed. "No matter how many ministers come the officials remain the same. As such, they should be rotated at least every six months," Mr Aluthgamage added.
There are those who profit from emergency purchases on both sides of the aisle, which is why not many have been bringing up the issue of corruption involving emergency purchases in medicines, claimed National Freedom Front (NFF) Leader Wimal Weerawansa. While the ULS coalition including the NFF will support the NCM against Mr Rambukwella, Mr Weerawansa said the "big picture" was that the allegation that Health Ministers have been profiting from emergency purchases has been levelled for years.
"Let's assume that we do pass this NCM and send Keheliya Rambukwella home. Who comes in next? It'll be Keheliya Rambukwella 2 and then Keheliya Rambukwella 3. How can this prevent further collapse of our health sector or do justice to the suffering patients?" He said the only solution was to completely overhaul the system to ensure that such corruption is not possible.
Prof. Charitha Herath from the FPC stressed the importance of conducting a medical audit. "We need a medical audit for the health sector. If I were to ask the Health Minister regarding the amount of drugs available in different hospitals he will not have the data. That data should be daily updated to his phone and computer." He said even the main hospitals are not doing this at present and as such, there are occasions where millions of rupees worth of drugs already in stock are needlessly being ordered. "This is more an administrative rather than political issue. We need to resolve this. The procurement, distribution and auditing of medicines is equally important."
Rather than bringing an NCM against Keheliya Rambukwella, this is an NCM directed against the government's health policies that have had a disastrous impact on the health sector, NPP MP Vijitha Herath said, adding that his party will be voting for the motion on those grounds.
There are issues related to funding, resources and leadership in the health sector, said Mr. Herath. "If corruption is taking place, you can't just wash your hands off saying it is the fault of officials. The minister must take steps to prevent that."
One major issue affecting the state-run health sector is that the Health Ministry's Medical Supplies Division still does not have enough storage space for medicines, said Wildlife Minister Pavithra Wanniarachchi, who has also served as a former Health Minister. "We need to address that urgently when new funding becomes available. We still haven't been able to set up a single platform connecting the NMRA, MSD and SPC, enabling them to share data. This too has created problems with the availability of medicines," she stressed.
The government believes that the opposition's only objective in bringing the NCM is to mislead the people based on various issues that are prevailing currently in order to use them for their own propaganda purposes, Prime Minister Dinesh Gunawardena told the House.
When looking at the contents of the NCM and the allegations levelled against Minister Rambukwella over the past two days, it is clear that the opposition has no evidence to back up any of the claims made against the minister. As such, the government rejects this NCM, the PM added.
The government is importing unregistered, substandard medicines at will in complete violation of existing laws. This is a government that openly violates the Senaka Bibile drug policy, said Opposition Leader Sajith Premadasa.
While normal procedure is to carry out emergency purchases for periods lasting from three to six months, emergency purchases are now being carried out to purchase stocks for several years which is "a crime," Mr Premadasa charged.
He challenged all MPs to decide whose side they will stand on. "I urge the people to keep a close watch on which button these 225 MPs will press. Will the MPs stand with the people or with the Health Ministry led by the Minister who is destroying universal healthcare? The decision is with the MPs."
In a combative concluding speech to the debate, Health Minister Rambukwella strongly refuted all allegations levelled against him. He said that an expert committee appointed to investigate deaths that allegedly occurred due to substandard drugs had determined that only one death can be scientifically attributed to a drug quality issue. Even that drug was registered, unlike what the opposition claimed. It was registered with the NMRA in 2013 and the registration is due to expire only in 2028, the minister added.
While the opposition is talking about 365 no objection letters to import medicines issued by the Health Ministry an audit report shows that when those in the opposition were in government in 2015, more than 1000 no objection letters were given by the Health Ministry when there was not even an emergency, he alleged.
"All those who spoke in support of this NCM were telling the people not to go to state-run hospitals as they were places that killed people. I urge the opposition leader not to engage in such deplorable conduct. I urge them not to deprive people of the opportunity to obtain free healthcare simply to achieve narrow political objectives," said Mr Rambukwella.
Adding that he was thankful to the opposition for bringing the NCM, the minister acknowledged there were issues that certain MPs from both sides had raised that require further discussion. He said he was ready to discuss those issues.