Cabinet approves establishment of three private medical colleges: Keheliya
Tuesday, 12 September 2023 01:27 –      – 135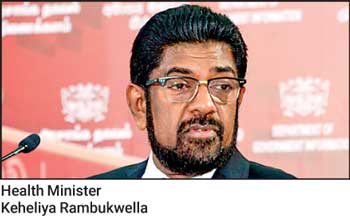 Health Minister Keheliya Rambukwella announced yesterday that the Cabinet of Ministers approved the establishment of three private medical colleges in the country.

He emphasised that these new medical institutions will adhere to the standards set by existing medical schools in the country.

"The Cabinet has already given its approval to launch three new medical colleges. These institutions must maintain the same high standards as our existing medical schools. We must consider the number of our youth who choose to study in private institutions or abroad. It is our moral duty to provide adequate facilities and opportunities for our country's children," Rambukwella told journalists at the Presidential Media Centre (PMC) yesterday on the theme 'Collective Path to a Stable Country'.

The Minister further stressed that professors who have worked as consultants in the medical colleges in the country have outlined minimum qualifications. "There is a law that mandates other recognised medical schools in the country to meet or exceed these standards. Additionally, three hospitals have been integrated into these universities," he added.

Rambukwella also revealed that these universities were urged to allocate scholarships to 10% of their student population, acknowledging the existence of qualified students who face financial barriers to pursuing medical education.

He also took the opportunity to address concerns about the brain drain of medical professionals, attributing it to economic challenges faced by the country in 2019. He assured that the Government is committed to addressing these issues, particularly regarding doctors' remuneration.

The Minister highlighted the need for comprehensive short-, medium- and long-term plans to address these challenges and pointed out that countries like the UK offer significantly higher salaries to medical professionals educated in Sri Lanka's free education system.

"In upholding of our commitment to addressing critical healthcare challenges, it is essential to consider augmenting the intake capacity in specific domains. Currently, there exist stipulated minimum qualifications and approximately 13 medical faculties throughout the country. Regrettably, only around 2,000 individuals are admitted into these institutions. It is evident that there is ample room to expand these numbers, as the intellectual capabilities of our nation's youth are beyond question. It is imperative to provide opportunities to those with foundational qualifications who aspire to excel in the medical field," he explained.

Commenting on the no-confidence motion presented against Minister Rambukwella in Parliament which was defeated last week, he acknowledged the constructive suggestions provided during the debate and pledged to take steps to implement them.

He also presented evidence countering false allegations made during the motion, including concerns about the quality and availability of medicines. "In response to allegations raised within the no-confidence motion, particularly concerning the quality of medicines, I had the opportunity to present evidence substantiating the veracity of our claims. Reference was made to a report from 2017 highlighting issues related to substandard medications, with subsequent years showing varying numbers of such incidents: 85 in 2018, 96 in 2019, 77 in 2020, 88 in 2021, 86 in 2022 and 43 so far in 2023," he stressed.

Rambukwella said in some cases, reports of substandard drugs have emerged years after their approval, registration and use. "We have initiated a comprehensive investigation into these reported incidents of inferior quality medicines. Additionally, there were allegations regarding the shortage of essential medicines, a concern we take seriously and are actively addressing. Our ongoing commitment remains to bolster our healthcare system, ensure the availability of high-quality medicines and provide opportunities for aspiring medical professionals. We recognise the need for continued dialogue and effective action to overcome the challenges facing our healthcare sector and to uphold the well-being of our citizens," he added.

Regarding lower-quality medicines, the Minister referenced reports from recent years, indicating that these cases are being addressed. He affirmed that the Government takes such matters seriously and is committed to ensuring the quality and availability of essential medicines for the public.