Wednesday, 5 April 2023 00:00 –      – 80
Emphasises Sri Lanka's recovery from crisis hinges on timely progress on debt relief and steadfast implementation of reforms
Sri Lanka will be the only major country in South Asia to suffer negative growth this year
ADB's Asian Development Outlook forecasts South Asia as a region to grow by 5.5% this year on top of 6.4% in 2022
Growth in developing Asia is forecast at 4.8% this year and in 2024, up from 4.2% last year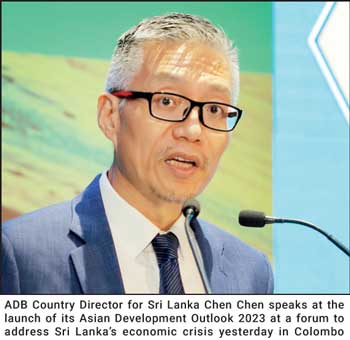 The Asian Development Bank's (ADB) annual flagship economic publication – the Asian Development Outlook (ADO) April 2023, released yesterday forecasts Sri Lanka's economy to contract further in 2023 before it begins a gradual recovery in 2024, as the country navigates an unprecedented economic crisis.
Noting that the economy contracted by 7.8% in 2022, the ADO forecast Sri Lanka to contract by 3% in 2023 but grow by 1.3% in 2024 as it continues to grapple with the challenge of debt restructuring and balance of payments difficulties. Sri Lanka will be the only major country in South Asia to suffer negative growth this year. ADO forecasts South Asia as a region to grow by 5.5% this year on top of 6.4% in 2022. According to ADO the growth in developing Asia is forecast at 4.8% this year and in 2024, up from 4.2% last year.
With regard to Sri Lanka, ADO said reform measures, such as the reversal of the tax cuts of 2019, and the recent approval of the International Monetary Fund's (IMF) Extended Fund Facility arrangement will support the country's efforts to stabilise its economy.
Sri Lanka's recovery from the crisis hinges on timely progress on debt relief and steadfast implementation of reforms.
Sri Lanka entered the crisis on a weak footing as pre-pandemic macroeconomic vulnerabilities, policy missteps, and shocks left the country with thin buffers on the eve of the pandemic. In 2022, foreign currency scarcity led to shortages of essentials and triggered an acute energy crisis with prolonged power cuts and transport bottlenecks due to lack of fuel, which Sri Lanka needs to import.
Inflation soared and eroded living standards, pushing many into poverty. The economic crisis has impacted the poor and vulnerable disproportionally.
"Sri Lanka has a long road to recovery, and it will be critical to ensure the poor and vulnerable are protected," said ADB Deputy Country Director for Sri Lanka Utsav Kumar.
"It is imperative that the country address the root causes of internal and external imbalances, for which an unwavering commitment to reforms is essential," he added.
The needed reforms include enhancing domestic resource mobilisation, improving the performance of state-owned enterprises to reduce their fiscal burden, strengthening public financial management, and encouraging private sector activities through harmonising trade and investment policies.
Improving governance and accountability mechanisms, such as strengthening anticorruption legislation, building strong institutions, and increasing transparency, will also be essential to address Sri Lanka's economic vulnerability.
ADB is committed to achieving a prosperous, inclusive, resilient, and sustainable Asia and the Pacific, while sustaining its efforts to eradicate extreme poverty. Established in 1966, it is owned by 68 members—49 from the region.