Farewell to a vivacious, witty and warm-hearted lady
LAKSHMI DIAS BANDARANAIKE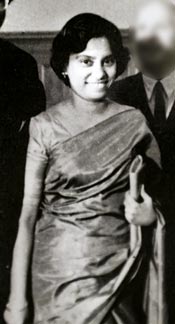 My first contact with Lakshmi was on the telephone.  It was 1960.  Mrs Bandaranaike had been appointed Prime Minister, and Felix was the 29-year-old Finance Minister in her Cabinet. I was an undergraduate on the Peradeniya campus of the University of Ceylon.  I was the President of the United Nations Student Association, and in that capacity, I had written to the Minister of Finance inviting him to address the students on the subject of "The New Lanka". I had had no reply.  A trunk call from the campus meant waiting at the telephone exchange for at least an hour and a half.  I decided therefore to come down to Colombo, and from my home I telephoned Mahanuga Gardens.  The call was answered by Lakshmi, and she promised an early response.  Eventually, whenFelix and Lakshmi did come to Peradeniya, Felix told me that the reason why he accepted my invitation was that Lakshmi had persuaded him, saying that "the boy was very polite and had a nice voice".
Fast forward to 1965. The general election of that year was over, and the SLFP was now in Opposition.  Unlike today, there used to be a spate of election petitions filed by both parties.  The SLFP MPs whose elections were challenged invariably found their way to Felix.  I remember the first of these petitions, against the MP for Balangoda, Clifford Ratwatte.  Felix's juniors were Lakshmi and me.I didn't realise at the time what effect it would have, not only on my other professional work, but also on my personal life.  Preparation for the next day in Court always began with a consultation in Felix's study at Mahanuga Gardens at about 6 o'clock and ending around midnight. It was Lakshmi who realised that Sarojini and I had only been married for two weeks.  Rather than letting me go home early, Lakshmi's solution was to co-opt Sarojini to sit with us for six hours every evening.
Another five years, and it was 1970 and election day.  After having gone round the polling stations in the Attanagalla electorate with Mrs Bandaranaike, I came home for a quick change before proceeding to the Colombo Kachcheri where I had been designated as her counting agent. I was surprised to find that Sarojini had been persuaded by Lakshmi to accompany her and Felix (who was his own counting agent) to the Dompe count which was also to take place at the same venue but in a different room.  As the night progressed, it was clear that the majorities of the two SLFP candidates in Attanagalla and Dompe would probably be among the highest in the country, and I began to sense some rivalry emerging from the Dompe count.  In the end, it was Mrs Bandaranaike in Attanagalla who secured the highest number of votes, 31,612 to Felix's 31,515; but it was Dompe that had the highest majority: 22,373 to 21,723 in Attanagalla.
Two days later, Sarojini received an urgent telephone call from Lakshmi. She wanted both of us to come to Mahanuga Gardens immediately. When we arrived there, we found that Felix had left the Cabinet formation meeting that was taking place at Seevali Ratwatte's home in Shady Grove Avenue and come home, angry that he had been offered the Ministry of Agriculture which he had declined.  He was threatening to sit as a backbencher.  Fortunately, Lakshmi was able to calm him down and persuade him to go back.  It wasn't long before Lakshmi received a telephone call from Felix to say that he had been offered, and he had agreed, to be Minister of Public Administration, Minister of Local Government, and Minister of Home Affairs – three very important portfolios, all wrapped up together in one.
A few days later, the newspapers reported that I had been appointed Permanent Secretary to the Ministry of Justice. That report was premature.  I had been invited by the Prime Minister but had not decided what I should do.  I was assured it would not be to keep appointing justices of the peace which the Prime Minister thought was all that that Ministry had been doing in the past. She said that I had been advocating the need for legal and judicial reform, and she was now affording me the opportunity to deliver precisely that. It would be a life-changing decision, and Sarojini was quite unenthusiastic.  That evening, Felix and Lakshmi came home and invited Sarojini and me for a drive.  I believe we went to Fountain Cafe. Both advised me against accepting the Prime Minister's offer.  They recalled how Felix had been "let down" when he was Minister of Finance in the 1960 Government and had to resign from that portfolio and from the Cabinet. They said the same could happen to me at some stage, and that since we were a young couple (as they were in 1960) they did not wish to see us getting hurt.  Felix and Lakshmi both advised that I should remain at the Bar since I was obviously enjoying my life there, and perhaps think of a career in the judiciary at a later stage. Sarojini and I both felt that their concerns were genuine, and we did not doubt their sincerity.  At the end of the day, it was a difficult decision, and one which I alone had to make. Ultimately, I did not take their advice.
As things turned out, at the end of seven years, both Felix and I, and Mrs Sirima Bandaranaike too, were summoned before a Special Presidential Commission of Inquiry. As Sarojini and I photo-copied hundreds of documents necessary for my defence, on a massive photocopier that Felix had installed inhis sitting-room, it was Lakshmi who constantly exercised restraint whenever Felix's jokes, intended to keep our spirits high in those dismal days, became too racy. Eventually, Parliament stripped all three of us of our civic rights.  Me, for refusing to allow the CID to detain exchange control suspects in solitary confinement (and about 40 other charges); the former Prime Minister for having kept a state of emergency on for longer than the three Commissioners considered to have been necessary; and Felix for selling milk and eggs from his farm to the Milk Board instead of hawking them around on the streets. In fact, Felix argued that a vendor walking down a street offering "the Minister's eggs" would probably have fetched a higher price than what was offered by the Milk Board.
These are some early memories, and nearly sixty years have come and gone.  So has Felix, Lakshmi, and Mrs Bandaranaike, and so has Sarojini.  From wherever we were, in whichever country, Sarojini would insist on telephoning Lakshmi on the 19th of April to wish her Many Happy Returns.  Today, I bid farewell, to the one person whose single word, gesture or frown was sufficient to bring the irrepressible Felix immediately under control – the vivacious, dynamic, captivating, witty, frightfully competent, occasionally domineering, but always warm-hearted, Lakshmi.  May She Rest in Peace.
Nihal Jayawickrama
---
Remembering my unforgettable father and those happy times
 JULIUS PETER SURIARACHCHI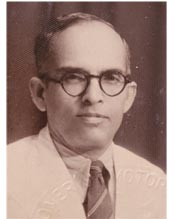 My father was born on December 30, 1897 at Unanwitiya, Baddegama. His father, James Peter, was the Head Master of the Unanwitiya Government School and mother, Sarah Anne, was a teacher on the same staff. Therefore, their home was called "Iskole Gedara" by the villagers. Between them they had nine children and Julius was one before the last. He had two older brothers, who died when they were young men. His parents and six sisters, spoiled him so that even in his adult life he was a happy-go-lucky man. He was educated at Richmond College, Galle.
His father knowing the value of education had put him into the best school in Galle at that time, although 14 miles away from home. His contemporaries in college were C.W.W. Kannangara, known as the Father of Free Education, P.de S Kularatna, the respected Principal of Ananda College, Wijayanada Dahanayake, famous parliamentarian and the 5th Prime Minister of Ceylon. The principal at that time was the much respected legend  of Richmond College, Reverend W.J.T Small. My father admired him so much that in his adult life, he adopted the format of the Principal's signature and used it for the rest of his life (The initials followed by the surname, attached together with a straight line on top).
After sitting for the senior school examination, he first joined the Forest Department in Balangoda. Later, he was attached to the Colombo Kachcheri and at retirement, was the Kachcheri Mudaliyar at the Galle Kachcheri. He married my mother Romlin Agnes, whom he had known as a schoolgirl, at Rippon Girls' College, their sister school. She was an educated woman who headed a school for 35 years and held a responsible attitude towards life. My papa, was the opposite. He was witty, humourous, careless with the money. He  loved watching dramas, enjoying at carnivals, races and playing records. There were no phonographs or record players then. One could only play the records on the gramophone. My father used to buy all the Sinhala film records to play in the evenings. My mother and I joined him. He spent his salary on fun and trips and by the end of the month, he hardly had anything left. He loved parties and celebrated my birthdays in style. The liquor cabinet was generally filled with a variety.
I loved the many musical evenings and even now, looking back, it gives me so much happiness. He was kind, not only to his family, but to the domestic helpers at home, friends and neighbours. They in turn, respected and loved his jolly ways. He and I were best of friends. We played on the beach, took walks along the Galle ramparts while crossing the Butterfly Bridge to feed the fish in Victoria Park.We watched the sunset together, how ants interacted with each other, birds hatching eggs in their nests, and once even saw a cow giving birth to a calf on the ramparts! He liked nature and wanted me to learn firsthand about it, even in a small way. I am an only child but hardly missed growing up without siblings because he was always there to fit into different roles – 'father, brother and friend'!
At the Boossa Races, he taught me how to pick the horses of the day, keep bets, etc. However, we were not gambling addicts. It was just for fun. We did not miss the entertainment like Holiday on Ice, Harlem Black Birds, Virgil the Magician, Parisian Follies, Bush Circus to name a few, brought down to Ceylon from overseas by the ever popular entertainer, Donovan Andree. The tickets for seats with good views were generally priced around 40-50 rupees. A front seat for a "Ralahamy" play, was around five Rupees.
I have never seen my parents quarrelling, but there were days when my mother became annoyed with his antics, that she practiced "Brahmadanda" on him (Buddha's Brahmadanda noble punishment, is to refrain from talking to a person). He would then play the popular movie song, "Premalokaya NiweeGiya". He would sometimes imitate Eddie Jayamanne and my mother forgets the "Brahmadanda". Cheekily, he would then play the next record "Dalula Prema Gasay". These songs were from Sujatha and WaradaKageda movies, which were very popular at that time.
My mother taught me the realities of life and my papa, the fun side of it, so I had the privilege of living in the best of both worlds. Amma, however, enjoyed the fun times and no one could be annoyed with him.
His last words had been "Me Welawata Mata Onay Pearl" after complaining of a chest pain. I was hundreds of miles away studying at Peradeniya University, so he could not see his precious Pearl, before his death. After he passed away, our evenings became dull, with no one to crack jokes, or entertain us with the old Town Hall Noorthi Geetha. My mother missed him until her death and I miss him up to date. The void in my heart can never be filled. He must be now singing and dancing in heaven, entertaining folks there.
Your loving daughter and friend, Pearl Senarath-Dassanayake nee Suriarachchi
---
My brother who made a mark both globally and locally
 A.C.S.Hameed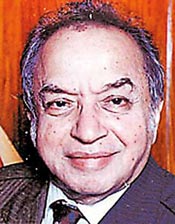 My late brother Abdul Cader Shahul Hameed's 24th death anniversary falls today (September 3).
Better known as A.C.S.Hameed, he was elected to Parliament in 1960 March and again in July 1960 from the Akurana electorate (later known as Harispattuwa) representing the seat until his death in 1999.
In 1977, when the UNP was returned to power, my brother was elevated to the Cabinet. Since Independence, the Ministries of Defense and External Affairs was held by the Prime Minister as Head of the Government. But in 1977, J. R. Jayewardene bifurcated the two high profile ministries, keeping Defence for himself and creating a separate Foreign Affairs Ministry and giving it to my brother.  Thus, my brother became the first to hold the separate Foreign Affairs portfolio.
Mr. Jayewardene later became the President and rarely intervened on foreign policy matters, seeking to act through his Foreign Minister. That was because President Jayewardene had implicit faith in my brother to do what was right in furthering the interests of the country.
With Sri Lanka holding the chairmanship of the Non – Aligned  Movement (NAM) during the 1976-1979 period, my brother was constantly called upon to deal with some of the thorniest international issues of the 1970s. For example, which of the two Cambodian factions had a rightful claim to the seat at the UN (the General Assembly session that day was held up for over four hours as he negotiated behind closed doors resolving the dispute with the backing from the UN's Legal Advisors), or should Egypt, which had signed the Camp David peace agreement with Israel in 1978, be driven out of the NAM. There was also sharp divisions within the NAM over the disputed territory of Western Sahara in the Maghreb region of North Africa and the spilt in the NAM over the Soviet invasion of Afghanistan (1979-1989).
In many ways, Sri Lanka could box above its weight class by making a viable contribution to foreign affairs on the global stage and this earned many benefits to the country. This dovetailed with President Jayewardene's open economy which witnessed many countries, from which Sri Lanka had little assistance previously being happy to help in the form of economic assistance to Sri Lanka.
One of my brother's greatest contributions to the country was the active role he played in projecting Sri Lanka's national interests at the third United Nations Conference on the Law of the Sea. He was closely associated in formulating Sri Lanka's case for special treatment in the delimitation of its continental shelf, given the special geological features present in the southern part of the Bay of Bengal. He coordinated issues with the Sri Lanka delegation to the conference and engaged in intensive consultation with key delegations during his visits to New York and Geneva.
These efforts resulted in a Statement of Understanding being incorporated in the Law of the Sea Convention, which accommodates Sri Lanka's concerns. This has brought about extensive economic benefits to the country, through the exploitation of resources in the extended areas of maritime jurisdiction. My brother also actively encouraged the formation of the Indian Ocean Marine Affairs Cooperation (IOMA) to serve as a consultative body of India Ocean States, in promoting their interests in the use of marine resources of the India Ocean.
Despite the West Asian (Middle East) oil boom from 1973, restrictions in issuing passports and the existence of exit permits to leave the country discouraged foreign employers coming to recruit workers from Sri Lanka. The Central Bank annual report of 1977 states only 10,000 workers had gone for employment in West Asia and the Gulf countries. One of my brother's first ministerial directives was to remove all restrictions on issuing of passports together with the opening of Sri Lankan embassies in that region.
In 1977 the only Sri Lankan embassy in the Arab world was in Egypt. Today, millions of Sri Lankans are employed in the West Asia and the Gulf and it was he who laid the foundation for this opportunity   to grow.
While my brother visited his Kandy office, the Amarapura Nikaya Chief Sanghanayake Ven. Hapugoda Shri Nandarama Thera together with 20 Buddhist monks visited him and requested a small plot of Mahaweli land for them to construct a platform for their ordination by the side of flowing water. Earlier, they had ordination ceremonies on a temporarily built  platform which had been washed off due to heavy rains in the up country area. My brother was able to build the Seema Malakaya for them, one of only three Seema Malakaya in the country.
As Foreign Minister he visited Finland and he was the first Sri Lankan Minister to visit that country. They were happy to receive an important visitor from Sri Lanka. They wanted to know what they could give Sri Lanka and to his constituency as a remembrance of the visit. He told them he represented a backward constituency where pipe borne water was scarce. Finnish companies developed four underground water projects and 150 pump wells in his constituency.
My brother was principally a pluralist at heart and had an abiding belief that we were Sri Lankans first and foremost. The fact that he successfully represented Harispattuwa, an 80 percent Sinhalese electorate in the Kandy District and developed it into a first class electorate is testament to that belief in pluralism.
My brother did great things for the Muslim community to which he belonged as well. In 1955, he was elected president of the Central Ceylon Muslim Assembly and it was through this organisation that the Kandy Muslim Teacher Training College was inaugurated. At that time, there was a shortage of trained Muslim teachers, and the organisation went a long way towards alleviating this need for qualified teachers.
Another significant achievement was the amendment of the Finance Act No 11 of 1963. Due to this Act, Muslims were deprived of their rights to buy or sell land without proving their citizenship. As a consequence, thousands of deeds were stagnating in land registries countrywide without being registered. Although this problem was not faced by Muslims from the Kandy District as they had 'gaey names' (the name of the village that preceded their given and family name) in their certificate of birth, it was a problem acutely felt by Muslims in other parts of the country. My brother recognised this issue and raised the problem with President Jayewardane and the Cabinet. Later this Act was amended, thereby enabling Sri Lankan Muslims to buy and sell land without proof of their citizenship like any other citizen in this country.
To know my brother was to know a tremendous intellect and wit in equal  measure. My good friend Thalif Deen recollects an incident that is the stuff of United Nations legend. My brother was to deliver an address at the United Nations General Assembly on behalf of President Jayewardene and Deen who was present in that august assembly recollects it as follows.
'One of his memorable moments was when an Eelam activist/ lawyer from London, Krishna Vaikunthavasan, surreptitiously gate- crashed into the UN, took his place in the speaker's roster, and tried to upstage him  by walking onto the podium of the General Assembly and unleashing a diatribe against the government.
'When the President of the Assembly realized he had an interloper on his hands, he cut off the mike within minutes and summoned security guards to bodily eject the intruder from the hall. As he walked up to the podium, there was pin drop silence  in the assembly hall. But unprompted by any of his delegates he produced a riveting punchline. "I want to thank the previous speaker for keeping his speech short," he said, as the Assembly, known to tolerate longwinded and boring speeches, broke into peals of laughter'.
I want to conclude with a prayer for my good friend and brother.
O! Allah, make his grave a garden of bliss and also make the grave not a place of hell fire.
Allahummaj  al Kabrahu Rawlathan min Riyalul Jinan Wala Thaj al Kabrahul Huffrathan min Hufrin Niran, -Ammen.
May Allah Almighty grant the highest felicity to this departed soul in Jennathul Firdous.
A.C.A.M.Nuhuman
---
 Gone, but never forgotten
Vernon Kern
Today is full of memories of a dear brother laid to rest,
I miss you brother, I can't believe it's already been a year.
How well do I remember the special times we had
And what we shared will never die, will live within my heart.
A thousand words won't bring you back, I know because I've tried,
Neither will a thousand tears, because I know I've cried.
You left behind a broken heart and precious memories too,
But I never wanted memories I only wanted you.
God saw you getting tired when a cure was not to be.
So He wrapped His arms around you and whispered, come to Me.
The pain He knew you went through and that you didn't deserve,
And a golden heart stopped beating the day you went to rest.
No farewell words were spoken, no time to say good bye,
The silent tears I keep shedding still ache my saddened heart.
What it means to lose you no one will ever know,
You were gone before we knew it, the day God took you home.
Although we loved you dearly, we could not make you stay,
Yet when I saw you sleeping, free from pain and strain,
I could not wish you back with us, to suffer that pain again.
God has you in his arms and I have you in my heart,
For your memory is a keepsake from which I'll never part.
Gone but never forgotten until we meet again someday.
Rita Kern
---