Tuesday, 23 May 2023 00:01 –      – 136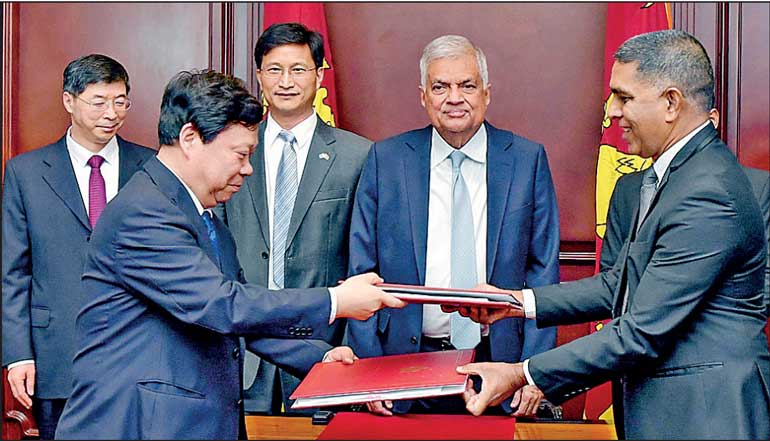 President Ranil Wickremesinghe along with Chinese Ambassador Qi Zhenhong witness the exchange of agreement signed between Power and Energy Ministry Secretary M.P.D.U.K. Mapa Pathirana and Sinopec Company Fuel Production and Marketing Department Managing Director Chen Chengmin yesterday at the Presidential Secretariat
Signs contract with Govt. to import, store, distribute, and sell petroleum products in predetermined distribution dealer operated network
To rely on own funds for fuel procurement through foreign sources at least during initial one-year period of operation
Gets 20-year license to operate 150 fuel stations currently operated by CPC; to invest in 50 more new fuel stations
Sinopec along with United Petroleum Australia and RM Parks, USA, in collaboration with Shell PLC were originally approved by Govt. following EOI and RFP process
In a significant move to address fuel supply challenges, the Government yesterday signed a contract agreement with China's Sinopec, a leading international petroleum company.
The agreement marks a crucial step in ensuring a steady and uninterrupted fuel supply for the nation, according to a statement issued by the President's Media. The signing ceremony took place at the Presidential Secretariat, with representatives from both Sri Lanka and Sinopec in attendance. Power and Energy Ministry Secretary M.P.D.U.K. Mapa Pathirana and Sinopec Company Fuel Production and Marketing Department Managing Director Chen Chengmin signed the agreement in front of the President.
Sinopec, along with its affiliated companies, is set to commence operations in Sri Lanka within 45 days following the issuance of the license.
Separately Power and Energy Minister Kanchana Wijesekara in a tweet said as per the agreement Sinopec will be granted a 20-year license to operate 150 fuel stations currently operated by the Ceylon Petroleum Corporation (CPC).
He added that the agreement also allows Sinopec to invest in 50 new fuel stations and to invest in Sri Lanka's energy sector.
The President's Media in its statement said, "This development brings hope for a more stable and reliable fuel supply, boosting the country's energy sector and providing assurance to consumers."
Sinopec was among shortlisted entities invited to submit detailed proposals in response to a Request for Proposal (RFP) document. The Cabinet Appointed Special Committee (CASC) and the Technical Evaluation Committee (TEC) thoroughly scrutinised the proposals and recommended awarding contracts to the following companies, subject to negotiations:
Sinopec Fuel Oil Lanka Ltd., United Petroleum Australia and RM Parks, USA, in collaboration with Shell PLC.
The Cabinet of Ministers, considering the recommendations made by the CASC and the Committee Appointed by the Cabinet, granted approval to award the contracts to the selected suppliers.
The Government said in response to the on-going foreign exchange crisis, the Power and Energy Ministry took this decisive action to ensure an uninterrupted fuel supply to consumers.
It recalled that with the inability to provide sufficient foreign exchange for fuel shipments, the Ceylon Petroleum Corporation (CPC) and Lanka Indian Oil Company (LIOC) faced significant challenges.
To tackle this issue, the Ministry explored various strategies and one of them involved inviting Expression of Interests (EOIs) from reputable petroleum companies established in producing countries. The goal was to import, store, distribute, and sell petroleum products in predetermined Distribution Dealer operated networks in Sri Lanka. The Cabinet of Ministers approved this initiative.
One of the key requirements for new retail suppliers entering the market was their ability to secure forex requirements without depending on the domestic banking sector. It was mandated that these companies source their own funds for fuel procurement through foreign sources, at least during the initial one-year period of operation.
At the signing ceremony, CPC Chairman and Managing Director, and Ceylon Petroleum Storage Terminals Ltd. Chairman participated. From Sinopec, representatives from Sinopec Fuel Oil Lanka Ltd., Sinopec Fuel Oil Sales Co. Ltd. (People's Republic of China), and Sinopec Fuel Oil (Singapore) Ltd. were present to formalise the agreement.
Power and Energy Minister Kanchana Wijesekera, State Ministers D.V. Chanaka, Indika Anuruddha, Shehan Semasingha, President's Senior Advisor on National Security and Chief of Staff Sagala Ratnayake, President's Secretary Saman Ekanayake, Central Bank Governor Dr. Nandalal Weerasinghe, Chinese Ambassador Qi Zhenhong and representatives of Sinopec Oil Lanka Ltd., Sinopec China Ltd. and Sinopec Singapore Ltd. were present on this occasion.