SJB MPs have publicly expressed satisfaction over the President's economic recovery policy
after the IMF bailout package was received
Mahinda Rajapaksa says President has handled the       economic crisis excellently
SLPP jubilant, plans to hold largely attended May Day rally with Basil as main organiser
Ranil gives priority to ethnic reconciliation, plans to set up Truth and Reconciliation Commission,
two ministers return from South Africa
By Our Political Editor
At least five prominent members of the Samagi Jana Balavegaya (SJB) may join the Sri Lanka Podujana Peramuna (SLPP) Government led by President Ranil Wickremesinghe.
"Talks are now underway, and it will take some time before we reach finality," a key interlocutor said. Seeking anonymity on grounds that it would otherwise jeopardize talks, he said, the names of those concerned too should remain a secret. "Otherwise, the talks could collapse," he cautioned. He claimed that none of those concerned was making quid pro quo demands and was convinced over the economic recovery policy of President Ranil Wickremesinghe. Some have already made public comments in recent days welcoming different aspects of this policy and the resultant benefits after the people had undergone severe hardships in the past many months.
Friday marked the first anniversary after protestors stormed the private residence of former President Gotabaya Rajapaksa at Mirihana in Nugegoda. Police contingents including riot squads sealed off the area and tough security measures were in force. A group who insisted on protesting near the residence were baton charged.
Turning point
The turning point in President Wickremesinghe's favour in the country's economic sector has overwhelmingly impacted the country's political sphere. As pointed out last week, the decision of the International Monetary Fund's Executive Board on March 20, to provide an initial bailout of US$ three billion from an Extended Fund Facility (EFF), transcended economic boundaries into the political sphere. This week there was more. As details in the later paragraphs show, a grouping of trade unions made an abortive bid to cripple fuel supplies countrywide and thus paralyze activity ahead of the national New Year. In a counter move, the government lowered fuel prices and prices of a variety of other essential consumer goods. Bus fares were reduced. On the one hand, these measures won considerable public support. No strikes or 'go-slows' ever become a success when there is no public support. On the other, there was nascent public anger.
The mood in the SLPP could be gauged from the reaction of its leader Mahinda Rajapaksa's praise on President Wickremesinghe over how he handled the latest situation "so excellently." He was jubilant that "both Sajith Premadasa (SJB leader) and Anura Kumara Dissanayake (leader of the National Freedom Front led by the JVP) have received two hard blows politically," he said. There is a silver lining in those remarks. It further boosts the morale of those SLPP parliamentarians who are supportive of President Wickremesinghe and the policies he has introduced so far. It also turns the focus on plans by SLPP founder Basil Rajapaksa to hold a largely attended May Day rally in Colombo. That naturally would have turned the searchlight on President Wickremesinghe and his dormant and even ineffective United National Party (UNP). The purpose of such an intended major rally would be to assert the SLPP's position in the Government and deliver a message of its pivotal role. That is at a time when President Wickremesinghe is growing in strength. Thus, whatever the SLPP wishes to do would have to be well-calibrated, for Basil Rajapaksa is yet to regain his largely lost image and support base.
SJB General Secretary Ranjit Madduma Bandara does not believe that any of its members would leave. He said there were occasions when they expressed views that seemed supportive of the Government. "In our party, there is freedom to express their own views but there is no division in the party at all." He added, "We said there was a need to go to the IMF. However, that is not the whole answer to all our economic ills. We need to see what the Government is going to do with the bailout money, The most important factor is for the Government to put an end to corruption. The President is ruling the country with a corrupt group. That is why we are calling for an election." On the other hand, SJB leader, Sajith Premadasa, has accused the government of trying to buy over his parliamentarians. He claimed each was going to be paid Rs 200 million.
As the interlocutor said none of those whom he is talking to has spelt out any conditions for a cross-over. Therefore, what is the motivating factor? A cross-section of the views can be gleaned from the remarks by some members who are not happy with the leadership. They complain that Sajith Premadasa is not robust enough as the opposition leader and has been avoiding handling important issues. His modus operandi, one of them pointed out, was to reach out to Twitter and express his views. "Such accounts are read by less than a few hundred and the opposition's views do not reach the people," said one of them who did not wish to be named for obvious reasons.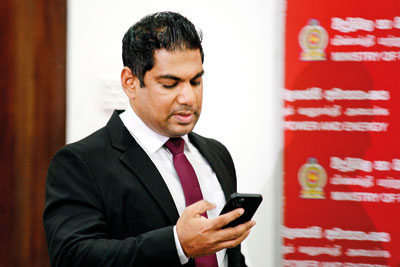 This recalls the election of Ranil Wickremesinghe as the eighth President during a vote in Parliament on July 20. He received 134 votes as against the two rivals Dullas Allahapperuma (82 votes) and Anura Kumara Dissanayake (three votes). To be elected for the office of succeeding president, a candidate should get 50% or more votes from the valid number of votes. Wickremesinghe had achieved the requisite number of votes. Accordingly, the number of valid votes was 219, out of which Wickremesinghe obtained 134. The number of votes cast was 223 and two Parliamentarians abstained from voting. Four votes were designated as invalid votes.
The strength of the SLPP parliamentarians was earlier 145. However, the group is now fractured and does not have more than 103 members. However, Wickremesinghe received 134. Some SJB MPs believed there was an agreement worked out with then SLPP's Dullas Allahapperuma. Originally, Premadasa had declared that he would be a candidate for the presidential contest. However, following behind-the-scenes negotiations, he withdrew his candidature in favour of Allahapperuma. He had opted to become Prime Minister instead of vying for President in terms of an agreement. This was, however, disliked by some SJB MPs who charged that Premadasa had decided unilaterally after consulting his "personal advisors."
Soon after being elected President, Wickremesinghe appealed for support from all opposition parties. He told Parliament "…… I once again request all parties representing the people in this Parliament to unite in the formation of an All-Party Government. I respectfully extend the hand of friendship to all of you. I confidently invite you to put aside the past and come together for the sake of the country. I have already initiated discussions with political parties in forming an All-Party Government. Certain parties had declared that they would consider my programme and give their consent to form the All-Party Government. I wish to make my observations in this regard. An All-Party Government is not a government that acts on the sole opinion of one party. It is a government that comprises the views of all parties within a common policy framework, and implemented after decisions are made…"
His efforts towards an All-Party Government, drawing in even those who voted for him as President, were not successful. However, this time, like the lone conductor of a large musical orchestra, he has hit the right note. And that seems to have been the magnet for the group of SJBers.
These developments come at a time when the Government wants to change a 62-year-old policy where fuel distribution has remained in state hands. Energy Minister Kanchana Wijesekera won approval of the cabinet of ministers to place this in private hands.  Sinopec (China), United Petroleum (Australia) and RM Parks (United States) in collaboration with Shell will now be allowed to enter the retail fuel market. Trade unions in the state-owned Ceylon Petroleum Corporation (CPC) warned Minister Wijesekera they would resort to strike action if the Government went ahead with the move. They launched a sit-in campaign just outside their petroleum terminal at Kolonnawa.
Minister Wijesekara was defiant. He said that the Energy Committee and relevant other procurement committees had given their recommendation to award the three companies the licences to operate. He said each of the three companies would be allocated 150 Dealer operated fuel stations that are currently being operated by CPC. They will be granted a licence to operate for 20 years to import, store, distribute and sell petroleum products in Sri Lanka. A further 50 fuel stations at new locations will be established by each selected company, he said.
On the following day, (Tuesday) the unions converted the sit-in campaign into a strike threatening to disrupt fuel distribution. Several fuel bowsers awaiting their turn to collect fuel were turned away. As a result, the people fearing a fuel scarcity queued up at fuel stations. Some of the queues lasted until the following morning — a replay of scenes during the shortage that took place when protests were underway. Minister Wijesekera's response was a damper on the trade unions. He not only announced at a news conference that measures were in place to counter shortages but there would be price reductions on a variety of petroleum products including petrol and diesel. Accordingly, he said the retail price of Petrol 92 would be reduced by Rs. 60 per litre, Petrol 95 by Rs.135, Lanka Auto Diesel by Rs.80, Super Diesel by Rs.45 and kerosene by Rs.10 from midnight. Minister Wijesekara said that President Wickremesinghe as the Minister of Finance directed to implement the price revision at midnight Wednesday.
News alerts were soon coming on mobile phones that the fuel price reduction was coming into effect at midnight. Within minutes the motorcycle, three-wheel and car queues lined up the fuel station had gone. However, trade unions now claim they have not given up their struggle.  They allege that the Army is forcing the CPC workers to continue to work. Some 20 trade unionists have been sent on compulsory leave and the CPC has been declared out of bounds for them. "We have now lodged a complaint with the Human Rights Commission about the army forcing employees to work," CPC General Employees Union President Ashoka Ranwala said.
"I have instructed the Chairmen of the CPC and the CPSTL to take necessary disciplinary steps to consider the termination of employment and any legal steps necessary against trade union activists or employees that are disrupting the distribution of fuel, disrupting the work of other employees or are acting in violation of the essential services orders," Minister Kanchana Wijesekara tweeted.
Afterwards the petrolium trade union collective carried out a strike by withdrawing from all duties. This disruption had caused fuel shortages at the fuel stations as the supplies ran out and more consumers rushed to buy fuel fearing a shortage. Long queues were forming. Some fuel stations had already run out fuel.
Earlier the Minister said though adequate stocks were available in the country, some fuel stations had not placed orders anticipating the April 01 price revision. This was the result of his earlier announcement. He said fuel station operators had been told to place orders and maintain the minimum stocks required. He said 20 trade union leaders who took part in the strike and obstructed normal fuel distribution had been identified and sent on compulsory leave.
"The government plans to take tough legal action against individuals who violated the essential services order. At present CCTV footage and statements from employees and managers are being obtained. A Sri Lanka Podujana Peramuna(SLPP) trade union leader who worked with us during elections is among the 20 persons who have been sent on compulsory leave," the Minister said.
The CPC management has also decided to make the CPC and storage terminal premises a no-entry zone for employees sent on compulsory leave.  "Though it was planned to dispatch 507 loads of 6600 litres Petrol 92 yesterday, only 438 were dispatched because of the strike. Similarly, only 333 diesel loads were released out of the planned 451 loads," Minister Wijesekera said. The Police and armed forces have been deployed around the premises since last night to ensure the daily distribution of fuel.
Reconciliation programme
The initial bailout from the IMF has prompted the government to expedite even the ethnic reconciliation programme. President Wickremesinghe told a meeting on Economic Dialogue–IMF and Beyond that the ethnic issue could not be separated from the economic issue and must be resolved. Though not publicised, the Government has already embarked on formulating proposals for discussion with stakeholders. One of the major elements in this task is the setting up of a Truth and Reconciliation Commission for which draft legislation is now ready. Although two ministers, Wijeyadasa Rajapaksha and Ali Sabry, were in South Africa to study the system there, an outline had been prepared by Wickremesinghe when he was Prime Minister.
That draft in 2018 had a three-fold objective for the TRC. They are:
Investigate and make recommendations in respect of complaints and reports relating to the damage/and/or harm caused to persons as a result of loss of life, or damage and/or harm caused to persons or property.,
=   In the course of, or reasonably connected to, or consequent to the armed conflict, or its aftermath;, or
=   In connection with political unrest or civil disturbances in Sri Lanka; or
=   Where such violations are in the nature of prolonged and grave damage and /or harm suffered by individuals, groups or communities of people of Sri Lanka.
For good measure, the government will also replace the existing Prevention of Terrorism Act with a counter terrorism law. However, substantial sections of this new proposed law have come in for criticism on the grounds that they are more stringent than the PTA.
The draft formulated when Premier Wickremesinghe was Premier in 2018 says that the "objective in mind, in setting up a local, independent, non-judicial truth seeking commission will contribute greatly to take steps to ensure non-recurrence of conflict: "examine the root cause for the emergence of the armed conflict, political unrest, and civil disturbances that have occurred in Sri Lanka, and the alleged serious violations of human rights and humanitarian law, and to make recommendations for measures towards the prevention of such recurrence in the future."
Government sources said yesterday that Justice and Constitutional Reforms Minister Wijeyadasa Rajapaksha had formulated a working document for discussion with all stakeholders. At present, these sources said informal contacts were being made to discuss the outlines. At least two leading countries are backing the process and have also taken initiatives to persuade the major stakeholders to talk to the Government.
Thus, quite clearly the IMF Executive Board's initial advance from the Extended Fund Facility has moved the Government into action in many spheres besides economic recovery.