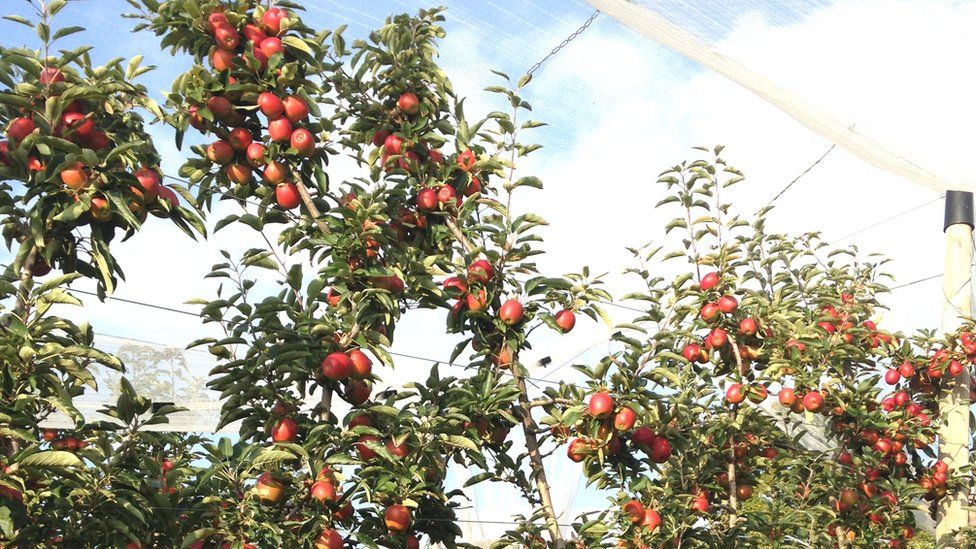 It's an elegantly simple solution to an age-old problem: to protect crops from hazards, keep them covered.
Nets are commonly used to keep out pests in vegetable production, particularly in high-value areas like seeds.
Yet in fruit production the use of nets is still being explored and tested, according to Mirella Aoun, an agronomist and researcher at Bishop's University in Quebec, Canada, who has been studying agricultural nets for over a decade.
Prof Aoun explains that initially fruit producers placed nets over trees primarily to protect them from hail damage. Now they are experimenting with nets that can protect against insects.
The mesh size of insect-proof nets is determined by the local conditions, including the nature of the insects.
Of course that could shut out the insects that farmers really do want – pollinators like bees.
One option is to apply the nets after the pollination period. Another is to open the nets during the day, while bringing in beehives.
Tree nets are particularly well established in French and Italian apple orchards, where nets draped over rows of apple trees limit the movements and egg laying of codling moths. This has helped farmers to get rid of persistent pests and reduce their use of costly and environmentally damaging chemical pesticides.
There are benefits to fruit lovers as well. "When you know that you have less pesticide residues from crops that are under exclusion nets, it's good news for consumers," says Prof Aoun.
Nets are also seen as a way of tackling the effects of climate change. Warmer conditions have seen the resurgence of some types of insects and diseases.
Some regions are seeing more intense periods of drought and heavy rain and nets can help with that.
For instance, depending on the location, the type of net, and the way it is used, a netting system can shield against the solar radiation that leads to heat stress and inhibits trees' photosynthesis.
But the introduction of a net could mean a more humid environment around the tree – not helpful for crops prone to fungal diseases in wetter climates like the northeastern US and Canada.
But some researchers are working on hydrophobic nets, where a treatment using a botanical pesticide essentially makes the nets water repellent.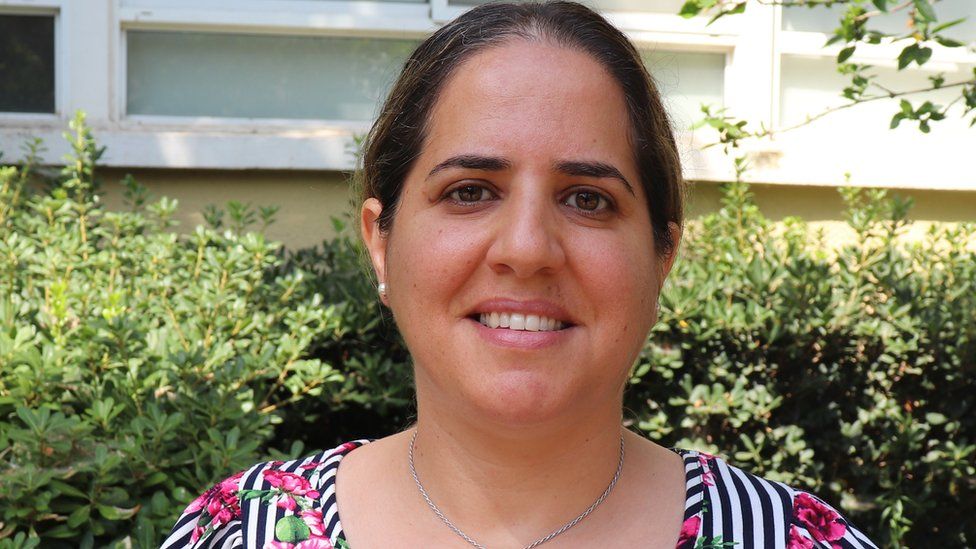 Photoselective (coloured) nets can also affect the penetration of light. Dark, opaque nets reduce light intensity but not light quality.
Pearl-coloured nets can scatter light better so that it reaches more parts of the vegetation. Meanwhile, blue, red and yellow nets filter certain solar wavelengths and thus can stimulate specific responses in plants related to fruit quality.
Fine-tuning the net usage often leads to an increase in high-calibre fruit, according to Prof Aoun. As her research in the Mediterranean has shown, trees covered by coloured shade nets can produce larger and more vividly coloured fruit.
Nets are not always the answer. They may not be appropriate for smaller, more varied orchards. Nor are they necessary for all climate conditions.
Also, the nets used for fruit trees are typically made of polyethylene, which isn't ideal for a world attempting to move away from plastic dependence.


One of the companies working on non-plastic nets is Texinov, a French technical textiles firm. Texinov is researching various types of biodegradable nets, such as ones made from flax.
It has already introduced a biodegradable net made out of polylactic acid (PLA), which is produced from fermented corn. Industrial composting is needed to break down this type of net, which sales manager Adrien Etienne says is about 10% more expensive than a conventional net.
Mr Etienne says that the biodegradable nets are currently more popular in Europe than in North America. This may be linked to European policies intended to reduce insecticide use. "The nets, I think, will become more and more popular because insecticides are less popular," Mr Etienne says, for instance among French cherry farmers.
The upfront cost has been a barrier for some farmers. "Nets are of course a little bit expensive compared to insecticides," Mr Etienne acknowledges.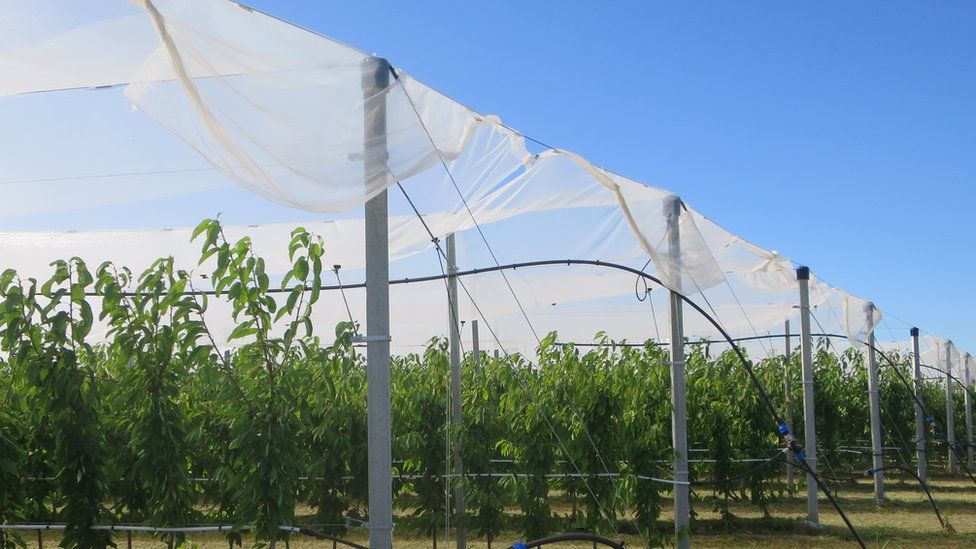 Texinov's cheapest net sells for around €0.50 (44p) per square metre for private use in France, according to Mr Etienne. This type of net lasts for only one or two seasons, although the heavy climate protection nets can last much longer. Durability depends on factors like solar exposure. "The nets are more and more fragile because of the sun," says Mr Etienne.
Overall, Prof Aoun says that prices are dropping as products become more varied and accessible. "In general the positive impact of the net is overwhelming the negative side," she summarises.
Jean-Marc Rochon heads the apple tree nursery Pépinière Rochon in Quebec and is keeping an eye on advances in netting.
"In my eyes, this technology is more in the development and improvement phase rather than in large-scale application," he says.
For Mr Rochon to begin using nets on his apple trees, the cost of the netting wouldn't be the only factor. "I see it more as a way of rethinking our ways of doing things," he explains.
To be viable for his nursery, the netting would have to be reliable and not create a work overload. It would also need to be useable on large orchard sections.
Clearly, technological refinements and communication will be necessary to convince more fruit growers that netting would be useful.
But Prof Aoun believes, "As we move toward more climatic challenges and unpredictable weather, protective cultivation using nets is the way forward."