Friday, 28 July 2023 02:29 –      – 26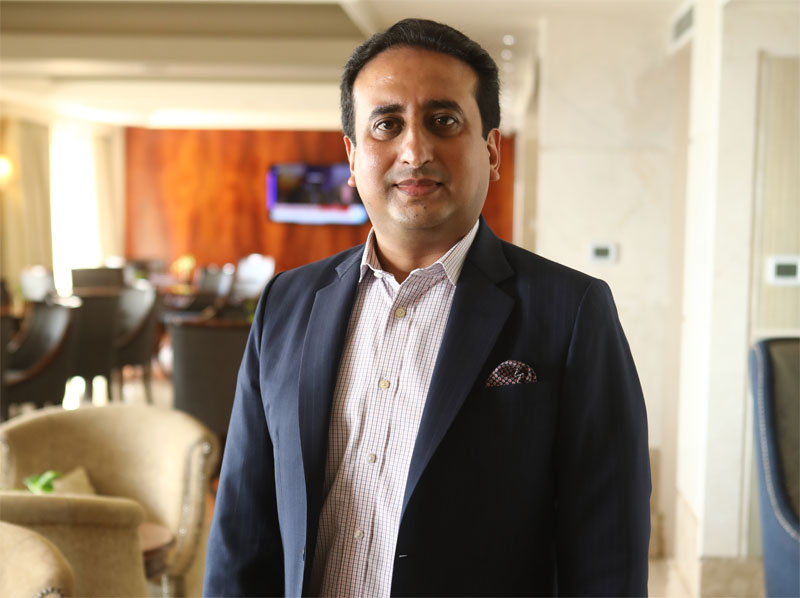 CG Corp Global and CG Hospitality Group MD and CEO Rahul Chaudhary
---
 Global conglomerate headed by renowned Nepalese Forbes-listed billionaire Binod Chaudhary and largest hospitality group in South Asia already has 14 properties in SL with investments in Taj Samudra and with Jetwing Group and Ceylon Hotels Corp
 We are gung-ho about Sri Lanka's tourism industry says Managing Director and CEO Rahul Chaudhary
 Expresses SL expansion intent following milestone of opening 100th hotel in India
 Exploring opportunities especially to launch its mid-tier "Fern" brand in Sri Lanka
 Open to revenue sharing, leasing, management contracts or management cum part-equity arrangements
 CG Group hotels footprint is 160 with nearly 9,000 keys in 12 countries and 107 destinations
 Insists India is SL's biggest opportunity and tourism's prospects can be significantly enhanced with right strategies
 Opines SL shouldn't opt for higher minimum room rate as yet since it could impact current inflow of Indian tourists and efforts to increase arrivals
 Singles out President Wickremesinghe's bold efforts to restore stability, stimulate growth
---
By Nisthar Cassim
---
South Asia's largest hospitality conglomerate the Chaudhary Group yesterday expressed its strong intent in expanding the footprint in Sri Lanka from 14 properties at present including investment in Taj Samudra.
"We have been consistently confident of Sri Lanka as proven by our continuous investments. With stability returning in the country and uptick in tourist arrivals, we are optimistic of rapid growth in tourism hence looking at expansion," CG Corp Global and CG Hospitality Group Managing Director and CEO Rahul Chaudhary told the Daily FT yesterday during an interview in Colombo.
"We are exploring opportunities especially to launch our mid-tier "Fern" brand in Sri Lanka. We are open to revenue sharing, leasing, management contracts or management cum part-equity arrangements in Sri Lanka's leisure and hospitality industry," Rahul added.
At present CG Hospitality's global portfolio comprises 160 hotels and resorts in 12 countries and 107 destinations with nearly 9,000 keys. Last week CG opened its 100th hotel in India (The Fern Shelter Resort in Maharashtra ) becoming the second largest privately owned hotel management company in the giant market.
It has been adding 15-20  properties annually in recent years and has 40 more in the pipeline.
In Sri Lanka its first and flagship investment was in Taj Samudra in 2001 amidst then prevalent ethnic conflict. Since then the Group has inked joint ventures with the Jetwing Group and Ceylon Hotels Corporation to have a portfolio of 14 hotels in various categories.
CG Hospitality, the hospitality wing of CG Corp Global has a history of successful joint ventures with esteemed partners and owns some of the most iconic assets globally with some of the leading hospitality brands over two decades such as Taj, Taj Safari, Vivanta, Jetwing, Radisson, Ekho, Fairmont and its brands The Zinc, The Fern, Summit, and The Farm.
CG Corp Group is bullish on Sri Lanka's tourism prospects because of the country's close proximity to the giant Indian market with a ballooning middle class hungry for overseas travel experiences. "The India story in terms of rapid growth will never lose momentum. The capital to travel among the middle class is on the rise and Sri Lanka has the best potential to benefit," Rahul emphasised.
He also said given the growing footprint in India's leisure market, CG Group is ideally positioned to tap India's outbound travel potential to Sri Lanka.
"By expanding in India, which is Sri Lanka's closest neighbour and the largest potential tourism market for Sri Lanka, we are gung-ho about Sri Lanka's tourism industry. Post-crisis, Sri Lanka needs momentum and India will be the best opportunity. In my view India still remains an underserved market for Sri Lanka and we know that if we continue to showcase Sri Lanka's product offerings through our network of hotels and resorts, the scope is immense," Rahul said.
He was of the firm belief that the recent rebound in tourism is highly influenced by arrivals from India which can be significantly enhanced with the right strategies.
Year-to-date tourist arrivals from India were the most at  131,523 and the country has been the leading source market for Sri Lanka for several years.
CG Corp Group singled out President Ranil Wickremesinghe's bold efforts to restore stability and stimulate growth in Sri Lanka following its worst crisis last year. "Reaching out to the International Monetary Fund (IMF) for a support program as well as widening the engagement with the international community have helped Sri Lanka and its improving profile globally," Rahul pointed out.
He was also of the view that efforts by certain sections within the hospitality industry to go for a higher minimum room rate isn't timely but could consider the move next year when tourist arrivals are more robust.
"In the short term, the focus for hotels should be to increase the occupancy rather than leaning on rates," argued Rahul who cautioned that increasing rates would be detrimental to the current rebound in Indian tourist arrivals to Sri Lanka as well as to increase the flow.
He also pointed out the hotels and rooms in Sri Lanka need to be revamped for an upward revision in room rates so as to ensure visitors find true value.
According to him, the higher cost of air travel was also flagged off as a concern which needs attention of Sri Lanka authorities.
Chaudhary Group (CG Corp Global) is a multinational conglomerate headquartered in Nepal. Its businesses include financial services, consumer goods, education, hospitality, energy, consumer electronics, real estate, biotech, and alternative medicine. The group owns 136 companies in 15 different business verticals across five continents, all of which operate with a commitment to sustainability. CG prioritises initiatives in the Social (Education, Health and sports), Economic and Environmental sectors within its sphere of influence through the Chaudhary Foundation.
Rahul said that with the onset of and throughout the COVID-pandemic, CG adopted a strategy of "Survive, Revive and Thrive" which has helped the Group to be progressive amidst multiple challenges.
In terms of rising to be South Asia's biggest hospitality group, Rahul pointed out that the strategy of having an entrepreneurial mindset and ownership approach was key to successful management of its portfolio of hotels and resorts.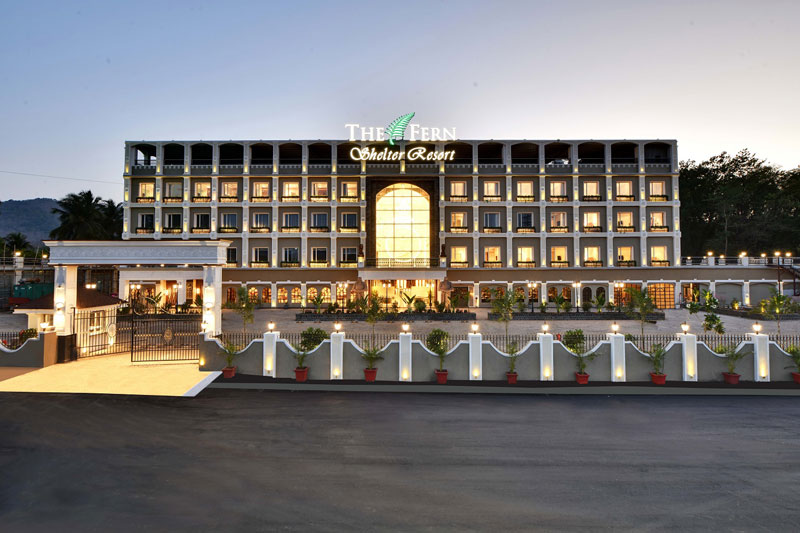 The Fern Shelter Resort marks the 100th hotel in India under the Chaudhary Group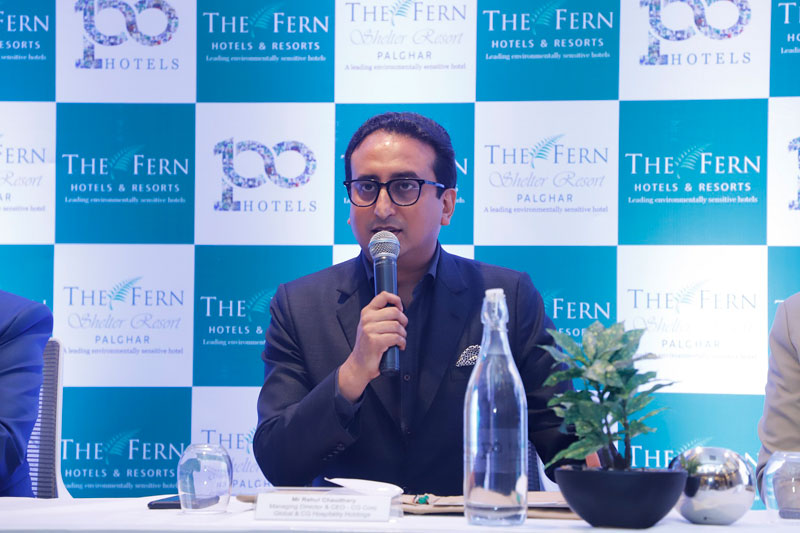 CG Corp Global and CG Hospitality Group MD and CEO Rahul Chaudhary speaks at the opening of the 100th hotel in Indi