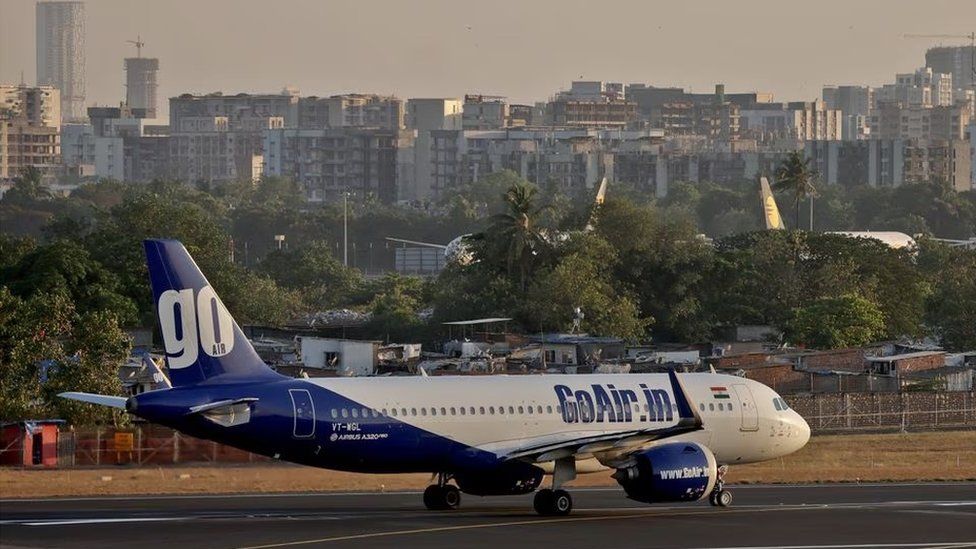 In India's bustling airports, the counters of one airline are conspicuously empty.
Earlier this week, budget airline Go First abruptly filed for bankruptcy protection and cancelled its flights for a few days. While the airline has assured refunds to customers, its agents are busy fielding calls from irate passengers.
The chaotic scenes bring back memories of 2019 when Jet Airways, which was India's biggest airline at the time, went bust. Go First is the first major Indian airline in four years to follow Jet.
The National Company Law Tribunal heard its bankruptcy plea on Thursday – the airline has asked for interim directions from the court to allow it to function, and also sought restrictions on any adverse action from the regulator. The tribunal, however, said that there was no provision to provide interim relief under the rules.
Go First says its woes are not due to financial mismanagement but rather, because of engine issues. The company says in its bankruptcy filings that it has not missed a single debt repayment deadline so far.
It has blamed US engine maker Pratt & Whitney for having had to ground many of its planes "due to the ever-increasing number of failing engines" supplied by it – this, the airline says, caused a severe cash flow problem.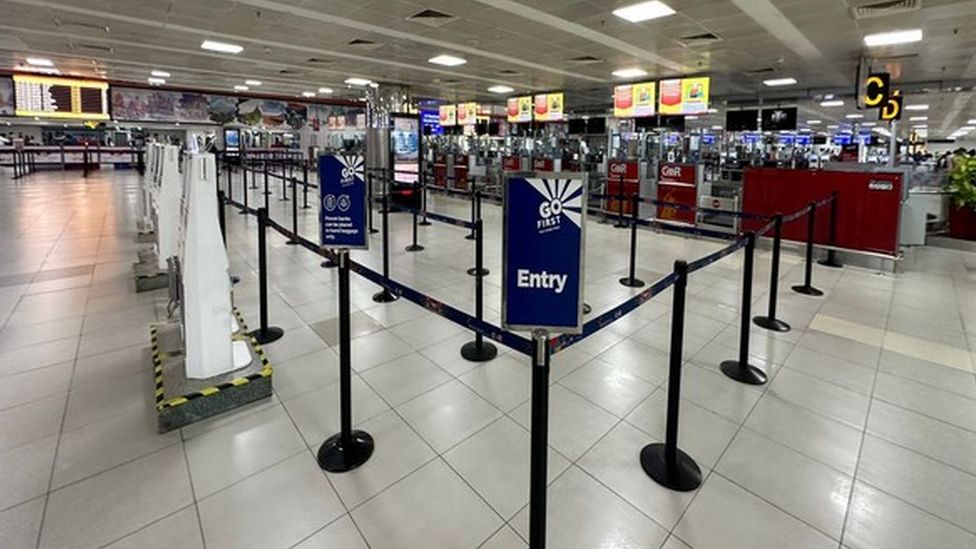 Go First says it was forced to ground 25 aircraft – about half of its fleet of Airbus A320neo planes – leading to about 108bn rupees ($1.3bn; £1bn) in lost revenue and expenses. According to aviation analytics firm Cirium, Go First was scheduled to operate 6,225 flights in May, equating to over 1.1 million seats.
The airline has accused Pratt & Whitney of not following an order by an emergency arbitrator, which included supplying "at least 10 serviceable spare leased engines by 27 April 2023".
Pratt & Whitney said in response that it was "complying with the March 2023 arbitration ruling" and it could not comment further as "this is now a matter of litigation".
Around 90% of Go First's fleet is made up of A320neos with Pratt & Whitney engines.
Since 2020, the planes have been grounded due to non-availability of spare parts and a delay in the supply of retrofitted engines from the engine maker. Having almost half its fleet unavailable had affected flight schedules and led to frequent cancellations.
Go First was the fifth largest airline in India based on scheduled departures. Its management has said that the airline's owners – the Wadia Group – have no plans to exit. The insolvency proceedings are aimed at reviving the airline and not selling it, Go First's CEO Kaushik Khona told Reuters news agency.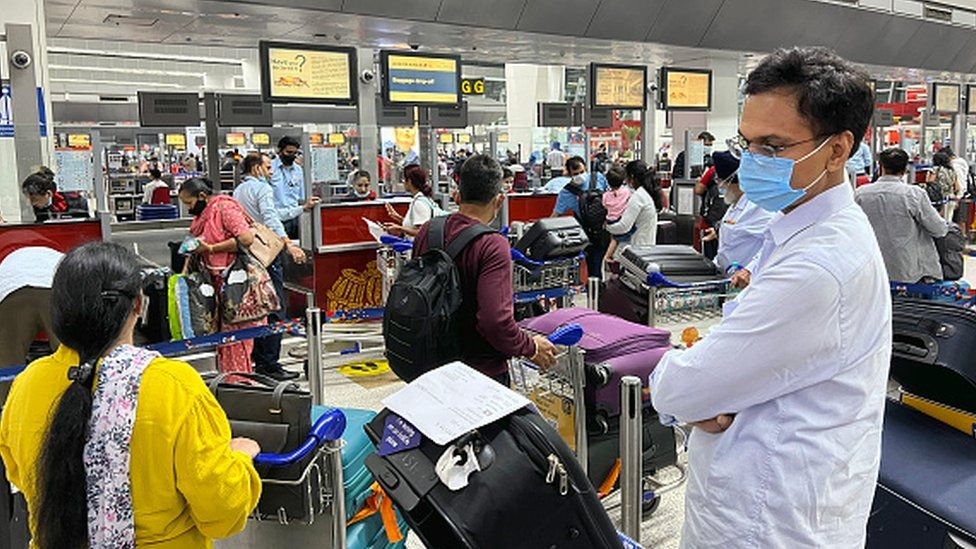 The Indian aviation sector has grown at a fast pace. But several airlines have also been grounded or forced to consolidate due to financial distress from increased competition, excessive debt and rising costs – Jet Airways, Kingfisher Airlines, Air Deccan, Paramount Airways and MDLR airlines to name a few.
Jet Airways has so far been unable to restart operations despite getting approvals as it is facing a lengthy insolvency process.
Mark Martin, founder and CEO of aviation consultancy firm Martin Consulting, says this is the first time an India-based airline is collapsing due to a component supply issue.
Go First says that it was a consistently profitable airline with a gradual expansion strategy till 2020, when it was hit by the problem of serial engine failures.
The deterioration in the company's financial performance was also exacerbated by the pandemic, which hit air travel, the company said in its bankruptcy filing.
Some of Go First's leased planes have been repossessed by leasing companies due to non-payment of rental dues. Oil marketing companies had sought an immediate payment model and as revenues shrank, it was finding it hard to make daily payments for fuel.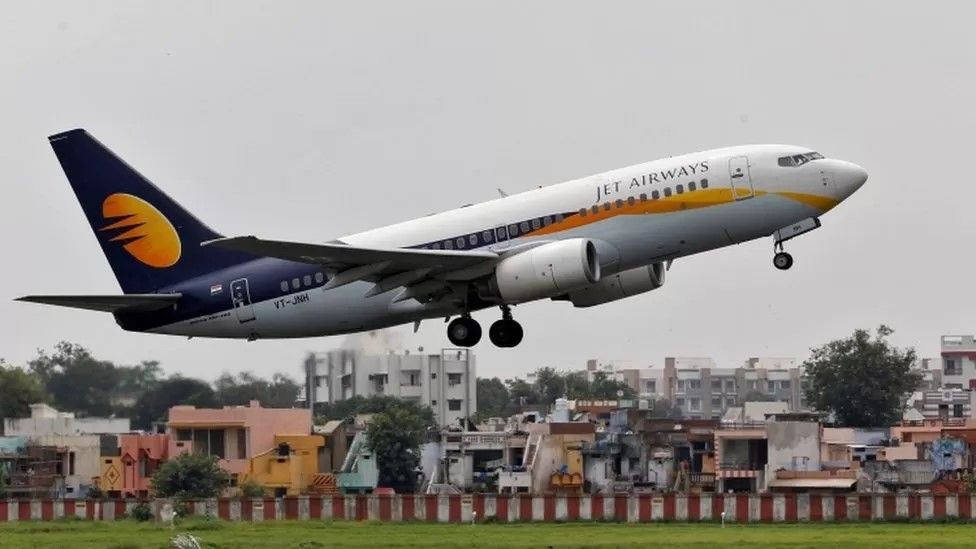 Despite consistent investments from the Wadia Group – 32bn rupees in three years – and an emergency credit line from the government (set up to help businesses cope with the impact of the pandemic), the airline's operations stalled.
Go First's collapse underscores the fierce competition in the country's airline sector, which has seen one of the strongest air traffic recoveries post the pandemic.
Domestic airlines carried more than 37.5 million passengers in the first three months of 2023, up 51.7% compared from a year ago.
According to CAPA Centre for Aviation, India's domestic air traffic is expected to rise to 350 million passengers by 2030.
The Go Air crisis may help rivals such as IndiGo, Air India, SpiceJet and new entrants like Akasa Air grab a larger chunk of the market share.
But customers won't have such a good time. Fares on Go First's routes are expected to jump sharply by as much as 50-60% in the next three-four months, reckons Mr Martin.
"If Go First shuts down, more than 50 aircraft will be grounded. Other airlines are also strapped. The demand is quite high and existing airlines do not even have the capacity to cater to that," he says.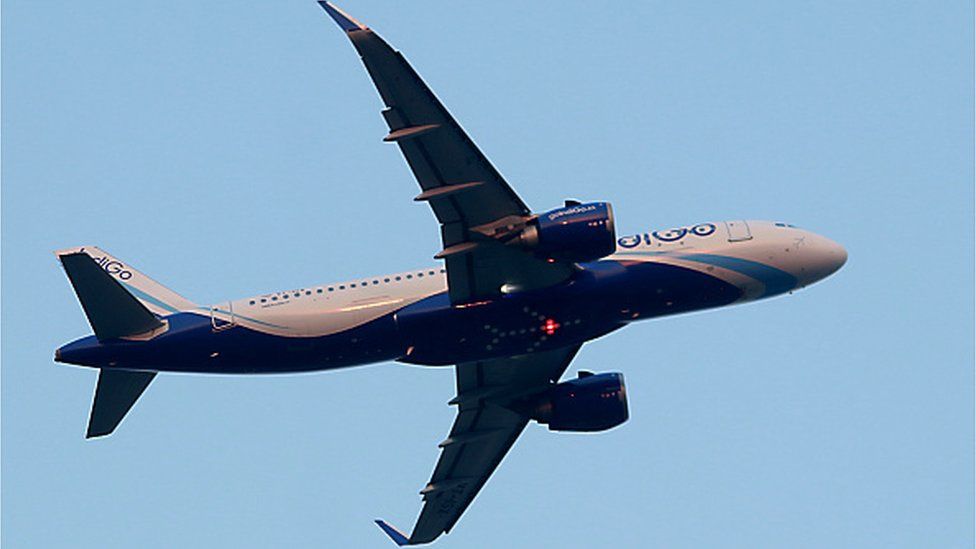 Experts say the industry will also have to contend with engines and aircraft supply chain issues.
IndiGo, the country's biggest airline by market share, has also been affected by the Pratt and Whitney engine glitch.
Between IndiGo and Go First, 60 aircraft have been grounded due to lack of spare parts. But IndiGo is in a better place as it has a fleet of more than 250 aircraft, many of which run on other engines.
SpiceJet has been battling financial distress and posting huge losses every quarter. It has also been plagued by an unusually high number of snags in the past year, with the airline regulator keeping a close watch.
However, the overall growth story of the Indian aviation market is still intact, and will mostly be driven by two or three players, experts say.
In November, the country's second and third largest carriers – Air India and Vistara – announced that they planned to merge. In February, Air India also set a global record by ordering 470 aircraft from Europe's Airbus and US-based Boeing.
BBC News India is now on YouTube. Click here to subscribe and watch our documentaries, explainers and features.


Read more India stories from the BBC: