Wednesday, 12 April 2023 04:44 –      – 483
Sagala says political parties can decide whether to support their country or not
National Planning Department will lead a Government-driven policy mechanism for future projects, in line with debt sustainability and without additional IMF programs
Goal of tax-to-GDP ratio of 14% by 2025 is ambitious but achievable
New Public Debt Management law, Banking Special Provision Act; and new SOE Reform Act in the offing
---
Chief of Staff to the President and Senior Adviser on National Security Sagala Ratnayake
---
The Government's agreement with the International Monetary Fund's (IMF) for an $ 2.9 billion four year Extended Fund Facility (EFF) program will be presented to Parliament on 25 April, Chief of Staff to the President and Senior Adviser on National Security Sagala Ratnayake told diplomats on Monday.
He said that political parties will have to decide whether they will support their country or not.
Ratnayake emphasised the importance of a structural reform program for economic recovery and sustainable growth, which includes not only financial and economic reforms but also the reconciliation process, crucial for Sri Lanka's progress.
"We started this tedious and ambitious program of structural reform for economic recovery and sustainable growth. We were left with very little option to do that and it was a very committed effort that we started on. This program is not limited purely to the fiscal and economic reforms; the fiscal reform in particular, also encompasses matters like the reconciliation process, which is key to a recovery for Sri Lankans and sustainable growth," Ratnayake said.
He said that the IMF program is based on advancing revenue-based fiscal consolidation, which includes tax policy measures. Many of them have already been implemented, but there are others, such as the removal of para-tariffs, that will be based on a structured process."
He further opined that: "There are others that we will have to review in September when we review the IMF program. If I may present an example, Excise taxes were raised by 20% in January. Furthermore, the anticipated revenue collection did not take place when the Excise taxes were raised by 20% in January, leading to a reduction in legal purchases and an increase in illicit measures. At the review, certain measures will have to be reviewed, re-examined, and thought out.
"We also discussed the target tax-to-GDP ratio of 14% by 2025, which is an ambitious target, but achievable. Now, we actually did anticipate this would happen, but when you go through the stimulation with IMF and you have to make certain revenue targets, you work on figures, you forecast these figures, and you try to get it as right as possible. But what happened when we increased the Excise sharply was that the illicit measures set in and the legal purchases reduced as a result, so the anticipated or expected revenue collection didn't take place. In fact, it went down as a percentage."
"The revenue administration reforms and expenditure rationalisation measures are underway. Additionally, the core public financial management function is being strengthened under the IMF program, which includes enacting a new Public Finance Management (PFM) law, restoring public debt sustainability, and rebuilding external buffers to ensure financial stability while reducing corruption vulnerabilities," he added.
Touching on the World Bank and ADB programs he stated that: "They are part of the structural reform program and compensate for the strength of some measures in the IMF program. Under the World Bank program, there is an improvement in fiscal oversight and debt management, which involves two measures being brought in. One is the establishment of a Parliamentary Budget Office through a Parliamentary Budget Office Act.
"The Budget Office is expected to be up and running by May 2023. There is a mandatory time period that allows for public consumption, after which it will be presented to Parliament and then referred to the Public Finance Committee, which in turn has to come back to Parliament. This is a process they have to follow, and they hope to finish it by the first Parliamentary week of April. It's a very tight target. Once Parliament ratifies the decision of the Public Finance Committee, we hope to finish by the first Parliamentary week of this month, which starts on 25 April."
"In the third quarter of 2024, a new public debt management law will be introduced, covering various areas, including ones that are currently not covered by law. This includes processes such as providing Sovereign guarantees and on lending operations to SOEs, which will be restructured and commercialised. The law will also aim to improve tax administration, with a mandatory Income Tax Act already approved by parliament, and an emphasis on enhancing tax audits and compliance in the first quarter of 2024," Ratnayake added.
He further discussed that: "Efforts are being made to safeguard the financial sector's stability and restore the flow of credit to the private sector. Emergency liquidity assistance has already been provided, and a financial sector crisis management committee has been established. The Banking Special Provision Act is being worked on urgently and should be approved by parliament by the end of April to avoid any delays in the World Bank program.
"To improve commercial performance, financial transparency, and private sector participation in State Owned Enterprises (SOE), the Public Private Partnership (PPP) program will be implemented, and SOEs will be restructured and divested.
Ratnayake further emphasised that: "This process will begin with the incorporation of an SOE holding company, with technical assistance, and the new SOE Reform Act will be introduced in 2024.To reduce trade and investment policy uncertainty and increase competitiveness, para-tariffs will be phased out over three to five years. Compensating adjustments will be made to ensure revenue neutrality, and the revenue gained from these adjustments will be monitored to offset the losses from para-tariffs."
"In the fourth quarter of this year, the Unified Investment Law will be released, and protecting the poor and vulnerable is also a key area of focus. This will involve strengthening social protection institutions, improving delivery systems, and ensuring correct targeting. To achieve this, the first step is updating the registry, which has been challenging due to resistance from officers. Details and pictures of potential beneficiaries will be collected and presented to a committee for selection based on specific criteria. Regulations for a new welfare benefit payment scheme will be adopted by the cabinet, and payments to beneficiaries are scheduled to start by June 1st," he added.
Ratnayake, then drew parallels between the programs stating that: "The World Bank program is primarily focused on economic stabilisation, while the Asian Development Bank program supports the electricity and water sector reform programs, as well as sustainable tourism and urban development. The reconciliation program is critical for sustainable development in Sri Lanka, and an anti-terrorism law will also be introduced."
"Constructive advice from the public is appreciated, and the National Planning Department will lead a Government-driven policy mechanism for future projects, in line with debt sustainability and without additional IMF programs. Law and order will be strengthened, and we will have very little tolerance on unreasonable and disruptive trade union action. The restructuring of State-owned enterprises will involve going through the State for the restructuring of the prices of State-owned enterprises, and it's supported by the people because they are tired of having to pay for corruption and pay for mismanagement," he said.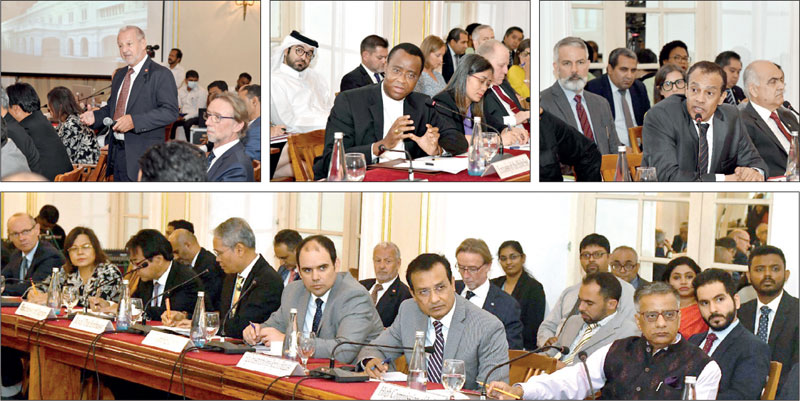 Representatives of the diplomatic community during the briefing by the Government on Monday
---